Entertainment
With All of its Mystique, See Pancho Villa's Last Saddle

Allan Wall - PVNN
March 23, 2010
It is unknown exactly when or how many years it took to construct this saddle. Our knowledge begins on the day that Pancho's widow took it from her home and gave it to the famous film producer Howard Hawks. From there it had a colorful history of theft and mystery. We do know it has been the number one attraction in Museums for the last 20 years. More information can be found at Pancho Villa's Last Saddle website - LastSaddle.com.
Of all the personages involved in the Mexican Revolution (the second decade of the twentieth Century), Pancho Villa is the most well-known to Americans. Of course he's also quite famous in Mexico where he is included in the official history as a revolutionary hero.


Nevertheless, the legacy of Pancho Villa is a controversial one. In the long run, did he really benefit Mexico? What is his true legacy? Even his last saddle is a part of that legacy.


Before the Revolution, Francisco "Pancho" Villa (birth name Doroteo Arango) was a sometime cattle rustler. But the outbreak of the Revolution and the ensuing chaos enabled him to become a revolutionary general who is now honored as a Mexican hero. For a time Villa was the provisional governor of the northern state of Chihuahua, whose government issued fiat money which was actually accepted in banks across the border in El Paso, Texas.


Whatever else he was, Pancho Villa was certainly a great horseman, which led to his being called "El Centauro del Norte." The Centaur of the North (the centaur, a mythical half-man, half-horse creature in Greek mythology would be an apt term to describe a great equestrian).


Relations with the U.S. had their ups and downs. At one point, Pancho Villa was supported by the United States, who sent him arms.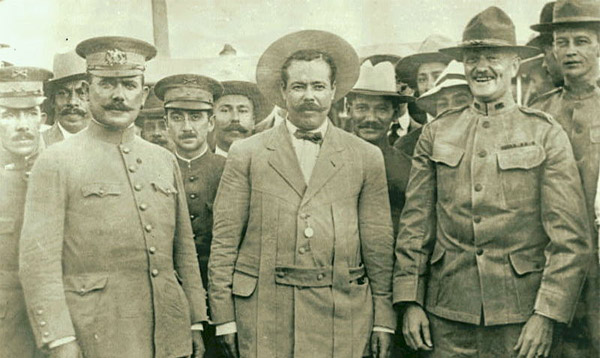 1913 photo of Pancho Villa with then-ally Alvaro Obregon and American General John Joseph Pershing (with First Lt. George S. Patton standing behind Pershing), taken at Ft. Bliss (El Paso), Texas.
Later Villa had a falling out with Obregon as the Revolution split into factions. And when the U.S. supported the other faction, Villa's forces carried out raids on U.S. territory, in New Mexico, Arizona and Texas. This in turn led to the Pershing-led Punitive Expedition into Mexico, which failed to located and apprehend the elusive "Centaur of the North," though it did scatter his army.


It's often said that history is written by the winners, but that's not always true. Pancho Villa was on the losing faction in the final phase of the Mexican Revolution. Yet he's much more famous than some of the leaders of the winning faction.


Pancho Villa's faction lost the Revolution, but in 1920 the Mexican government let him retire to Chihuahua with the understanding that he'd stay out of politics. Villa did for a while, but he was getting involved again when he was assassinated while driving a car (a 1919 Dodge roadster) in the city of Parral in 1923. It is supposed that the conspiracy had been approved by then-president Alvaro Obregon.


Several years after Pancho Villa's death, somebody dug up his body, cut his head off, and took it away. One story is that it wound up in the custody of the Skull and Bones, a secretive organization at Yale University. (Famous members of the club have included several generations of the Bush family, John Kerry, and Obama economic adviser Austan Goolsbee.) It's also been said that the organization has the skulls of Geronimo and Martin van Buren.


A lot Pancho Villa's fame is due to his flamboyant personality which he was careful to cultivate by, among other things, starring as himself in several Hollywood-produced movies.


The popular image of Pancho Villa is one of a fearless horseman battling the forces of injustice. The reality of the Mexican Revolution (its centennial being celebrated this year) is much more complicated. Untangling the complexities and shifting alliances of that era is a study in itself.


As for Pancho Villa, some see him as a revolutionary hero (that's the official view), but others regard him as a cold-blooded killer. He definitely did carry out a lot of killings, including the execution of prisoners of war. Whether Pancho Villa killed people or let them live could be quite arbitrary, and he would sometimes allow his men to rape and pillage with abandon. Rodolfo Fierro, one of his subordinates, had an especially cruel reputation and was known as "el Carnicero" – the butcher.


What about Pancho Villa's last saddle? That too is tied up with Hollywood and the man's public image.


In the early-1930s, a Hollywood movie entitled "Viva Villa" was filmed in Mexico. This movie, a fictionalized biopic, did much to further the Pancho Villa legend. It starred Wallace Beery as Pancho Villa. (The principal actress was Fay Wray, who had starred in King Kong the previous year.)


The film, that had some problems during filming, wound up having several directors and wasn't released until 1934.


In 1931, Howard Hawks had been fired as director. But before leaving Mexico, he was given a gift by Maria Luz Corral de Villa, one of Pancho Villa's widows. (Villa had at least 20 wives.)


The gift was a saddle – Pancho Villa's last saddle, in fact.


The saddle had been custom-crafted for Villa by carpenter Joaquin Rodriguez and leather-worker Alberto Tulan Cingo Marquez. Hawks took the saddle back with him to his home in California, where it stayed from 1931-1954.


Hawks was busy in his distinguished directing career, which took him to locations in North America, Europe and Africa, and his home was sold in 1954. Three years later he returned and discovered the saddle was gone. But in 1976 Hawks saw the saddled advertised, for sale. Hawks reported it as stolen to the police and the saddle was recovered and returned to him.


Hawks died a year later and the saddle was eventually a part of a court case. In 1982, it was returned to the Hawks estate.


In 1990, Chuck Ramsey of California bought the saddle. From 1990 to 2009 it has been displayed in the Witte Museum in San Antonio, Texas, and the South Texas History Museum in Edinburg, Texas.


Now, in commemoration of the centennial of the Mexican Revolution, the famous saddle is to be displayed at the Witte Museum from September 2010 to January 2011. It is also for sale.


Information can be found at Pancho Villa's Last Saddle website. This website includes a history of the saddle and detailed photographs.


Besides its connection with a famous figure of Mexican history (and a great horseman), the saddle is a carefully constructed piece of craftsmanship. It was a parade saddle, designed not to be used on the ranch but to be shown off.


The design of the saddle includes a winged devil engraved in the leather. Now what was the significance of that?


Was it just a fearsome design leather-worker Cingo decided to put on the saddle, somewhat along the lines of a scary-looking school mascot?


Is it related to the story that Pancho Villa buried a large golden hoard near a place called "Devil's Cave"?


Or is it linked to the belief of some that Pancho Villa had a pact with the devil?


So you see, even the examination of this individual's last saddle adds to the continuing controversy over the legacy of Pancho Villa.
---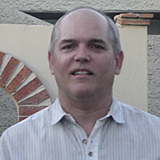 Allan Wall is an American citizen who has been teaching English in Mexico since 1991, and writing articles about various aspects of Mexico and Mexican society for the past decade. Some of these articles are about Mexico's political scene, history and culture, tourism, and Mexican emigration as viewed from south of the border, which you can read on his website at AllanWall.net.
Tell a Friend
•
Site Map
•
Print this Page
•
Email Us
•
Top