Health & Beauty
Puerto Vallarta Blood Drive Sets Records

Pamela Thompson - healthcareresourcespv.com
March 29, 2010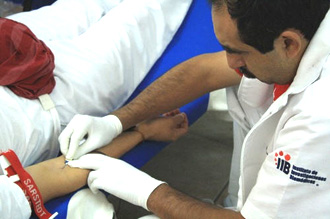 Between the March 24 Blood Drive at Los Mangos and a second blood drive that took place on March 25th at CUC University, a total of 53 units of blood were donated to the Puerto Vallarta Blood Bank.
On Wednesday, March 24, 2010, very early in the morning, the Blood Bank assembled their equipment at Los Mangos Library for a Blood Drive in the Bernice Starr Salon. Kind folks had donated mountains of yummy and delicious cookies for the stream of donors we were expecting that day. Everything was ready!


Past Blood Drives had brought in about five donors so I figured if we had double that, we would be thrilled! By that afternoon, we had 13 donors, which doubled the number from previous blood drives. Were we disappointed? No. We figured that is 13 units of blood that was not available before the event!


All of the leftover cookies, juices and t-shirts were packed up and ready for the following day's blood drive scheduled in Ixtapa at CUC (University). Thanks to Dr. Max Greig, a separate blood drive was organized there and promoted to the medical students attending the school.


By the end of March 25, 2010 a whopping 40 donations had been made! This is beyond thrilling - a record set for a blood drive in the Vallarta area. Please see the article (in Spanish) HERE.


A huge Thank You to everyone who participated and donated in many ways. As we begin the Semana Santa/Semana Pascua holidays, unfortunately the need for blood shoots up above normal. With the Blood Bank always in critical need of donations, this could not have come at a better time.


That is a grand total of 53 units donated in two days. Perhaps to some, this does not seem like a big number - but, here in Puerto Vallarta, it most definitely is!


Another Blood Drive is planned for the end of June. If you are interested in assisting with this event, please contact me at pamela(at)healthcareresourcespv.com.
---

Pamela Thompson is a registered nurse who has lived in Puerto Vallarta for over 17 years, 10 of them in health care. Pamela now leads HealthCare Resources Puerto Vallarta, a local healthcare resource network. Her years of experience and expertise are available to you by emailing your questions to pamela(at)healthcareresourcespv.com or by visiting HealthCareResourcesPV.com.


Click HERE to learn more about the health and well-being services offered by HealthCare Resources Puerto Vallarta.
Tell a Friend
•
Site Map
•
Print this Page
•
Email Us
•
Top