Health & Beauty
Mexico Health Secretariat Warns of Bullies

The News
go to original
March 12, 2010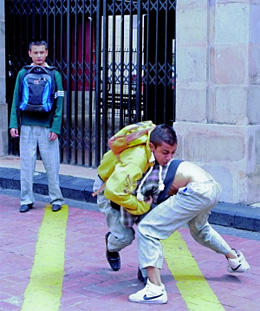 (The News)
Mexico City – The Health Secretariat said this week that the National Pediatrics Institute (INP) provides services for cases of children mistreated at school, a phenomenon known as bullying or school harassment.


The secretariat said in a press release that these types of aggressions provoke serious psychological and physical damage in young children, such as chronic depression that can result in suicidal thoughts, dropping out of school, physical and verbal aggression, and anxiety. Also, bullied children sometimes pretend to have diseases or complain about head or stomachaches to avoid going to school. It can affect their concentration in school. If bullying continues, it can begin to affect children's self-esteem and feelings of self-worth.


"The impact in psychological development can lead the children to behave aggressively, to severely hurt other children or themselves, to consume dangerous substances, or, in the worst case scenario, to commit suicide," the Secretariat warned.


The Attention Clinic for Mistreated Children offers medical and psychological attention to children suffering from this type of violence. Arturo Loredo Abdalá and a group of teenagers who have been victims of mistreatment at some point in their lives head the clinic.


The Health Secretariat said that pediatricians, psychiatrists, psychologists, dentists, social workers, nutritionists, and nurses offer their services at the clinic. Similarly, it has lawyers, teachers and specialists in research methodologies that see to the needs of the children and teach them ways to prevent bullying from other children.


The types of abuse by bullies include: constantly annoying a classmate, using disrespectful nicknames, verbally offending children, being physically, and psychologically aggressive.


These aggressions are usually aimed at children who are younger, insecure, introverted, or who have any type of disability or physical problem. For example, children who are fat or skinny, who wear glasses, or have any type of disease or congenital malformation.


The aggressors are usually children who have a history of violence and who behave as the powerful ones of a group; this attitude satisfies them but influences their negative behavior. Sometimes bullies act tough in order to hide feelings of insecurity and self-loathing, but some tend to be confident, with high self-esteem.


"They are aggressive children, even with their teachers, they have no limits. This proves that they do not receive enough attention from their parents, therefore, they decide to develop aggressive conduct," the report stated. Parents' discipline styles are also related to bullying behavior: an extremely permissive or excessively harsh approach to discipline can increase the risk of bullying.


There are two types of aggressors: the active, who directly harasses their classmates by beating or intimidating them; and the passive who looks for ways, through other classmates, to spread rumors or gossip about the victim and encourage an environment in which the victim will be "labeled" and socially rejected.
Tell a Friend
•
Site Map
•
Print this Page
•
Email Us
•
Top