News from Around Banderas Bay
PV Little League Results & Highlights - Regular Season Week Three

Bob Cohen - PVNN
March 01, 2010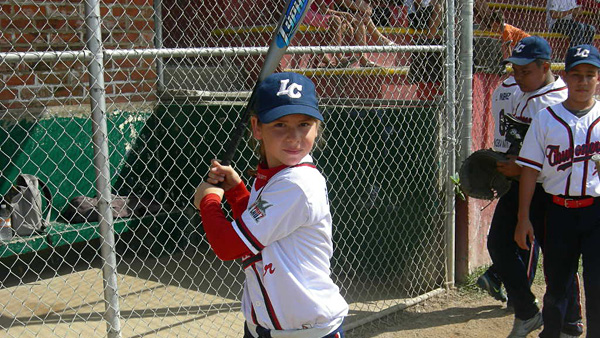 Rocio Barajas is the La Cruz Tibuneros shortstop, lead off hitter and team captain.
There is one thing that the Puerto Vallarta Little League can always count on and that is change. This week, due to the tragic 8.8 earthquake that hit Chile early Saturday morning, a tsunami warning was issued for the west coast of Mexico, among other places. A meteorologist from the airport came out to the field to cancel play for Saturday's games due to reports from Acapulco experiencing extremely high and dangerous waves. The baseball field is just a few blocks from the ocean.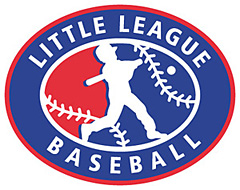 For donations, sponsorships and further information we urge you to contact Bob Cohen at bob(at)banderasnews.com




He returned and said that there was no immediate threat an hour later, but the 9-11 year old teams had already had their games cancelled. The 12-14 year olds already had begun play, so both games in that age division were played. The younger kids' games were rescheduled for next Saturday.


We also have exciting news as Blanca Cisneros, who was the league secretary has been appointed the official Puerto Vallarta Little League President three weeks after Miguel Vargas stepped down from the position he held since forming the league 1 ½ years ago. Blanca is completely bi-lingual and has been a tremendous liaison between the English speaking and Spanish speaking sponsors and league officials and Board of Directors as well as dealing with CODEM (the Department of Sports for Puerto Vallarta).


In the opener on the softball field Sage Hill (0-1) faced Las Rocas (0-2) and the defending champions of 2009 scored five runs in the top of the 1st inning behind a three run homer, followed by a solo shot. Las Rocas, who scored only one run in their last two games answered with two runs in the bottom of the inning. Sage Hill blasted a two run homer in the second and extended their lead to 10-2 after two innings. They added another two runs in the 3rd and Las Rocas was facing a possible mercy loss if they couldn't score, but a solo home run forced the game into the 4th. Sage Hill went ahead 15-3 after their half of the 5th and again Las Rocas needed to score three runs to reach the 6th and final inning.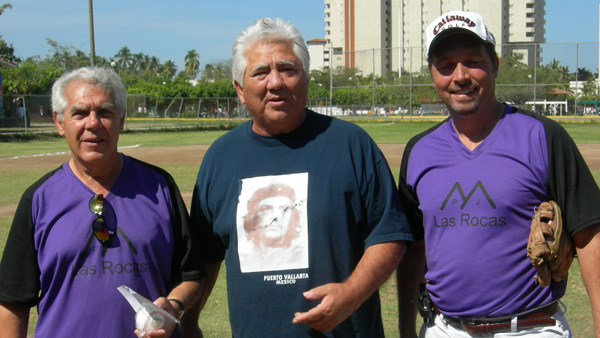 From left to right, Las Rocas coaching staff - Jerry Bianci, Frank "Pancho" Torres and Todd Bates. Jerry left this week for home in Colorado and will be missed for his work with the team and the league.
For the first time this year, they hit two homers in one game and scored two runs in the bottom of the 5th and they game ended 15-5. Something changed in the Las Rocas dugout this Saturday. The team exhibited more enthusiasm than they had all season to the delight of the coaches and fans, even though they lost. Perhaps the fact that assistant coach Jerry Bianchi was heading home to Colorado Tuesday had something to do with it, but the team was vastly improved in both play and enthusiasm. The team and league will miss Jerry, who is a co-sponsor of Las Rocas, as well as the man that drove down a van full of equipment for the second consecutive year. Jerry also serves on the Board of Directors for the league and his tireless efforts have always helped tremendously. We will miss you Jerry!


The second game was played on the softball field between the La Cruz Tibuneros who came into the game at (0-1) and Teatro Limon (2-0). The game was a pitchers duel as La Cruz scored first on a solo home run in the top of the 2nd and Teatro Limon answered with two runs with five base hits and great base running. They were close to opening a big lead but La Cruz held them with runners on 2nd and 3rd with one out and trailed 2-1 after two innings. With strong pitching, La Cruz was held scoreless in the 3rd and Teatro Limon extended their lead to 4-1 with the help of a solo homer.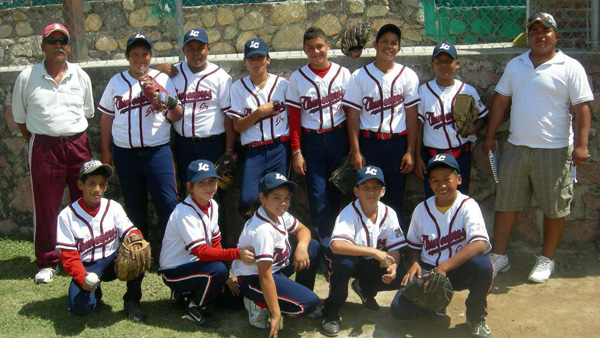 The La Cruz Tibuneros in a team photo joined the PV Little League late but are a threat to win any game they are in. They are solid in all aspects of the game and will make the 12-14 year old division more competitive.
Strong pitching dominated a scoreless 4th inning and La Cruz scored twice in the top of the 5th to close to 4-3, but Teatro Limon added five big runs on three home runs in the bottom of the 5th to open a 9-3 lead. La Cruz scored only one run in the 6th and Teatro Limon won 9-4 and moved to 3-0 and a battle with unbeaten Banderas News next Saturday. Of the 18 recorded outs by Teatro Limon, an amazing 16 were by strikeouts.


La Cruz has a real dynamo at shortstop. Her name is Rocio Barajas and she is the team captain, team leader and is the leadoff hitter. She has complete knowledge of the game as well as extraordinary ability and before each play in the field she signals her teammates where to play on defense. We will get a closer look at her play in the coming weeks.


On Thursday, the new T Ball league began play and was fun to watch, especially for the parents that filled the stands. These are the future stars of the Puerto Vallarta Little League as their small bodies grow. Their uniforms are due to arrive before their game this coming Thursday at 4:00 PM.


Just announced was an alert from the Puerto Vallarta Dept. of Sports that all baseball fields will be needed for city use on Thursday and Friday, which will cause cancellation of the T Ball game and team practices for those days.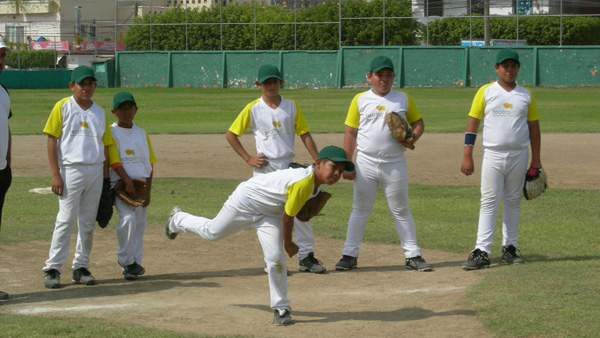 As La Cruz sliced the Teatro Limon lead to a single run in the top of the 5th inning, "Los Limones" went to the bullpen to stop the damage.
This Saturday, March 6th, an adult team from Aguascalientes will be playing a Puerto Vallarta adult team and will bring an All Star team of 11-12 year olds to face Puerto Vallarta's best in a friendly game that will be played at 11:00 AM. Be sure to come out and catch the all stars as this will be a barometer of how they will compete with teams outside our league.


Also announced will be an All Star weekend on Saturday, March 20th, which will be made up of all Vallarta players in two age categories; 9-10 and 11-12 year olds. There was already a pre-selection and the all star team is set. Besides the games, there will be other competitions as well as commemorative uniforms for all participants. There will be a home run derby, a base running competition, a throw from center field to home plate competition and a catcher to 2nd base throwing competition. There will also be a T Ball exhibition for the new league of 7&8 year olds who play every Thursday at 4:00 PM.


Standings thus far after the 2 ½ weeks of play:


12-14 Year olds:
Teatro Limon 3-0
BanderasNews.com 2-0
Sage Hill 1-1
La Cruz 0-2
Las Rocas 0-3


9-11 Year olds:
Los Picosos 2-0
PV Yankees 1-0
Mexlend Martillos 1-1
Pipis Restaurant 0-1
Pelagic 0-2


This Saturday's schedule is as follows:


Mexlend (1-1) vs. Pelagic (0-2) - Noon - Left field on the baseball field
Pipis (0-1) vs. PV Yankees (1-0) - Noon - Right field on the baseball field
Los Picosos will have the week off.


All games for the 12-14 year old division will be canceled this week in order to keep both leagues on the same schedule and also to accommodate the Puerto Vallarta - Aguascalientes All Star game and activities.


11:00 AM - A friendly All Star game for 11-12 year olds against Aguascalientes.

Your support provides endless benefits for Banderas Bay area kids, who will develop the qualities of citizenship, discipline, teamwork and physical well-being by participating in Puerto Vallarta Little League Baseball. To learn how you can help, send an email to Bob Cohen at bob(at)banderasnews.com. For more information about Puerto Vallarta Little League Baseball, click HERE.
Tell a Friend
•
Site Map
•
Print this Page
•
Email Us
•
Top