News from Around Banderas Bay
Puerto Vallarta Little League All Star Weekend vs. Aguascalientes

Bob Cohen - PVNN
March 08, 2010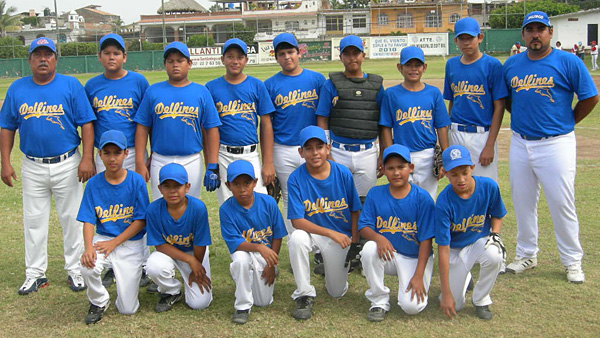 The Puerto Vallarta Delfines 11 & 12 year old all star team that faced Aguascalientes.
This past Saturday, March 6th, an adult team from Aguascalientes played a Puerto Vallarta adult team and brought with them an All Star team of 11-12 year olds to face Puerto Vallarta's best in a pair of friendly games that were played Saturday and Sunday mornings. The Puerto Vallarta kids have only played in organized Little League baseball for 1 ½ years at most although some kids have played with their Dads and some have never picked up a bat and ball before 2010.


There was quite a bit of enthusiasm, excitement as well as nervousness as our home team faced the more seasoned Aguascalientes squad. The Aguascalientes team is named the Venados (Deer) after the Mexican League professional team from Mazatlan. Our kids are named the Delfines (Dolphins) because we sure have a lot of them swimming in our bay. That is also the traditional name for PV kids' baseball teams.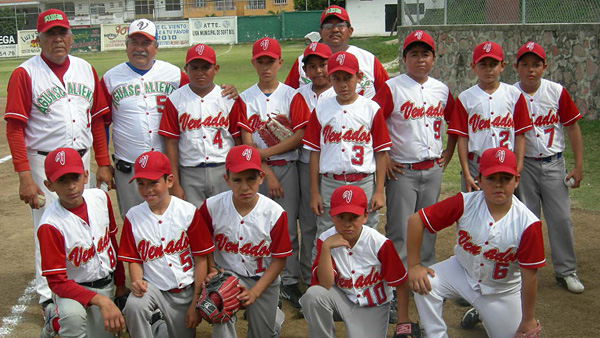 The Aguascalientes Venados that traveled about ten hours by bus to play an all star game with our PV team.
With Saturday's start as a barometer, one might think that the Puerto Vallarta team was on their way to Williamsport for the Little League World Championship as they led after an inning 1-0, held Aguascalientes scoreless in the 2nd and then exploded for 8 big runs, sending twelve men to the plate and the scoring was capped off by a big grand slam hit by the Las Rocas lone representative, Gamaliel Gomez. Starting pitcher Oswaldo Cazares was phenomenal, pitching four innings not allowing a run or a hit and struck out 10 of the 12 batters the lefthander faced. Sparkplug and popular Josue Lopez from Oaxaca, only 10 (he looks younger), was the starting shortstop and leadoff hitter and scored two of the first three runs.


After Cazares departed with a 12-0 lead the Venados scored five times in the 5th to close to 12-5, once more in the 6th and were held scoreless in the 7th and final inning. The Delfines didn't score in the last three innings as both teams used their required substitutes, but won the game handily 12-6. After analysis of the game it was clear that the PV starters were better than their opponents but the remaining players and pitchers might not have been as good as the Venados reserves. Sunday's game would indicate if that was the case.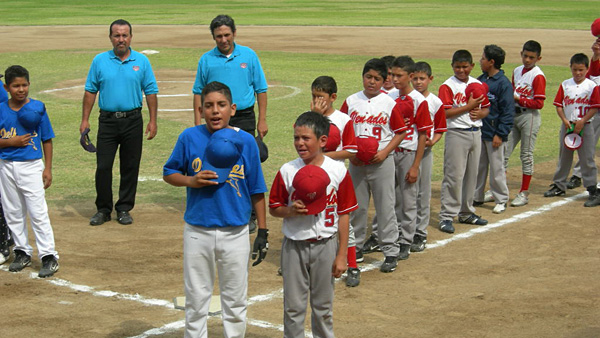 The two teams reciting the official Little league Creed in Spanish prior to Saturday's game with their team captains leading.
After the game as the host venue, we served ceviche and drinks to all the players thanks to one of the parents, Faustino Cazares. Other thanks go out to local parents for big contributions made for the weekend of fun. T Ball parents bought the jerseys and caps; Fidel Irabien purchased the jerseys, Nino Alvarado purchased the caps and Ciro Robles did the last minute printing. Simon Rizo also provided the DJ and sound for the weekend. Thanks to all the parents!


Sunday morning the Venados scored early with three runs in the top of the 1st and the Delfines matched the three runs and we were tied at 3-3 after an inning. Aguascalientes did get to our starter on Sunday, adding three more runs and les 6-3 after two innings. Puerto Vallarta held their opponents scoreless in the 3rd and added two runs to slice the lead to trail only 6-5 after three innings.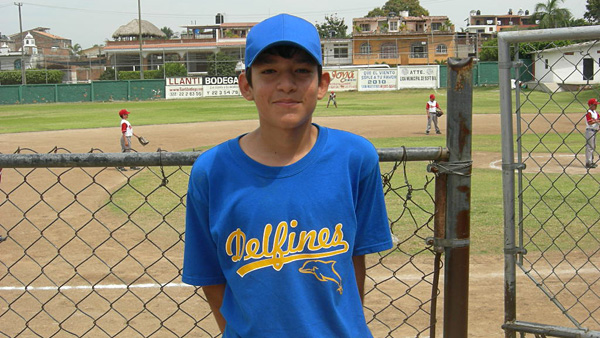 The Puerto Vallarta MVP was pitcher Oswaldo Cazares who pitched four scoreless and hitless innings the the Saturday game, striking out 10 of the 12 batters he faced.
Then the bats of the Venados came alive, scoring twice more in the 4th and four more times in the 5th and the Delfines were in dire need of runs, trailing 12-5 going into the bottom of the 5th. They added two, held the Venados scoreless in the 6th and scored once more and trailed 12-8 after six innings and one left to play. Aguascalientes exploded for six big runs and the game was sealed as they triumphed 18-9.


The two very talented young teams split the two game series and congratulated each other on the field, just happy to be able to play at a good level of competition and in front of a large cheering crowd. We salute our kids, Coach Osiris Garcia and their kids and coaches. Our all star team was made up of nine players from Teatro Limon, three players from Banderas News and one player from Las Rocas.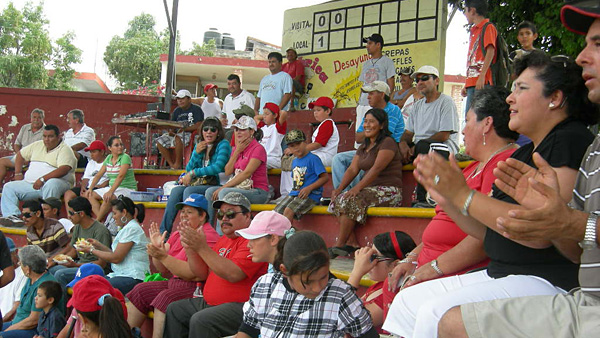 We had quite a large crowd from both cities cheering on the kids, who played great baseball and most of all, had a wonderful time.
On tap for this Saturday is a full slate of games counting for our regular season. The schedule for this week's games will be announced Wednesday. The regular season will be made up of eight games before the playoffs begin. The winner of each age group gets a well earned pass directly to the finals while the other four teams in each division will need to win two best of three game series to reach the finals. The standings thus far are as follows: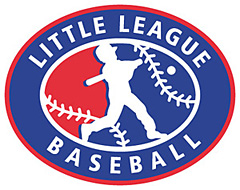 For donations, sponsorships and further information we urge you to contact Bob Cohen at bob(at)banderasnews.com


12-14 Year olds:
Teatro Limon 3-0
BanderasNews.com 2-0
Sage Hill 1-1
La Cruz 0-2
Las Rocas 0-3


9-11 Year olds:
Los Picosos 2-0
PV Yankees 2-0
Mexlend Martillos 1-1
Pipis Restaurant 0-2
Pelagic 0-2


Remember that T Ball will be played on the main baseball field Thursday at 4:00 PM.


The following Saturday, March 20th will be Puerto Vallarta's All Star weekend. It will be made up of all Vallarta players in two age categories; 9-10 and 11-12 year olds. There was already a pre-selection and the all star teams are set. There will be a total of 60 kids playing. Besides the games, there will be other competitions as well as commemorative uniforms for all participants. There will be a home run derby, a base running competition, a throw from center field to home plate competition and a catcher to 2nd base throwing competition. There will also be a T Ball exhibition for the new league of 7&8 year olds who play every Thursday at 4:00 PM.

Your support provides endless benefits for Banderas Bay area kids, who will develop the qualities of citizenship, discipline, teamwork and physical well-being by participating in Puerto Vallarta Little League Baseball. To learn how you can help, send an email to Bob Cohen at bob(at)banderasnews.com. For more information about Puerto Vallarta Little League Baseball, click HERE.
Tell a Friend
•
Site Map
•
Print this Page
•
Email Us
•
Top