News Around the Republic of Mexico
CNDH: Mexico is in Debt to Women

The News
go to original
March 08, 2010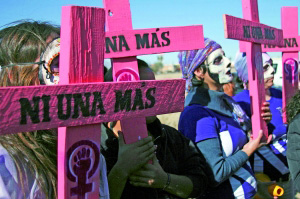 Court acknowledges that sexism and discrimination remain.
Mexico City – Mexico is in debt to women because there is still behavior and attitudes by sexists that exclude, discriminate and stop women from enjoying their rights, declared the National Human Rights Commission (CNDH) on Sunday.


The murders of at least 504 women and reports of 76 missing women in Ciudad Juárez, Chihuahua, where violence levels against women are disturbingly high, are examples of those attitudes. In a press release the Commission said that according to national polls regarding family relationships and home violence, one of every three women suffer from mistreatment by their partner.


Additionally, polls show that 67 percent of women over the age of 15 have suffered from mistreatment at some point in their lives; 12.4 percent of them have suffered from harassment at work; 29.9 percent have been victims of violence at work; 19.2 suffer from physical violence at home.


As part of celebrations of this year's International Women's Day on March 8, the CNDH calls on people to reflect about what Mexico needs to do to address the problems that women face because they represent more than half of the population. Similarly, the Commission said that the principles of equality, and laws and agreements that protect women must be respected.


According to the Program of Equality between Women and Men, most women file reports about sexual, work and psychological violence, which is why the CNDH stressed the importance of working to solve this problem. Protecting women requires state policies and strategies that aim to fight sexual harassment and exploitation, family violence, discrimination and marginalization.


The Commission declared that respect and complete protection for women can only be achieved by promoting a culture of legality and demanding that women's rights are respected. Also, the government needs to encourage all individuals, of all ages, to always respect the law in order to prevent violence from happening.


The CNDH stated that it is committed to eliminating gender discrimination because women should be able to fully enjoy all their judicial rights and should always be treated respectfully even when they are living in prisons or asylums.


Furthermore, the CNDH expressed its concern regarding the high level of discrimination against women at work and the large number of cases of sexual harassment. On this note, the Commission asked authorities to demand from their employees respect for women and to encourage women to file reports against offenders.

Tell a Friend
•
Site Map
•
Print this Page
•
Email Us
•
Top