Americas & Beyond
The Battle Of Iwo Jima: 5 Things You Didn't Know

Ross Bonander - AskMen.com
go to original
March 27, 2010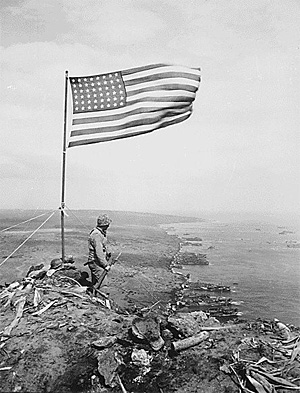 From the crest of Mount Suribachi, the Stars and Stripes wave in triumph over Iwo Jima after U.S. Marines had fought their way inch by inch up its steep lava-encrusted slopes. (wikipedia - ca. 02/1945)
"This is like fighting on a pool table." - 1st Lt Raoul J Archambault, K Co, 3/21

Waterloo, Antietam, Khe Sanh, Iwo Jima: These are the kinds of locales that would have no real business occupying space in any history book were it not for the day (or days) when two armies collided there, to the greater glory of one and the dishonor of the other.


Growing up in the 1930s, how many American kids even knew about the eight square miles of volcanic Pacific island known (then) as Iwo To? Surely none of the almost 7,000 Allied forces to die there in 1945 had even heard of it. Today, however, it is hallowed ground, a place that defines the United States Marines Corps, one that became the subject of an iconic Pulitzer-Prize winning photograph and countless fictional depictions. To those who fought there, and to some historians, the battle bears equal significance to that given to Gettysburg by Abraham Lincoln.


As both countries acknowledge the 65th anniversary of this pivotal battle, we present five things you didn't know about the battle of Iwo Jima.


1- The Battle of Iwo Jima accounted for 1/3 of all Medal of Honor awards for U.S. Marines in WWII


The first thing you didn't know about the Battle of Iwo Jima is just what it means to the identity of the U.S. Marine Corps.


The Medal of Honor dates back to an 1861 Senate bill signed into law by President Lincoln authorizing "medals of honor" to be produced and distributed to those U.S. military personnel who "distinguish themselves by their gallantry in action." The Medal has been awarded over 3,400 times since then, including 464 during World War II. Of those, 82 were awarded to Marines throughout the entire war, 23 of them for gallantry in action during the battle of Iwo Jima alone. The citations, which can be read at cmohs.org, are extraordinary: Like those of Pfc William Caddy and Pfc James La Belle, both of whom threw themselves on Japanese grenades to save the lives of fellow Marines. Or take a look at Sergeant William Harrell: His defense of a post cost him both hands by two different grenades and even got him stabbed by a saber-wielding Japanese soldier.


2- The Battle of Iwo Jima was the costliest battle in U.S. Marine Corps. history


On the day the battle began, Lt General Holland Smith made a prediction that must have sounded incredible to those around him. He predicted that taking Iwo Jima would result in as many as 15,000 U.S. casualties. In fact, he was way off; the battle made casualties of one in four U.S. troops, a staggering ratio when you consider that their forces numbered close to 100,000. Over 23,000 of them were U.S. Marines, with close to 6,000 dead, making it the costliest battle in the history of the Marine Corps. On the other side, Japanese forces are believed to have numbered over 21,000 at the start of the battle. Only about 1,000 were taken prisoner. The other 20,000 were killed or committed suicide.


3- The U.S. returned the island to Japan


Another thing you didn't know about the Battle of Iwo Jima is that 27,000 men lost their lives in a transfer of ownership that lasted just 24 years.


In 1968, Japanese Premier Eisaku Sato came to visit the United States, and as a gift, President Johnson returned to Japan a number of the small islands taken during the war, including Iwo Jima. Every year, veterans from both the U.S. and Japan return to the island for a reunion.


4- Two soldiers didn't surrender until 1949


The Japanese forces were outnumbered by U.S. forces by a margin of five-to-one, but they had time to fortify the island and prepare it for battle. The result was a complex labyrinth of tunnels and caves dug deep into the island.


These tunnels were so complicated and so well-prepared that at least two Japanese soldiers who fought in the battle of Iwo Jima in 1945 were able to live in the caves and tunnels and avoid detection by occupying U.S. forces for almost five years.


5- Navajo code talkers were credited with winning the Battle of Iwo Jima


The last thing you didn't know about the battle of Iwo Jima is who helped win it.


In The Code Book, author Simon Singh writes that the Navajo code talkers (members of the Navajo tribe who relayed messages using a code based on their tribal dialect) at Iwo Jima performed flawlessly and he quotes Major General Howard Connor as saying: "Without the Navajos, the Marines never would have taken Iwo Jima." Lt General Seizo Arisue, the Japanese chief of intelligence, admitted after the war that while they broke the Air Force code, they failed to break the Navajo code, making it one of a select few codes in history to remain unbroken.

Tell a Friend
•
Site Map
•
Print this Page
•
Email Us
•
Top