Entertainment
Los Bambinos at Viva Bar on Tuesday, April 6, 2010

Polly G. Vicars - PVNN
April 03, 2010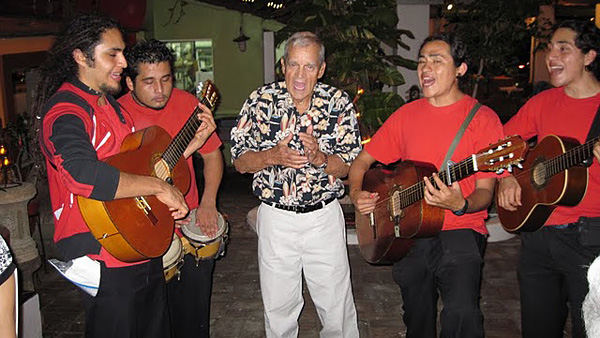 Los Bambinos with audience appreciation by Husband AKA Hubert Vicars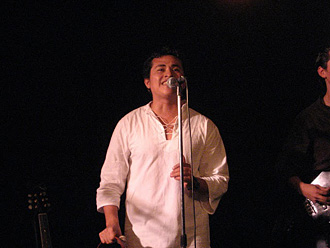 Eldest Brother, soloist and creator of the group, Carlos Morales Salinas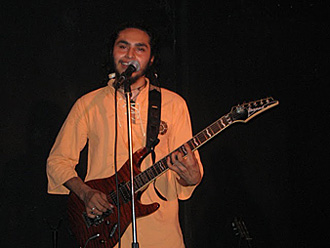 Next Brother and guitarist supreme, Lazzaro Morales Salinas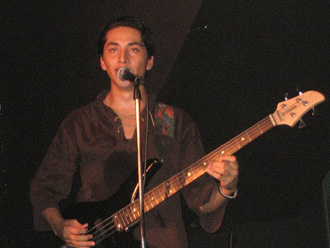 Next Brother Immer Morales Salinas, MC, Comic and according to him, The Boss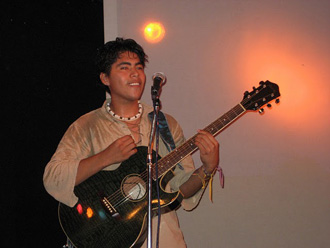 Youngest Brother Giorgio Morales Salinas, Bass and Soloist who is finally off his crutches after a 3 month ordeal with a broken ankle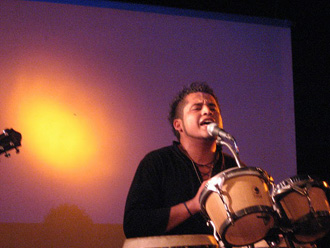 Cousin Luis Alberto Leana Salinas who does everything - drums, bongos and soloist with an incredible range from Frankie Vale to Elvis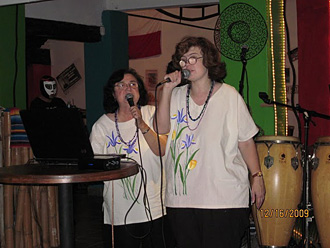 Sweet Talk, Rose Marie and Linda Marie, at a Benefit Concert for Giorgio after he broke his ankle
Los Bambinos, brothers Carlos, Lazzaro, Immer and Giorgio with cousin Luis are set to swing into Spring at Viva Bar this coming Tuesday, April 6, 2010 at 8:00 pm. Their show, with original music, Latin favorites and covers of the Beatles, the Monkees, the Beach Boys, Frankie Valli and the Four Seasons, the Eagles, Chubby Checker and more of your old favorites continues to delight audiences - young, old, straight, gay, local and tourist.


The unifying theme of a Bambino's show is the audience becomes a part of the show! Some just get up and start to dance - solo, with partners, with groups of friends, old and new. Others, like me, dance in our seats, clap and sway and sing along. Then some just listen with great smiles on their faces, I am sure remembering when they listened and danced to this music with that special someone. How great it is to see an audience that is having as much fun as the entertainers!


The first set is over before you realize it could possibly be time, but after a very short intermission, the guys are back, usually after a costume change, rockin' and rollin' again. Then, as a special treat, Rose Marie and Linda Marie, the mother and daughter duo from Oregon "Sweet Talk," come on stage to thunderous applause and do a few numbers with Los Bambinos beautiful voices backing them up. These gals are going to do three special dance shows at Viva Bar in the next few days. So put on your dancing shoes, get out $100 pesos and at 8 pm on April 8, 13 and 15 join Sweet Talk to dance to some 20th Century Rock and Roll.


Viva Bar's setting is intimate with couches or tables and chairs set around the room. The bar service is swift, genial and very reasonable. Many nights two for ones are announced, but no one ever seems to "do too many." You can get your tickets from Los Bambinos as they stroll and sing through the restaurants of the Romantic Zone, by calling them at (322) 222-6412 or 222-4357 - or call or write to me at (322) 223-1371 or phvicars(at)gmail.com.


I don't know how much longer Los Bambinos will be performing as the season wears down, but you won't want to miss this show, so get your tickets today and we'll see each other on Tuesday!

---

Polly G. Vicars and her husband of almost 60 years, Hubert (a.k.a. "Husband") retired to Puerto Vallarta in 1988 and soon became active members of several charitable organizations. Polly is the author of "Tales of Retirement in Paradise: Life in Puerto Vallarta, Mexico" [a sell-out!] and "More Tales of Retirement in Puerto Vallarta and Around the World." Proceeds from the sale of her books go to the America-Mexico Foundation, a scholarship foundation that is their passion.

Click HERE for more articles by Polly Vicars, or click HERE to learn more about Becas Vallarta and the America-Mexico Foundation.
Tell a Friend
•
Site Map
•
Print this Page
•
Email Us
•
Top