Entertainment
Return to 'Fandango' Brings Fresh Appreciation

Wayne McLeod - Vallarta Today
April 26, 2010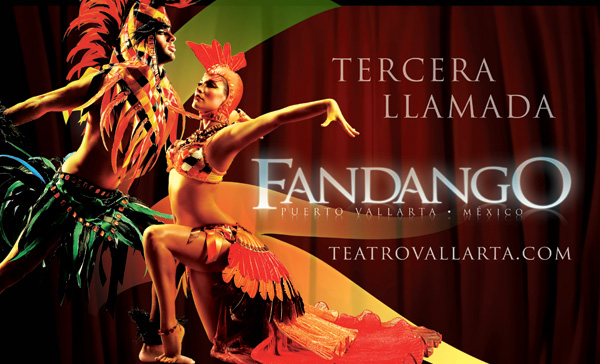 During April/May 2010 Teatro Vallarta is offering a 2 for 1 special on all Fandango performances. Some restrictions apply. For more information and reservations, call (322) 224-8716, 225-5516 or 297-6144. (TeatroVallarta.com/Fandango.mx)
After a year of construction, work crews worked feverishly in the last days before the grand inauguration of Teatro Vallarta on March 6, 2010; a spotlight crisscrossed the sky that evening as over a thousand invited guests - including state and municipal officials - excitedly took their seats prior to the introductions.


A truncated version of Fandango followed, the original production mounted by the empresarios behind the new 960-seat multiple-use facility, and the audience emotionally responded with applause and "Bravos" galore. One had a feeling of witnessing a phenomenon in the making.


A return visit recently confirmed my initial impressions; Fandango rates among the best presentations of choreographed dance seen here in the last two decades - with live jazz-fusion music interwoven throughout by a virtuoso orchestra, and a masterly Mariachi band that provides the tempo and Mexican savor that tastefully frames - and underpins - the entire entertaining evening.


Now a full 90 minutes (with intermission), time taps and stomps by as the 30 dancers (nineteen women, twenty-one men) enter and exit with a flourish, their 9 segment stage show flowing in synchronicity with a widescreen visual backdrop that provides further pace as the colorful numbers unfold on the big, built-for-dance stage.


And if director general Manuel Diaz Preciado's dreams are realized, Fandango will not only be a mainstay of entertainment here for years to come, but will travel and tour extensively (plans are already underway for a European journey next year).


Perhaps, said Diaz Preciado in a recent interview, we'll see Fandango with its own theater in Las Vegas at some point in the future. The show is a wonderful kaleidoscope of dance, music, and colorful costuming reflecting different regions of Mexico (the full show is realized in 9 segments, ranging from folkloric ballet to fantasy-based scenes in collaboration with artist Alejandro Colunga - whose name also adorns the property's in-house art gallery).


In one entertaining and visually stimulating segment, machete-wielding dancers strike them in mid-air, sparks the result as the entire cast of performers cavort in a battle-like narrative. Words are replaced by action, so that no matter your native tongue, you'll enjoy the artistic, athletic hard work before you.


Plans are also underway for a replacement show at some time in the future, according to former publicity spokesperson Elsa Guardarrama, but in the meantime Fandango has got to be the hottest ticket in our tourist destination.


Fandango is a show that you will recommend wholeheartedly to friends. Check it out Wednesday through Sunday at 8 pm at Teatro Vallarta (located in front of Ley Store, three blocks north of the Malecón and Hidalgo Park.) Tickets range from $550 peso general seating to $700 VIP (which includes 3 drinks, graciously served to you at your seat during the performance and intermission).


Please note that during April/May 2010 they are offering a 2 for 1 special to all (with one drink each for VIP seating). Call (322) 224-8716, 225-5516 or 297-6144 for reservations and sales.
Tell a Friend
•
Site Map
•
Print this Page
•
Email Us
•
Top