News from Around Banderas Bay
IKF Muay Thai World Championship in Vallarta April 30th

Bob Cohen - PVNN
April 15, 2010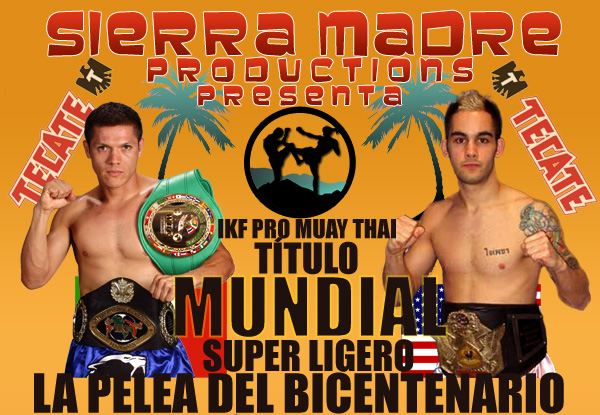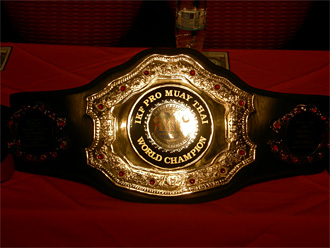 The IKF Championship belt that Puerto Vallarta's challenger Cesar "El Mego" Palomera and champion Marck "Jaipetch" Deluca form Pittsburgh, PA. will battle for in the main event.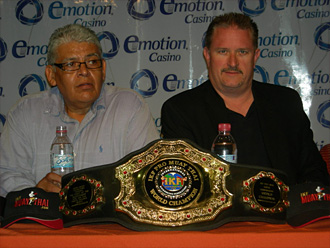 On the left, Sierra Madre promotor Felix Perez with IKF World President Steve Fossum of Newcastle, California.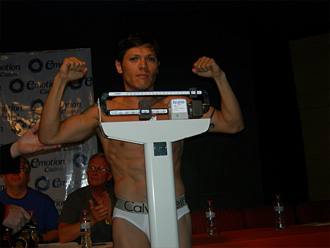 Cesra Palomera at the weigh-in. "El Mego" looked focused and fit and ready to bring a world championship belt to Puerto Vallarta.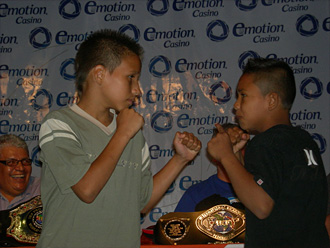 Always crowd favorites, youngsters Picachu and Hector "El Tapatio" Vargas of Power Punch Gym in Puerto Vallarta will open the card with an amateur boxing match.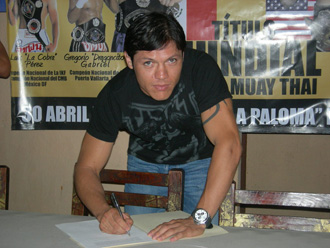 Cesar Palomera signs his contract to fight for the IKF World Championship in the super lightweight division at a press conference recently held.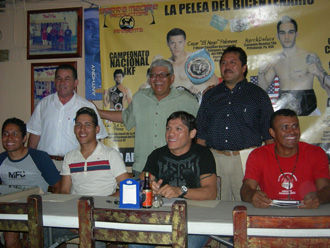 The whole gang - the promoters in the back row from left to right, Jorge Alcaraz, Felix Perez and JR Rodriguez. In the front from left to right, Manager Jose "El Rayo" Uribe, his fighter and brother Hector Uribe, main event fighter Cesar Palomera, and Santiago Manzaneres, Professor for Round Dragon Gym and representing his fighter Gregorio Gabriel.
Sierra Madre Productions in accordance with the IKF and Tecate announced an IKF world championship Muay Thai fight card at the Plaza De Toros "Las Paloma" Bull Ring in Puerto Vallarta on Friday, April 30th at 7:00PM during the Mexican Bicentennial Celebration year.


The headline and world championship bout will have Puerto Vallarta's Cesar "El Mego" Palomera who is undefeated with a record of 14-0-1 with 8 KOs will do battle against Mark Deluca of Pittsburgh, Pennsylvania, USA who is the champion of the Thai Boxing Association USA. Palomera is a two IKF Mexican National championship belts and one WBC lightweight national championship belt. The two will battle in the super lightweight (62K) division and is the Professor of the Sityongong Gym in Puerto Vallarta.


There is a double title belt undercard as well in the big event. For the Mexican National championship, two IKF champions will square off in the 60 Kilo division. Puerto Vallarta's Gregorio "Dragoncito" Gabriel, fighting out of Round Dragon Manzanares Gym and with a pro record of 12-2-1 with 7 KOs will face Luis "La Cobra" Perez of Mexico City. The two hold the belt in different weight classes and promises to be a battle in unifying the title.


The first title bout of the evening will feature Puerto Vallarta's Hector "El Hierro" Uribe with a record of 14-3-1 with 5 KOs and holder of two national title belts facing Carlos "El Escorpion" Navarro of Guadalajara for the IKF North Coast Championship. Navarro defeated Uribe the only time they fought so the youngster from the Tania Luark Gym will be seeking revenge in the 60 Kilo division as well as looking to earn his third title belt.


Prior to the three big title fights, there will be eight amateur bouts, all featuring Puerto Vallarta fighters against opponents from Mexico City. The above listed Puerto Vallarta gyms as well as Lanna Gym and Mota Gym are supporting the event.


IKF (International Kickboxing Federation) President Steve Fossum will be coming from the United States with Dan Steele as the referee. From Omaha, Nebraska, judge Brooks Masons and judge Israel Sanchez from the WBC will also be officials here. Fossum and Steele will be back in Puerto Vallarta for the first time since the last world title fight was held here. There will be one judge from the United States, one judge from Mexico City and one Puerto Vallarta judge to keep the scoring as fair as possible.


April 30th is also Kid's day in Mexico and any child under 10 with a paying adult will be allowed in for free.


Tickets are available at El Torito Sports Bar and Restaurant as well as all of the local Puerto Vallarta gyms. Presale prices will be $200 pesos and tickets at the door will be $250 pesos. Special ringside seats in the front four rows will be sold for $500 pesos. For more information, call El Torito at 322-223-2102, a local call in Puerto Vallarta.


Other local Puerto Vallarta sponsors are Mariscos Polos Restaurant, El Torito Sports Bar and Restaurant, River Café, Mundo Azulejo, Café De Olla, CTM, Primer Plus, El Brujo Restaurant, Hotel Lina, among others that are helping support the fight card.


Be sure to be on hand for the planned extravaganza on April 30th and get your tickets early. This one can easily be a sold out event.

Tell a Friend
•
Site Map
•
Print this Page
•
Email Us
•
Top