News from Around Banderas Bay
Kids Cup Tennis Tournament at Canto Del Sol May 11-15

Bob Cohen - PVNN
April 26, 2010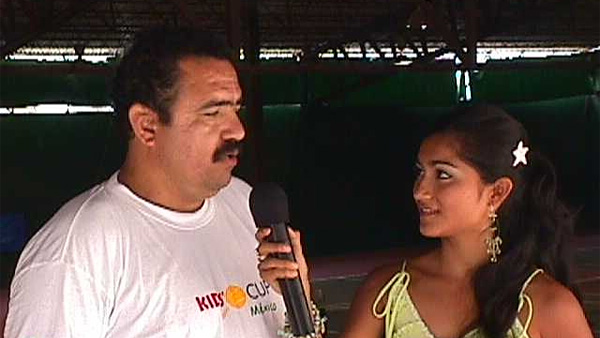 Martin Parra, the Director of Tennis at the Canto Del Sol in a photo during an interview for the upcoming Kids Cup.
The Canto Del Sol Tennis Club and Resort will once again be the host for the Kids Cup, Tennis Director Martin Parra announced. The Jalisco Kids Cup will be held from May 11th-15th and will feature the best youngsters in the State of Jalisco competing in eight different age groups, 9-16 years old. Both boys and girls will compete in singles only.


There is a large turnout expected and the quality of tennis will amaze spectators, who are invited to watch the tournament free of charge. The kids that generally do better are those from Guadalajara but Puerto Vallarta has some solid youngsters training and improving their game.


The tournament has become an annual event at the Canto Del Sol and this is the fifth year that it will be played in Puerto Vallarta at the club. The format will be round robin in each age group and the best two of three sets will determine the winner of each match. If a set is tied 6-6 it will go to a seven point tiebreaker.


The winners in each age group will advance to the Mexican National Kids Cup which will also be held at the Canto Del Sol Tennis Club from June 9th - June 13th. The winners of the Mexican National tournament will advance to the World Kids Cup Championships to be held in Europe.


Prizes for the Jalisco tournament beginning May 11th will be trophies for the winners and finalists and every kid will get a raffle ticket that one lucky winner will be awarded two weeks at the GTA Tennis Academy in Tampa, Florida. This will include all lodging and food as well. All players will also receive a commemorative T shirt. Every kid however will be playing for the chance to reach the Mexican Championships.


The cost to participate is $350 pesos and the deadline to enter is May 8th at 6:00 PM. The draw will take place on May 10th at 11:00 AM and the following day the tournament and hopes for the kids' tennis future.


The tournament will be under the rules and guidance of the FMT (Federation of Mexico Tennis). The Director of the QUATT KIDS CUP Mexico is Lic. Francisco Javier Gaitan Estrada.


For more information, contact the Canto Del Sol Tennis Club locally at 226-0123 extension 4187.

Tell a Friend
•
Site Map
•
Print this Page
•
Email Us
•
Top