Entertainment | Restaurants & Dining
Rediscover the Legend: El Dorado by Boca Bento

Gary R. Beck - PVNN
April 28, 2010
Open daily from 9 am to Midnight, El Dorado by Boca Bento is located at Pulpito 102 and Los Muertos Beach on the south side of Puerto Vallarta. For more information, visit BocaBento.com or call 044-322-135-9697. (video by region4.tv)
Rarely does a place in business for almost 50 years change management and maintain the legend of old style and memories. But this is what Stewart Haverlack and partners have done with the established El Dorado Restaurant on Playa Los Muertos, where almost anyone who has ever been to Puerto Vallarta has had a meal or drink.


Consistently rated as one of Puerto Vallarta's top restaurants by tourists and locals alike, Boca Bento specializes in Asian/Latino fusion, a match much better than one would picture. The menu had originated at Haverlack's beautiful hot spot on Basilio Badillo, then perfected in Mismaloya at Casa Iguana.


Today, these two Vallarta institutions have merged, employing Boca Bento's fantastic menu and El Dorado's fabulous beachfront ambiance, to create a fabulous new concept - El Dorado by Boca Bento.


The partners and Chef Juan Zuno recently presented a tasting for the local press, setting up a large table right on the beach, as the sun sank into the Western horizon and the lights of the Banderas Bay area appeared. Food samples were passed, and many of them, each course described by the chef.


The Soup Sip is a daily offering. We tried the soy glazed duck and wild mushroom with fresh ginger and egg noodles. Earthy flavors excited the taste buds, coupled with caramelized onions giving a slight sweetness. (A creative wonderful-sounding Tortilla Soup is on the regular menu.)


Sashimi Pizza was thinly sliced tuna on a sort of thin flatbread. Accents were provided by three chile (one being chile de árbol) soy vinaigrette and light wasabi-crusted sesame seeds. Long-known for their Agave Glazed Shrimp Shooters, three per order but may have as many as one wishes, Chef Juan served them dipped in a tropical gazpacho made with mango and pineapple. Lightly spicy and quite refreshing.


One of the party favorites were thick, moist meaty Crab Cakes with chipotle mayonnaise over an Asian slaw of red and green cabbage. Sweet and moist texture mixed with creamy spiciness. Popcorn shrimp were lightly battered and accented with jalapeño ranch dressing.


Thin-Crust Pizzas offered include Margherita (fresh mozzarella, tomato and basil), Serrano Ham with Swiss cheese and spinach, Four Cheese (Gouda, Swiss, Blue and Parmesan) and Duck Confit and arugula with Blue cheese. Following were juicy Mini Burgers with fries, crispy and thin, varying from dense and lean prime beef with aged Cheddar to BBQ shrimp to Lamb with caramelized onions and blue cheese, the latter overpowering the meat. The buns were plump and fresh.


The fish course was Achiote Miso Marinated Sea Bass, thick and moist, with Asian sticky rice, sautéed zucchini and cilantro sauce. This is a very popular dish, but even more so are the Chipotle Honey Glazed Pork Ribs, sweet and spicy, thick and meaty, served atop a mustard-based Peruvian potato salad. These are not the ribs and salad at a family picnic.


Moo Shoo Duck Carnitas is a fine fusion of the two cuisines. The mini tortillas were garnished with tomato ginger salsa and plum sauce. A platter or two of them would be perfect at a cocktail party. As if anyone was still hungry, a large portion of Argentinian Churrasco, very tender from a fine cut of top sirloin instead of the Mexican Arrachera which is made from flank steak. Long slices were accompanied with roasted potatoes, chimichurri and grilled sweet peppers and onions. This is one satisfying main course.


A taste testing of desserts ended the evening. Tiramisú was a light cake layered in a martini glass with whipped cream dusted with chocolate coffee powder and garnished with a lattice cookie decorated with powdered sugar. Passion Fruit Soufflé was refreshingly sweet and sour. A Trio of Sorbets followed: Mango, Passion Fruit and Strawberry. Light, cool and delightful.


The restaurant also specializes in creative drinks employing local fruits and herbs. The Cilantro Ginger Martini was a favorite as was the bright red Pomegranate version. The Chile Mango Margarita was rimmed with spiciness, great to encourage the appetite - as if anyone needed assistance.


On a return dinner our party shared a fine Mixed Green Salad with pink grapefruit and goat cheese, Crab Cakes again and a large platter of lightly battered Tempura Vegetables. Spicy Shrimp over risotto and aforementioned Ribs were passed - and we were too full to finish half the ribs. The portions were so enormous some had to be taken home for the proverbial 'dog'.


Bocas are small plates, and in Spain one orders several for sharing. Here the plates are more than ample, far from small, and with the quality of food coming from the kitchen, we were most happy to finish as much as we could.


This Puerto Vallarta legend has turned a page and is most worthy of a visit for breakfast, lunch or dinner. Prices are in order for the size of servings. The tastes vary and offer something for nearly everyone. For a nominal charge, a palapa may be secured for the entire day including a national drink with food service offered.

Open 7 days a week from 9 am to Midnight, El Dorado by Boca Bento is located at Pulpito 102 and Los Muertos Beach on the south side of Puerto Vallarta, Mexico. For more information, call 044-322-135-9697 in Puerto Vallarta or (301) 832-6377 from the U.S.
---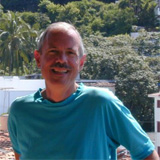 After 20 years in the San Francisco restaurant business, Gary R. Beck turned his attentions to cooking, dining out, creating recipes and exploring Puerto Vallarta's rich array of eateries. Famous for his restaurant guide, available online at CafePress.com or Lulu.com, Gary also writes restaurant reviews for Puerto Vallarta newspapers, Bay Area magazines, and now, a feature column for BanderasNews.com. Contact Gary at garyrbeck1(at)yahoo.com.
Click HERE for more articles by Gary R. Beck.
Tell a Friend
•
Site Map
•
Print this Page
•
Email Us
•
Top