Entertainment | Restaurants & Dining
The Art of Dining and Living Well: The Mayonnaise Myth, or, Why Are My Neighbors Still Alive?

Liana Turner - PVNN
April 29, 2010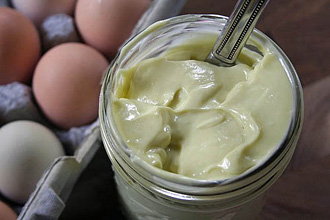 If you make homemade mayonnaise with fresh eggs, like the recipe that follows, it MUST be refrigerated and should be used within one day.
Everyone knows that mayonnaise should be refrigerated, right? If left at room temperature it grows dangerous levels of Salmonella and bacteria and other lethal things, right? And still our Mexican neighbors court death daily and don't refrigerate their mayo, even after it's been opened, and it sits on the shelf for weeks or sometimes months. What's up with that?


Well, it turns out that the whole thing was just a wives' tale, and I've got scientific information to back it up.


Here are the facts: commercially produced mayonnaise does not have to be refrigerated after opening for a couple of reasons. One, the eggs that it contains have been pasteurized and two, the acid content from vinegar or lemon or lime juice is high enough to prevent the growth of Salmonella and other nasties such as bacteria.


While it is not essential to refrigerate commercial mayonnaise, it is recommended (I still keep mine in the fridge), only because from frequent openings the jar can become contaminated with food particles, extra moisture or mold spores. Remember to always use a clean utensil to scoop the mayo out of the jar and you won't have a problem. Don't scoop and then stir your chicken salad and then scoop more. That's where we get into trouble.


Also, if you make homemade mayonnaise with fresh eggs, like the recipe that follows, it MUST be refrigerated and should be used within one day.


Super Easy Blender Mayonnaise
Have everything at room temperature. If this recipe doesn't work, something was too cold.


1 egg (make sure the eggs in your area are known to not carry salmonella)
1 teaspoon Dijon mustard
1 or 2 teaspoons fresh lime juice
Pinch of fresh ground pepper
1/4 teaspoon salt
3/4 cup Canola oil


Put the egg, mustard, lime juice and salt and pepper in a blender and blend. Before you start have the oil ready in a pourable container.


With the blender on, drizzle the oil in a slow steady stream until it reaches mayonnaise-like consistency. For variations you may stir in things like: reconstituted sun dried tomatoes, roasted garlic, chipotle, chopped herbs, curry powder, etc...


Liana Turner, is the chef and owner of Paradise Bakery and Catering. Serving the "Best Cinnamon Rolls in Vallarta," along with delicious sandwiches, salads, main dishes and yummy sweet treats every day but Sunday, and providing all styles of catering services, from pre-prepared meals to-go for informal gatherings to full service elegance for dinners, cocktail parties, wedding receptions and special events, Paradise Bakery & Catering is located at Del Santuario 149, corner of Paseo de Las Palmas, Colonia Barrio Santa Maria, Puerto Vallarta. For more information, call (322) 222-5133 or visit VallartaCatering.com.

Click HERE for more articles by Liana Turner.
Tell a Friend
•
Site Map
•
Print this Page
•
Email Us
•
Top