Entertainment | Restaurants & Dining
Teatro Limon: A Hidden Gem in Vallarta

Gary R. Beck - PVNN
April 19, 2010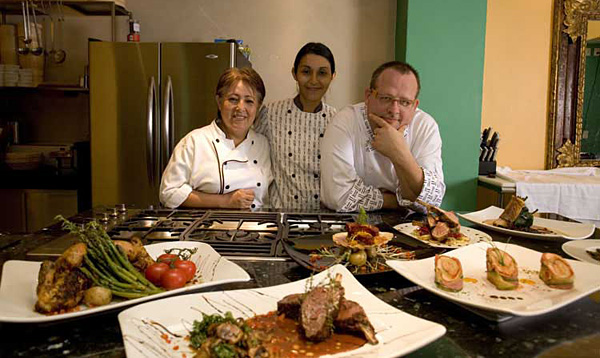 Teatro Limón is located at Cajon de Limon #1 on the corner of Maria Montessori, behind Hospital San Javier in Puerto Vallarta's Hotel Zone. For more information, visit teatrolimon.com.
Many times a visit back to an old favorite will bring joy and satisfaction. This was the case during a recent stop at Teatro Limon. So many good to really great meals have been shared in his kitchen/home here with friends and family. Bruce Byng, chef extraordinaire, a term not used lightly, greeted the party after YaYa opened the front door and his dear wife Julia welcomed everyone.


Bruce was busy in his open kitchen preparing courses for the guests seated prior to us. He first asked if anyone had an allergy. Wheat was ruled out for one diner with him being told to bypass the bread but from then on he would be safe.


Drinks were ordered and provided, then a creamy Tomato Bisque was presented in large shallow white bowls. Jocoque, available by the tub, enriched the stock. Sour and cream cheeses melded with good chunks of ripe tomato. Pressed yogurt, having been dried for days to remove its liquid, mingled with flavors of lavender and basil. Cool, refreshing and delightful.


A simple salad containing romaine lettuce, red and yellow small cherry tomatoes, avocado and thinly sliced cucumber was dressed with a vinaigrette accented with hibiscus, ginger and jack fruit flavors. A heavenly creation which originated from Bruce's imagination, not some cookbook.


Three small brochettes of Ostrich Arrechera arrived next. The meat can dry easily from over cooking but here it was moist, cut thicker than usual, and seasoned lightly for the grill. The meat, very lean and low in cholesterol, was placed over a creamy slightly picante sauce Bruce could not detail due to another business.


Bruce loves to prepare and cook with hard-to-find ingredients. If he spots some particular cut of meat which looks appealing, he buys a portion, returns home, cooks and tastes it. Thumbs up means more offering of this item, that night and into the future.


This describes my favorite dish of the evening, Medallions of Duck Breast. He had cut the meat thickly, pepper-seasoned, cooked medium rare and served over a remarkable sauce of mint-apple-horseradish. The three flavorings, all quite distinct alone, were proportioned smoothly and correctly.


Not one accent dominated. The green puree was worthy of jarring and selling. But it was the duck itself which shone. Tender, moist and properly prepared, each morsel brought gourmet pleasure. Whenever has duck breast been better prepared? He promises to offer this dish to his guests on many upcoming nights. A return trip is in order.


All main course dishes were accompanied with Basmati Rice which had been dried in the refrigerator for three days and then moistened with guava honey. Small green soya beans and carved baby carrots were the night's vegetables. Both were lightly seasoned and cooked al dente preserving the bright colors while surrounding the meat. Several diners opted for the Rack of Lamb, two very thick chops, tender and pleasing. Cameras flashed close ups of the artistic bright dishes.


Tiramisu concluded the culinary excursion. It was layers of light cake, creamy, rich and topped with a coffee chocolate dusting. Julia brought out her house made Basil Ice Cream, like frozen rich heavy cream immersed in fresh basil. Sounds like an unusual flavoring but be aware that basil is in the mint family.


Bruce's cuisine is a cumulation of many years' experiences cooking in worldwide restaurants of varying styles, all since the young age of eleven. A visit here is a theatrical experience and should please locals - especially those bringing out-of-town guests. Here the diners will experience new taste excitements.

Open Tuesday-Saturday evenings from 5 to 11:30 pm, Teatro Limón is located at Cajon de Limon #1 on the corner of Maria Montessori, behind Hospital San Javier in Puerto Vallarta's Hotel Zone. Credit cards accepted. Reservations are recommended and can be made by calling (322) 225-2606.
---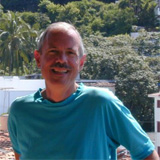 After 20 years in the San Francisco restaurant business, Gary R. Beck turned his attentions to cooking, dining out, creating recipes and exploring Puerto Vallarta's rich array of eateries. Famous for his restaurant guide, available online at CafePress.com or Lulu.com, Gary also writes restaurant reviews for Puerto Vallarta newspapers, Bay Area magazines, and now, a feature column for BanderasNews.com. Contact Gary at garyrbeck1(at)yahoo.com.
Click HERE for more articles by Gary R. Beck.
Tell a Friend
•
Site Map
•
Print this Page
•
Email Us
•
Top