Entertainment
Broken Embraces (Abrazos Rotos) Reviewed

Alex Gomez - PVNN
May 12, 2010
Broken Embraces (Abrazos Rotos) 2009, Written and Directed by Pedro Almodovar
If, after all the time you've lived here, you haven't bothered to learn Spanish, and if you like your movies Hollywood, then this film will probably be lost on you. No amount of subtitling can ever hope to convey the subtle irony of Almodovar's scripts, or their implicit satire.


Almodovar, besides being kitschy, is mischievous when it comes to making movies, even when he recounts tragedy; he instills his movies with his own particular sense of humour. You can see this in his penchant for melodrama, in his sets and his actors' appearances; you can hear it in the music he chooses for his scores. But if, say, you happen to have spent some time in Madrid with Madrilenos, then you will see their peculiar characteristics captured and immortalized in his films


When I describe Madrid and its inhabitants to people who have never been there, I like to use a scene from his Women on the Verge of a Nervous Breakdown (Mujeres Al Borde de un Ataque de Nervios); the scene in which La Narizona (Rossy de Palma, or as she is referred to in Spain: Big Nose) and her fianc้, played by Antonio Banderas, are viewing Carmen Maura's penthouse and she says, "Yo lo que quiero es una casa, y esta no es una casa casa" (What I want is a house, and this is not a 'house house'), because for me this woman and her dialogue epitomize Madrid and its people. They tend to see themselves as prisoners to the whims of fate, and complain about it, even while they laugh about it.


Broken Embraces is typical of Almodovar-a film about film, sexual obsession, revenge and destiny. As such, some critics have called it neo-noir, except for its insistent use of bright primary colours.


The story revolves around the character of Harry Caine (Lluis Homar), an intentionally silly name chosen by Almodovar for director Mateo Blanco's other self, after he becomes blinded permanently and transforms from a director to a writer. His constant companions are Judith (Blanca Portillo) and her son Diego, a DJ at a club in Madrid (Tamar Novas, who it would seem is to be Almodovar's gorgeous new male muse, after losing Banderas to age and Hollywood).


In flashback style he tells Diego about the events that led to his blindness, especially after Judith tells him his arch-nemesis, millionaire financier Ernesto Martel (Jose Luis Gomez) has died, and his son, Ernesto Martel Junior, now calling himself Ray X (Ruben Ochandiando), comes calling.


The story that Harry tells Diego is of a beautiful secretary Magdalena Rivas, or 'Lena' for short (Penelope Cruz), who on weekends is a high-end call girl. Once her father becomes ill with cancer, she seeks out the aid Martel's aid for him. He immediately takes Lena, her father and mother to the best hospital in Madrid, where he recruits the top doctor to attend to Senor Rivas' stomach cancer.


Two years later, Lena is Martel's live-in mistress, and Martel has become extremely possessive and jealous of her. Once Lena, who has always aspired to be an actress, learns of Mateo Blanco's upcoming film Chicas y Maletas (Girls and Suitcases), she wants to audition for it. Martel relents and allows her to do so, but only after installing himself as the producer, and ordering his son to follow her and covertly record the making of the film, as well as every moment of Lena's interaction with Blanco.


During a photo shoot meant to discern what look will suit Lena most, she has wigs put on her and is told the kinds of poses she should use. One of these photos reveals her uncanny resemblance to Audrey Hepburn (meant also as a metaphor for Lena's fragility). Sure enough, actress and director fall in love, and sneak kisses where they believe Martel Junior won't see them.


Meanwhile, Martel hires a lip-reader (Lola Duenas) to interpret the speech his son's camera is unable to capture. Intent on separating his mistress from her newfound love, he takes Lena to his home in Ibiza, where, after he devours her sexually while she kisses him through the bed sheet, she hurries to the W.C. to vomit.


When they return to Martel's ultra-luxurious house in Madrid, and she has confessed her love for Blanco, the millionaire, enraged, pushes her down the stairs. Afterwards he himself tends to her and nurses her back to health, which means she is forced to take a three-week leave of absence from the film. This scene is then duplicated in Girls and Suitcases, except that this time, it's la Narizona who pushes her.


At this point, viewers who have already seen Women on the Verge will realize that Girls and Suitcases is a throwback to the former movie. When Blanco escapes with Lena to Las Palmas on the Balearic island of Lanzarote, they read in El Pais that Martel, who had insisted on producing the film, has premiered it, using the only the worst cuts, to unanimous critical disdain. After they decide to head back to Madrid in an attempt to rescue Blanco's movie, they meet with a terrible accident that irreparably alters the course of both their lives.


Broken Embraces has been nominated for a Golden Globe as Best Foreign Film 2010, as well as the Satellite Award in the same category, Penelope Cruz herself has been nominated for Best Actress for the Satellite Awards; though perhaps she should have instead been nominated for Most Beautiful.
---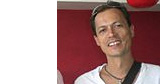 Alex Gomez is an award-winning writer. he's written numerous short stories, hundreds of non-fiction articles and two serious novels. Writing makes him happy and nothing can kill him now.

Click HERE to read more articles by Alex Gomez.
Tell a Friend
•
Site Map
•
Print this Page
•
Email Us
•
Top