Americas & Beyond
Pirates Threaten Boats on US-Mexico Border Lake

Christopher Sherman - Associated Press
go to original
May 29, 2010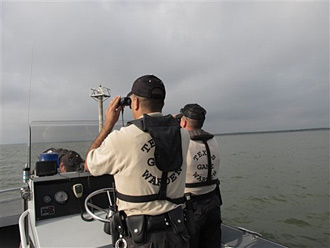 In this May 27, 2010 photo, game wardens from Texas Parks and Wildlife patrol the U.S.-Mexico border on Falcon Lake. (AP/Christopher Sherman)
Zapata, Texas — A lake that sits on the U.S.-Mexico border is fighting to protect its reputation as a world-class bass fishing destination since state authorities warned of pirates in its waters.


The Texas Department of Public Safety says twice in recent weeks, fishermen on Falcon Lake have been robbed at gunpoint by marauders that the local sheriff says are "spillover" from fighting between rival Mexican drug gangs.


Boaters are concerned about their safety, and the president of the local Chamber of Commerce is trying to assure people that everything's fine on the U.S. side of the lake.


Zapata County Sheriff Sigifredo Gonzalez Jr. says people should still come to Falcon Lake, but they just need to stay on the U.S. side.

Tell a Friend
•
Site Map
•
Print this Page
•
Email Us
•
Top