Entertainment | Restaurants & Dining
Restaurant Week at Blanca Blue

Gary R. Beck - PVNN
May 19, 2010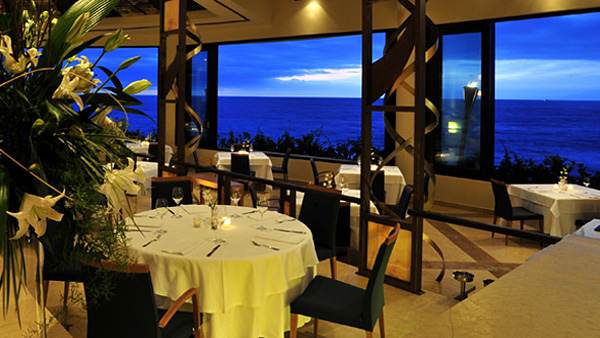 Blanca Blue is located within the Garza Blanca Preserve Oceanfront Resort and Spa at Carretera a Barra de Navidad Km. 7, north of Mismaloya. For more information or to make your reservations, call (322) 176-0700 or visit GarzaBlancaPreserve.com.
Intense buzz had surrounded Blanca Blue's opening, but Restaurant Week marked the first visit by my entire group.


The entranceway is enough to make you quiver with excitement and marvel at the natural and constructed beauty. A valet parker whisked us out of the car and onto the first step. Large open doorways were erected to highlight the glorious views of Bahía de Banderas, Los Arcos and southern edifices reaching for the stars. Off to one side is the stunning reception area for Hotel Garza Blanca. Straight ahead lay the Western sky, cloud-kissed bright blue with the sun soon to set.


This special destination features intimate rocky beachfront dining on a huge torch-lit terrace under a semicircular thatched palapa roof and a spacious glassed indoor air conditioned dining room. Soft earth tones with red and gold highlights painted the decor throughout.


We opted for a table situated on the edge of thee terrace overlooking the craggy rocks and soft waves, open air all around us. There was a light jazz group (which backs Fandango while in town) performing tunes from the last 20 years.


Executive Chef Francisco Ruano's contemporary international cuisine is evident throughout, but he is in the process of developing new creations thus making them his own. Manager Eduardo Luna defined their approach, paraphrasing: "simple decor, simple design and presentation, yet complex flavor of the food." Add in super elegant. Portions are on the small side, but each taste brought savory sensations from intensely fresh components. The service was quietly attentive and friendly.


For starters, we chose Fresh Scallops marinated in fresh real lemon juice with onion, cilantro, honey and orange topped with shaved fennel. The shellfish meat was firm, yet delicate. An outstanding choice was a cold swirled Roast Beet Sorbet, which arrived with herb goat cheese pieces fried to a golden brown with a slightly sweet and sour orange marmalade on the side. The fresh beet intensity jumped on the tastebuds. The waiter recommended taking a portion of each of the three into one spoonful. Refreshing and creative.


Tomato Tartar with crisp green beans in vinaigrette sat atop a round piece of soft toast and flavored with a red wine reduction. Employed were both roasted and grilled tomato marinated in balsamic vinaigrette. Again, the fresh intensity of the fruit jumped out.


Then it was time to enjoy our entrees. Ravioli stuffed with slowly braised beef short rib au jus and Parmesan were presented laid on top a mushroom fondue of seasoned slices. The pasta was firm and the sauce subtly creamy.


Roasted Piquillo Pepper, needing more time to enlarge, was stuffed with chorizo which had been fried to release any fat. Cheese grits (polenta) were the base of the entrée with a fine pork broth.


Grilled Fresh Red Snapper, thick fillet properly cooked to retain its moisture, and halved grilled sea scallops with prosciutto made for a beautiful dish. It was drizzled with an orange glaze and topped with mandolin-cut radish. Beautiful golden brown, light and fluffy egg popovers were served with dinner.


The sun slowly sank in the sky with streaking clouds reflecting bright colors, then slowly turning to intense red and orange. It was a special evening with the entire 180 degree horizon bursting with shades of pink, red and orange, but no green flash.


For dessert? Lemon Semifreddo (semifrío) is a half or semi-frozen concoction. It contained ice cream made with lemon juice and cream sprinkled with blueberries and a simple berry syrup. Trio of Sorbets, actually two delicious housemade ones: pineapple and strawberry, both characterized as only slightly sweet allowing the fresh fruit to shine at the forefront. The third portion of the special platter with three recessed ovals was vanilla bean ice cream. Refreshing and vibrant.


What is commonly called French Toast, the French call Pain Perdu. 'Old bread' fried in butter and served covered with powdered sugar, it is considered dessert in France. Here it was cut into a circle, covered with large chunks of plum, port wine and coated generously with Crème Anglaise, a light custard sauce.


The coffee service was quite impressive. A stainless steel oval platter contained a fine white ceramic cup and miniature creamer, with a spoon and sugar cubes beside. Coffee was full and rich.


The General Manager of the property, Miguel Hernández, stopped by when we were at peace and thanked us for visiting. Eduardo then showed us the stunning wine cellar, all glass enclosed, with the inside being a small lounge area and containing 2000+ bottles, some well-aged from French premier estates. Our party departed back through the massive foyer, knowing this is a very special spot which would be appreciated by so many discerning visitors and locals. We vowed to return soon.


Open Monday through Saturday from 6-11 pm, Blanca Blue is located within the Garza Blanca Preserve Oceanfront Resort and Spa at Carretera a Barra de Navidad Km. 7, north of Mismaloya. For more information or to make your reservations, call (322) 176-0700 or visit GarzaBlancaPreserve.com.

The author was supplied one choice in each of the 3 courses on the special Restaurant Week menu and this review is in no way connected to his independent restaurant guide, "Puerto Vallarta Restaurant Guide Beck's Best", where write-ups receive no compensation.



Restaurant Week continues through May 31st at some of the most recognized restaurants in Puerto Vallarta. For a list of participating restaurants and Restaurant Week 2010 reviews click HERE.
Tell a Friend
•
Site Map
•
Print this Page
•
Email Us
•
Top