Entertainment | Restaurants & Dining
época Restaurant Week Review

Gary R. Beck - PVNN
May 20, 2010
Open daily from 11 am-10:30 pm, época Restaurant & Beach Bar is located on Playa de Los Muertos at Aquiles Serdán 174 on the south side of Vallarta. For more information or to make your reservations, call (322) 222-2510 or visit epoca-pv.com.
época Restaurant & Beach Bar is another not-to-be-missed place to visit during Restaurant Week 2010. Ideally situated on the newest section of Vallarta's famous Malecón, época offers beachfront dining under palapas on the sand or under the tiled roof on the open-air patio, which also boasts an attractive bar.


Owner Kurt Sinner offers executive Chef Gerardo Gómez Velasco's contemporary Mexican cuisine. Since Gerardo came aboard, the level of cuisine has sky rocketed, giving this restaurant a position on dining lists. Vallarta Restaurant Week enables diners to visit eateries not frequented lately, and this one has become a high point.


We started our culinary journey with the Smoked Marlin Cakes appetizer: two large round cakes of smoked marlin mixture tossed in fine cornmeal and fried. Golden brown, they were resting on a light jalapeño mayonnaise. The flavors blended quite well, offering an alternative to the usual crab cakes.


The Roasted Tomato Gazpacho was another wonderful creation. Each ingredient shone on its own: roasted tomato, rich and full, celery, onion, garlic and cilantro. The texture was dense with each spoonful bringing pleasurable sighs. Levels above the competition.


The three entrées were generous in portion, to say the very least. New York Steak was grilled as ordered, large thick slices over an Oaxaca cheese Tamale laid on a wild mushroom pasilla chile sauce accompanied by an al dente broccoli and zucchini medley.


One guest ordered the Chicken Breast, and it arrived stuffed with fresh spinach, mushrooms and dried fruit. A not commonly seen sauce was based on the flowers of the arrayán tree. Crispy potato lattice cake stood alongside. Again the combination of the various flavors were mixed wisely and resulted in an unusual and delicious assembly.


Four large slices of Mahi Mahi cut from a char-grilled fillet were laid over a black chile sauce (chile negro), again a sauce rarely spotted on local menus. Julienned mango and tomato were fluffed alongside, a mango pico de gallo. A mound of wild rice soaked up portions of the sauce.


When it came time for dessert, mango appeared again, this time as a Mango Cheesecake. A sliver of this rich, smooth and fruity concoction had a graham cracker crust. The fresh fruit was at the forefront with the dessert not overly sweet.


The Chocolate Hazelnut Tart actually was a deep chocolate mousse mixed with tiny pieces of hazelnut on this same crust. A delight to chocoholics worldwide, including our party. We departed smiling and content with the fine food offerings and exemplary service. Kudos to the entire team that has made época a culinary hit.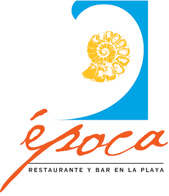 Speaking of chocoholics, after dinner we strolled over to Ródolfo Gómez #118 and stopped in Xocodiva Artisan Chocolates, which is open until 10 pm for people desiring a fantastic chocolate fix. Charlotte and Carole's array of hand-crafted truffles and molded confections are amazing.


Keep época in mind for a memorable beachfront dining experience at a high quality restaurant with reasonable prices. Kurt and Gerardo are quickly becoming known for their house smoked BBQ Pork Ribs, which are offered as a special on Wednesdays, but possibly not in the summertime.


Open daily from 11 am-10:30 pm, época Restaurant & Beach Bar is located at Aquiles Serdán 174 on Playa Los Muertos on the south side of Vallarta. Closed on Thursdays starting June 10th and for the month of September 2010. For more information or to make your reservations, call (322) 222-2510 or visit epoca-pv.com TODAY!

The author was supplied one choice in each of the 3 courses on the special Restaurant Week menu and this review is in no way connected to his independent restaurant guide, "Puerto Vallarta Restaurant Guide Beck's Best", where write-ups receive no compensation.



Restaurant Week continues through May 31st at some of the most recognized restaurants in Puerto Vallarta. For a list of participating restaurants and Restaurant Week 2010 reviews click HERE.
Tell a Friend
•
Site Map
•
Print this Page
•
Email Us
•
Top