Entertainment | Restaurants & Dining
Hacienda San Angel Restaurant Week Review

Gary R. Beck - PVNN
May 22, 2010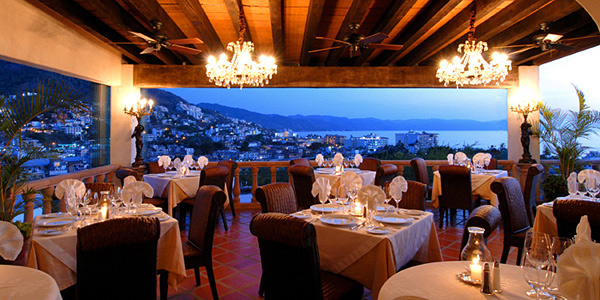 Open from 11 am-3 pm and 6-11 pm, Hacienda San Angel is located at Miramar 336, overlooking downtown Puerto Vallarta. For reservations, call (322) 222-2692. For more information, visit HaciendaSanAngel.com.
Combining four villas, Janice Chatterton's gorgeous antique-filled luxury boutique hotel, with courtyard, candle-lit gardens, common areas, library room with plush sofas and rooftop dining area terrace, every chair with an exquisite vista of the Bahía and city below, once for guests only, Hacienda San Angel is now open to the public.


Many, many locals comment that this destination is the most beautiful in all Puerto Vallarta. A couple of swings of the outside knocker on the thick wooden door brought a greeter welcoming the party inside. Three of our party had never ventured into this Hacienda and their cameras were clicking in every room, eyes marveling at the beautiful art pieces, many with an angelic theme.


We were quiet to avoid disturbing the guests at this bed and breakfast. Staying here could be fulfillment of a lifetime dream. Here you can enjoy chef Eduardo Mitchaca's Mexican mestizo and international cuisine with the backdrop of Bahía de Banderas and downtown Puerto Vallarta below. The ambiance is both romantic and comfortable. One cannot help but drift away into a feeling you are being served in your own home. The staff is so well-trained that they work almost as one.


On their special Restaurant Week 2010 menu, starters were a Sweet Cream Soup which melded the silkiness of the corn with cream and a hint of Kahlúa.


Arugula Salad was tossed in a light cream dressing with endive, radicchio and slices of firm but ripe pear, topped with many chunks of bleu cheese. Refreshing, simple yet the composition possessed much depth. The portion was sufficient to share amongst our group for a good taste.


Escargot in Puff Pastry was three mini cream puffs, split in two and toasted, topped with an escargot which had been cooked in a light herb, garlic butter sauce. Delicate, with the garlic subtle and not overpowering.


When we moved on to the main course, a spectacular Fish Fillet quickly became the table's favorite. Our extremely attentive and knowledgeable server informed that the fish of the day was bajo el agua dulce, with my retort, oh, Sea Bass. He corrected me by saying this is Fresh Water Bass, light and more delicate than that species from the ocean. Being a fine fish not often spotted on menus locally, several of us opted for this entrée. One word: spectacular. The fillet was characterized by softness, sweet flavors, flaky texture and a subtleness diners would enjoy time after time.


Chicken Piccata provided thin pounded slices of chicken breast, sautéed and accompanied with a delightful lemon, caper, wine and butter sauce. All main plates contained a large swirl of creamy mashed potatoes and a good cluster of al dente green beans. Portions were generous and of top quality. Spinach Ravioli were prepared stuffed with Ricotta cheese and shallots displayed on a smooth tomato sauce.


The Chocolate Tart was beautiful. The small circular pie shell was filled with very dark chocolate liquid, enhanced by a mint-infused vanilla-flavored Chantilly cream. No one shared this dessert.


Apple and Pecan Strudel was an assembly of sliced apple and pecan wrapped in a sheet of phyllo pastry. The dessert was nicely moist and enhanced by a vanilla sauce.


Passion Fruit Sorbet was a palate cleansing end to this fine meal. The fruit shone forth, a bit sour, but blending with the sweet creaminess of the sorbet. This reminded us once again that many local restaurants are not opting for a processed purchased sorbet but are making in house, fresh and sparkling. A dark and strong coffee cappuccino supplied an energy boost to complete the experience.


Reservations are required, please. Add in the fact that right before sunset, Mariachi Joya de Guadalajara, considered by some the best such group in Puerto Vallarta, performs on Friday during low season but in high season, find them playing gloriously on Monday, Tuesday, Wednesday and Friday.


Several of the approximate dozen musicians strolled the dining area presenting an up-close view and sound from individual members. This spectacular group defines this indigenous Jaliscan music and with the nightly fireworks from the Marigalante behind them, their finely-blended sound soared into the skies to the pleasure and appreciation of the guests.


We could not help but think as we sadly departed to the street, after kudos and warm wishes to Janice, that this is what our lovely town is all about: preserving past glory and beauty, combining with modern amenities, then coupling with a special dining experience. Not to be missed.


Hacienda San Angel is located at Miramar 336, overlooking the heart of downtown Puerto Vallarta. Visit during Restaurant Week and you'll see why dining at Hacienda San Angel Gourmet is an adventure. For reservations, call (322) 222-2692.

The author was supplied one choice in each of the 3 courses on the special Restaurant Week menu and this review is in no way connected to his independent restaurant guide, "Puerto Vallarta Restaurant Guide Beck's Best", where write-ups receive no compensation.



Restaurant Week continues through May 31st at some of the most recognized restaurants in Puerto Vallarta. For a list of participating restaurants and Restaurant Week 2010 reviews click HERE.
Tell a Friend
•
Site Map
•
Print this Page
•
Email Us
•
Top