Entertainment | Restaurants & Dining
Dining in Pitillal at Pollo Campero

Leslie Korn & Rudolph Ryser - PVNN
May 16, 2010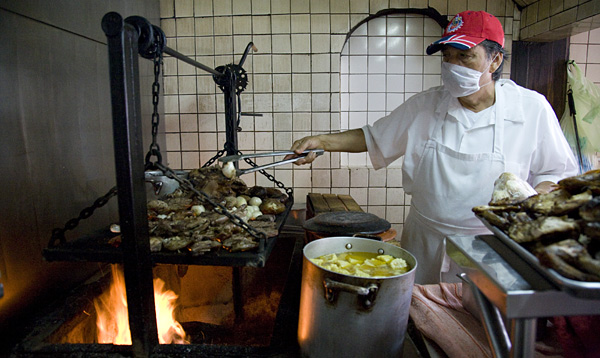 Don Epifanio tends the fire pit personally and with gusto, ensuring the quality of each serving. (photo by Amber Cole)
I often long for the old Vallarta of the early 70's. I miss the ease of accomplishing everything within a few square blocks; the vegetable, fruit and herb markets at the old bridge, the dental and homeopathic medicine offices on Hidalgo, the Ferretería Zaragoza on the Malecón and seeing the same faces daily - the old men from the papelerias carrying to the bank their blue square plastic money pouches emblazoned with plumbers' advertisements. I long for the old PV like I long for my old bikini body and sunbathing ... seemingly gone for good.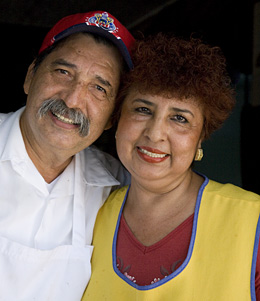 El Pollo Campero is owned and run by an enthusiastic husband-wife team, Epifanio Ramos Arquieta and Maria de la Luz Hernandez Ortiz. (photo by Amber Cole)
So when I need to revisit some of the flavor and feel of old PV I inevitably wend my way through the streets of Pitillal. I go to Pitillal in search of an evening of dancing in the square, coconut atole and meals at one of the many corner fondas serving delicacies of fresh cooked thymus, palate and tongue alongside fresh tamales de elote.


One of the best places to sit-down for a fulsome meal sits just a few blocks up from the square; its called El Pollo Campero, "the Camping Chicken." Owned and run by an enthusiastic husband-wife team, Epifanio Ramos Arquieta and Maria de la Luz Hernandez Ortiz.


The restaurant pays homage to the large Rancho Las Trompetas, and the early settlement days of Pitillal and Puerto Las Peñas. In those days, catching and roasting wild game over an open fire was a way of life. Like the days long past, meal options at El Pollo Campero include healthy servings of wild quail, Cornish hen, pork ribs and rabbit.


In an ambience as dark and intimate as a camp cabin, Don Epifanio applies his practiced skills to roast succulent main course meats, plain or barbecued with a sweet sauce and served with corn, black beans and blue corn tortillas. Don Epifanio tends the fire pit personally and with gusto, ensuring the quality of each serving.


El Pollo Campero is well-known for serving up picnic lunches for take-out on Sundays highlighted by one of their specialties: a platter of mixed barbecued meats to share with 2 or more people. If meat is not your delight, El Pollo Campero offers a full selection of fish, shrimp and soup dishes.


Recently, I eagerly visited El Pollo Campero with a crowd of friends including my vegetarian medical student intern. While we ordered carnivore-satisfying platters, she enjoyed a bowl of Queso Fundido and mushrooms and together we all shared a large pitcher of agua de arrayán, (the guava's cousin).


It's true that a full-plated meal of ribs won't help bring my bikini back, but it sure does bring back the rest of the old days, if only for a night, thanks to Don Epifanio and Doña Maria at El Pollo Campero, in comfortable Pitillal.


Location and Hours:
Juan Aldama No. 237 Esq Independencia, El Pitillal
Tel. 224-0724 y 224-0316
Open 12 pm to 10:30 pm
---

Dr. Leslie Korn is an educator and clinician-healer specializing in complementary/alternative medicine and indigenous healing methods, who has been conducting research in the Banderas Bay and Cabo Corrientes regions since 1973. To learn more about her work, visit HealthAlt.org.


Click HERE to read more articles by Leslie Korn.
Tell a Friend
•
Site Map
•
Print this Page
•
Email Us
•
Top