Entertainment | Restaurants & Dining
Restaurant Week at Vitea

Gary R. Beck - PVNN
May 31, 2010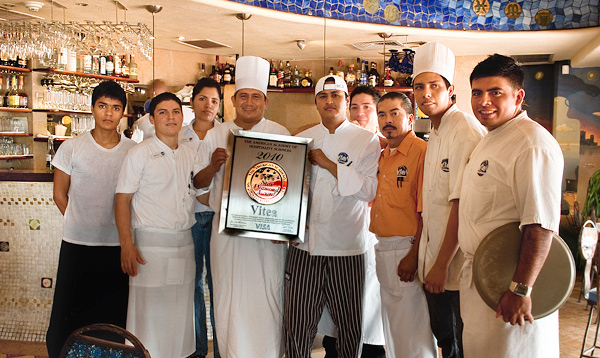 Vitea is located at Libertad #2 on the Malecón extension in downtown Puerto Vallarta. For more information or to make your reservations, call (322) 222-8703 or visit ViteaPV.com.
Chefs/owners Bernhard Güth and Ulf Herniksson of Trío run Vitea, an artistic Art Deco casual and contemporary European Riviera bistro. Outside on the Malecón extension right north of Río Cuale are 14 tables under awnings, great at lunchtime and sunset.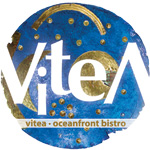 The setting is relaxed with colorful mosaic glass tables and chairs plus panoramic views of Bahía de Banderas. When the climate is hot, the inside dining area, which features a large shiny espresso bar, is air conditioned.


In 2010, Vitea received, for the second consecutive year, the Five Star Diamond Award from The American Academy of Hospitality Sciences, which is just one more reason this oceanfront bistro was on our list of must-visit places during Vallarta Restaurant Week 2010.


Dinner commenced with a Spinach and Cheese Quiche, known for quality here, featuring a flaky housemade crust baked with a subtle spinach cheese filling. A blend of mixed greens with sunflower seeds provided a good accompaniment.


Shrimp Bisque was a large bowl of full-flavored creamy shrimp stock made from the shells, floating with medium-sized whole shrimp, a little chile picante and topped with a swirl of cream and crispy croûtons.


Caesar Salad arrived as designed in 1924 in Tijuana by Caesar Cardini. The romaine leaves are served whole, not torn into bite-size pieces. All had been tossed in a light dressing with extra served in a small vessel.


When we moved on to the main course, the description of one creative dish was intriguing: Zarandeado-style Spice-Glazed Pescado. Huachinango fillets were laid on thick slices of grilled eggplant with a smooth puréed chickpea (garbanzo bean) hummus underneath and a light tomato sauce with garlic and oregano. The fish was sweet and moist, a true delight, and the layering of the chef's flavors allowed every ingredient to be appreciated, all blending very well. Add in the spicy watercress and the taste buds opened. This is an entrée to be fondly remembered.


Braised Beef-filled Cannelloni was a generous portion of housemade pasta tubes, stuffed with slowly cooked beef pieces and baked with tomato sauce, white sauce and Parmesan cheese. Was this Italy or the beachfront of Puerto Vallarta? In entirety, it was another fine experience.


Chicken Breast had been sliced, then pounded and grilled quickly. It was glazed with light jalapeño-honey sauce. Outstanding fried jasmine rice was mixed with jicama, spinach and carrot. A spicy curry sauce was presented for use as desired.


After an earned respite, Cinnamon Ice Cream with Warm Apple Beignets arrived. Thick slices of apple had been fried and dusted heavily with cinnamon-sugar. No batter was evident. Finely chopped pecans were an added treat. Again, the flavors were layered, all working together as one yet individual.


Here, Caramel Flan was possibly the definition of this Mexican dessert. The custard was creamy and perfect, the top deep golden brown and the syrup rich yet not overly sweet. Many eateries could take a lesson here. Black Forest Cake was layers of deep chocolate mousse, real whipped cream and whole black cherries. Stunning, light but heavenly rich.


Our meal was accompanied by live flute music from Bob Tansen on Sunday. Music is also offered with Oscar Terrazas playing light jazz with his saxophone on Wednesday, Thursday and Saturday nights. There are three sets with some passersby stopping in for a drink and dessert to enjoy the soothing sounds of music and waves.


A gourmet tasting menu 1/2 or full order is offered, working well for guests not extremely hungry or guests who wish to order several plates to share. Whether seeking a dining experience at Trío or Vitea, one can bank on a beautiful meal with upscale atmosphere to match. Both spots are high on many lists of must-visit restaurants in Puerto Vallarta.


Open daily from 8 am-12 midnight, Vitea is located at Libertad #2 on the Malecón extension in downtown Puerto Vallarta. For more information or to make your reservations, call (322) 222-8703/8695 or visit ViteaPV.com.

The author was supplied one choice in each of the 3 courses on the special Restaurant Week menu and this review is in no way connected to his independent restaurant guide, "Puerto Vallarta Restaurant Guide Beck's Best", where write-ups receive no compensation.



Restaurant Week continues through May 31st at some of the most recognized restaurants in Puerto Vallarta. For a list of participating restaurants and Restaurant Week 2010 reviews click HERE.
Tell a Friend
•
Site Map
•
Print this Page
•
Email Us
•
Top