News from Around Banderas Bay
Vallarta Fishing Experience: Fishing Parties in Puerto Vallarta, Marlin, Sailfish, Yellowfin Tuna, Summer Fishing Begins Now!

Stan Gabruk - PVNN
June 04, 2010
Along with the warmer weather comes the warm water fish like Marlin, Sailfish, Dorado, Rooster Fish, Cubera Snappers, Amber Jacks...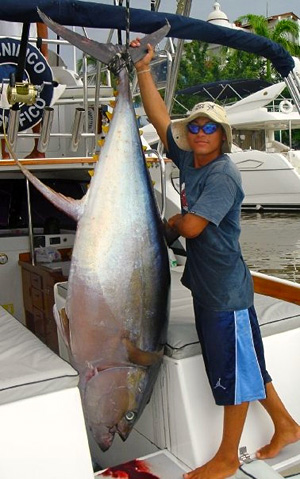 ... and yes, Yellowfin Tuna.
Yee Ha! We made it through May, the worst month of the year when it comes to tourism and those looking to head out fishing. Even though Puerto Vallarta sportfishing is world renowned, the month of May is always a transition month. But hey, no worries, we all plan for it. Although it is nice to have people walking around Marina Vallarta again.


The Memorial Day Holiday always marks the unofficial start of summer. Along with the warmer weather comes the warm water fish like Marlin, Sailfish, Dorado, Rooster Fish, Cubera Snappers, Amber Jacks and yes, Yellowfin Tuna. Monster Yellowfin Tuna over two hundred pounds and can range upwards to 400 lbs. Itīs time to party and shift our mental gears to get ready for Summer, Amigos! Itīs Time to Party!


In my articles lately I have written about how the only real action that has been happening was within the eight hour range and even then it could be a little iffy. While the areas of the Marietta Islands to the point of Punta Mita are still producing like machines, we have some improving options this week.


If you recall I have been talking about how when the dirty water (upwellings) comes in how this would be a sign of change and may be a good thing in reality. Well, it was, we have fish starting to move into the area due to the crazy abundant bait. Which you may say is a good thing - and it is, but it does have a down side. These fish cannot eat 24 hrs a day. I know they chow down with the best of 'em, but they will get full and when they are, you couldnīt turn their head for nothing. But that isn't exactly true about all areas, just most of them...


There are these small flying fish all over the Marietta Islands and in the Bay of Banderas. Because of this, Sailfish have moved into the bay! So they are finally in the area and are finally eating / taking bait. This means the spawning season is finally finishing up and we can finally target fish them. The down side again, amigo, how are you going to get them to take what you're offering? Good luck with that one, let me know how it works out.


For the last couple of weeks, the Rooster fish and Sailfish have been striking way north of Punta Mita. This is a eight to ten hour day, but this is a normal condition for us here in PV anyway, so it is not a negative thing, itīs just a thing. It all ultimately boils down to a money thing in the end though.


With conditions improving closer in now, the days may have better results in shorter days shortly as Puerto Vallarta sportfishing turns into Barrel Fishing! It can be crazy, even bad captains catch fish with their one lure as we get deeper into summer. Closer to the point of Punta Mita, small Snapper and chicken Dorado are abundant. Better to come looking for them another day.


Inside the bay, plenty of bait fish to feed the appetites of Jack Crevalls, Bonito, Snappers, Needle Fish, and more. Six hour fishing trips are producing ten to thirty strikes, now how many get boated is up to you. The point here is that you donīt have to go fishing for a whole day to catch fish. Those who would have you think this are not your friends.


I had a few friends come in and tell me how they were five miles out past El Banco, north or the points and came across 100 to 200 lb Yellowfin Tuna slashing through monstrous schools of shrimp and krill squids. Spinner Dolphin running with football Yellowfin Tuna were also making the best of a lucky situation for all these species. This is another indication of warmer water moving into the area.


Just a reminder, there are always YF Tuna at our fishing grounds, but there are several to choose from. Summer brings in the YFT closer to El Banco. Winter, you have to head out to the Tres Maria Islands or Prison Islands 75 miles one way. If you want them, they are here. The only question is how much are you willing to do?


I have to say something about the oil spill, this is horrible and I have no confidence that those in the key positions know what to do. Yet again government agencies and employees are sleeping with the enemy and this is the result of corrupt oversight and the lack of those in power being held accountable. There are issues that need to be considered that I have not heard mentioned.


First, forget for a moment about the money people are losing, the lives being ruined or how this could happen in the first place. Let's look strictly at sea life. The area around Louisiana to the tip of Florida, to Cuba and back into the Gulf of Mexico are the primary breeding grounds for Whale Sharks and Blue Fin Tuna.


Now, affecting the Whale Shark population is bad enough, but the Blue Fin Tuna is considered rare and a prized delicacy for the Japanese. The spill has occurred during the spawning season of these fish. Only about 3% survive the larva period of their life as they are eaten by animals like Whale Sharks. The other breeding grounds for Blue Fin Tuna are in the Mediterranean.


So everyone knows about the sea life, I just wanted to drop this in your lap because as a fisherman in PV I understand and internalize this all as a fisherman. The world will suffer from this man-made F**k-up of biblical proportions!


Second, nobody is mentioning the impact of the weather on this British Petroleum (BP) created disaster. I want to make sure British Petroleum (BP) gets all the credit for this on the search engines. OK, back to the issue, Hurricanes. This could not happen at a worse time... NOAA released this very informative article that's well worth a read. They are predicting the close to the worst possible predictable hurricane season possible.


Now if a little wind can blow this whole mess around, what the heck will happen when you actually get some force behind this disaster. Every single beach or oceanic ecosystem is at serious, long term risk. This is not just an American Problem. Mexico, Cuba, and the Caribbean all come into play as currents and hurricanes create swirling currents and big waves. If you want to go into money, billions would be likes drops in a bucket.


Well that's about it for now... but don't forget: We are now selling our world famous T-Shirts online at MasterBaitersGear.com. Also, you can keep up with periodic fishing reports on my Vallarta fishing blog.


Until Next time, donīt forget to kiss your fish!

Stan Gabruk is the owner of Master Baiters Sportfishing and Tackle in Marina Vallarta. He came to Puerto Vallarta for a brief, three-week vacation and never left. You can find Stan at his Master Baiters Sportfishing shop in Marina Vallarta, located on the boardwalk down from the lighthouse next to Tikul Restaurant. For more information about fishing in Puerto Vallarta, visit MasterBaiters.com.mx or email Stan at Catchfish(at)MasterBaiters.com.mx.
Tell a Friend
•
Site Map
•
Print this Page
•
Email Us
•
Top