Entertainment | Restaurants & Dining
Mexicali Craft Brewer Gets Barrels of Raves

Peter Rowe - San Diego Union-Tribune
go to original
June 24, 2010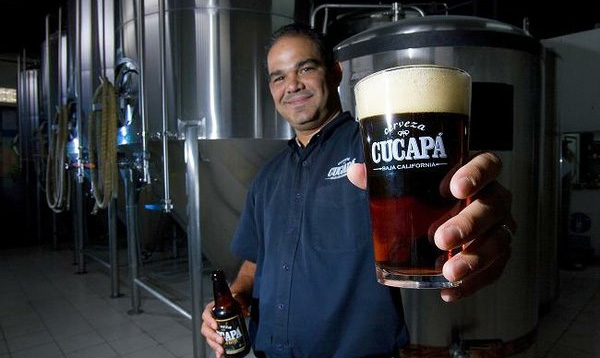 In Mexicali, CEO Mario Garcia of Cucapa Brewery holds up one of his company's more popular ales. (Nelvin C. Cepeda/Union-Tribune)
Mexicali, Baja California — While Easter's earthquake rattled this city of 1 million, the epicenter was 20 miles away. The most severe damage, including the two fatalities, was suffered by a rural valley about a half-hour's drive south of Cucapá, a tiny brewery on Mexicali's industrial fringes.


Still, the 7.2 quake made a mess of this modest plant. Workers had to knock down a cracked cinder-block barrier; sweep up broken glassware in the lab; mop up barleywine, sloshed from a barrel where it had been aging; and repair a ruptured pipe that delivers coolant to the massive fermentation tanks.


But within two weeks, Cucapá was back in business.


Back to battling a force fiercer and more formidable than Nature: the Mexican beer market.


"We're nowhere here in Mexico," confessed Mario García, Cucapá's CEO. "Most of our sales are in export."


In fact, Cucapá is much easier to find in San Diego than in Mexicali. And this upstart has been championed by American publications like Draft magazine, which last year listed García as one of "Nine Beer Innovators to Watch." The new book "1,001 Beers You Must Taste Before You Die," edited by British writers Adrian Tierney-Jones and Neil Morrissey , only lists seven Mexican beers — but three are from Cucapá. (A fourth: Tijuana Morena, from fellow microbrewery Cerveza Tijuana.)


"Cucapá is the premiere Mexican brewery over the last — how long have they been around? — 10 years," said Bill Sysak, beverage supervisor at Stone Brewing World Bistro & Gardens in Escondido.


In fact, the brewery just turned eight, and there's no guarantee it will survive to see its 10th birthday. To grasp Cucapá's shaky position, visit the sixth annual Tijuana International Beer Festival, July 16-17. There, fans from both sides of the border will quaff Chupacabras, the brewery's pale ale, and La Migra, its new imperial stout. But walk into any of the bars lining Avenida Revolución, Tijuana's main drag, and ask for a Cucapá. You'll be met with a blank stare or a shrug; you won't be greeted with a cold Cucapá because they just aren't available.


Grupo Modelo and FEMSA, two brewing behemoths, dominate Mexico even more completely than Budweiser and Miller rule the States. They make the country's best-selling beers — FEMSA's portfolio includes Tecate, Sol, Carta Blanca, Dos Equis and Bohemia; Modelo's Corona, Pacifico, Modelo and Negra Modelo. They also own most of the alcohol licenses. To obtain this all-important certificate, most tavern owners agree to exclusively sell FEMSA or Modelo products.


Against these near-monopolies, the Mexicali microbrewery has won some victories. In last October's Copa Cerveza, an annual beer competition held in Guadalajara, Cucapá won three silver medals. That's nice, but there are days when García would trade the awards for a few more tap handles and craft beer enthusiasts in his hometown.


"There are so few accounts that we can sell to," García said, estimating that Cucapá can be found in perhaps a dozen Mexicali taverns. "In terms of creating palates in the market, you don't know where to start."


Like warm bread


In 2002, García's father — also named Mario García — thought he knew where to start. For decades, the Garcías had owned a profitable paper plant in Mexicali; on business trips to the U.S., father and son acquired a taste for microbrews. So why not open a brewpub and call it Cucapá, the name of an indigenous tribe and a mountain range south of the city?


The restaurant was popular, but customers didn't immediately warm to the in-house brewery. Roberto González, then Cucapá's brewer, made full-flavored, complex beers in small six-keg batches. Small, but not small enough.


"We couldn't sell one keg a month," García said.


Cucapá employees worried that their tastes, whetted by adventurous north-of-the-border breweries, were out of step with local preferences. And these cultural tensions weren't limited the stuff inside Cucapá bottles. There was also the text printed on the bottles. When a San Diego fan of the barleywine proposed the brewery name it after Baja's mythical bloodsucking goat, the chupacabra, García sought his staff's advice.


"No, man, that's crazy!" came the response.


But a few years later, the brewery issued a new pale ale, Chupacabras. Despite its cheeky name and unmistakable hop bitterness, it soon became one of Cucapá's best-sellers in Mexico. Employees took note and began to realize that the company's identity, while certainly not American, also wasn't strictly Mexican.


"What identifies us as a brewery? Probably not Mexico," García said. "When you think of Mexican beer, you don't think craft beers. It's the border. The border culture is entirely different from Mexican culture."


The brewery's latest beers reflect this attitude: La Migra, the imperial stout, whose label shows an unsmiling Border Patrol agent; Runaway IPA, whose label is decorated with the iconic silhouette of a family in flight; Green Card, the barleywine; and Lowrider, which García maintains will be Mexico's first bottled rye beer.


These brews will be released this summer, although a limited run of La Migra was sold at the brewery this spring. García's faith in the local hunger for craft beer was bolstered when the 750-mL. Champagne-style bottles vanished in less than three weeks.


"We've been selling like warm bread," said José Real, the brewery's sales manager for Mexico.


North, south, north


The border is complex; so is its influence on Cucapá. Beyond the labels' witty cultural references, the line separating Mexico and the U.S. helps and hurts Cucapá. Baja's maltsters are under contract to FEMSA and Modelo. Cucapá's wheat beers are possible only because the brewery is within easy trucking distance of American maltsters.


Hurrah, border!


International shipping, though, costs time and customs duties.


Boo, border!


"The wheat we use is Mexican," García noted, "but it's malted in the U.S., then imported back into Mexico."


And then more than 70 percent of the finished product is shipped back to the U.S. or abroad. Cucapá recently exported its first shipment to another nation, New Zealand.


Sales are rising with the brewery's reputation, but not quite to Anheuser-Busch territory. At its current rate, Cucapá would need 667 centuries to match one year of A-B production. San Diego County's largest brewery also dwarfs this micro. This year, Stone plans to make 100,000 barrels of beer; Cucapá, 1,500 barrels.


But García insists that he's not distracted by size, border politics, or even the restaurant business. In December 2007, he and his father closed the brewpub.


"What's really our main focus here?" the younger García asked. "We want to make beer."


Beer that robustly challenges the notion that "Mexican beer" is synonymous with "light-bodied yellow lager." Last July, García poured year-old barleywine into empty tequila barrels. Sample this concoction now and you immediately taste the mescal, followed by a toasted oakiness that ends with a sweet malt nip. This potent brew, called Tequila Barrel, will be released for the holidays, when the flavors should be even fuller and more integrated.


"It's crazy," García said. "It's crazy, but we get there."


He meant the beer, but he could have been describing the brewery.

Peter Rowe: peter.rowe(at)uniontrib.com
Tell a Friend
•
Site Map
•
Print this Page
•
Email Us
•
Top