Entertainment
For Mexico, 'Zoot Suit' Still Relevant After 30 Years

Daniel Hernandez - Los Angeles Times
go to original
July 02, 2010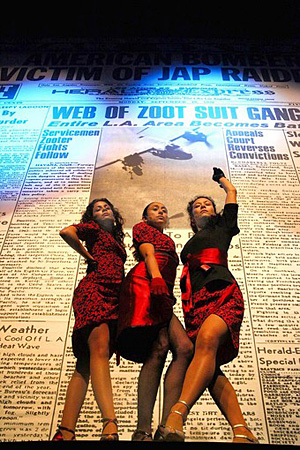 A scene from Mexico's National Theater Company's production of the Luis Valdez play "Zoot Suit," about the 1942 Sleepy Lagoon murder trial in Los Angeles. (Sergio Carreon Ireta)
Luis Valdez's play, which premiered in Los Angeles in 1978, has finally reached Mexico, where it has struck a chord in light of Arizona's recent law against illegal immigrants.

Mexico City — In the final scene of "Zoot Suit," the Luis Valdez play about the 1942 Sleepy Lagoon murder trial in Los Angeles, the character Smiley directs the following line to fellow Mexican American Hank Reyna after the unfairly accused men are released from prison:

"Let's face it, Hank. There's no life for us in this city, I'm taking my family and I'm moving to Arizona."

In Mexico City, where "Zoot Suit" is playing, audiences have erupted in applause and laughter in response to the line in light of the controversial illegal immigration law recently enacted in Arizona. Smiley's optimism about life there sounds like a gag squeezed into the dialogue at the last minute.


But it is not. The line is actually in Valdez's original 1978 script.


Speaking in Mexico City after the opening of the production here, Valdez can't help but feel good about the serendipity of the moment. "Critics ask me, 'What makes your play relevant after 30 years?' And now the response I get is, 'How come your play is so fresh?' "


But it is a somewhat bitter acknowledgment, he said. "The situation has changed and not changed in the United States. In some ways it's better, in some ways it's worse."


Thirty-two years after "Zoot Suit" premiered at the Mark Taper Forum in Los Angeles, becoming a box-office blockbuster before eventually reaching Broadway and the silver screen, the play has migrated south of the border in a new full production by Mexico's National Theater Company.


Performances of "Zoot Suit" have sold out almost consistently since the play opened April 29 on the campus of the national university, theater officials said.


Its run ends Sunday.


The production is significant on several levels. It is the first "Zoot Suit" mounted in Mexico and has an all-Mexican cast and all-Mexican production team. It is also the first production of "Zoot Suit" in Spanish, with a script co-translated by Valdez and Edna Ochoa, a writer and academic in Texas. Valdez also cast and directed the production.


"Zoot Suit" follows Reyna and his alter-ego, El Pachuco, during the sensationalized Sleepy Lagoon trial, World War II and the so-called Zoot suit riots that followed the court proceedings. In Mexico, the story is bolstering the widely held perception that Mexicans in the United States are still subjected to discrimination.


"It shows us something that really happened, and at the same time, [that] history keeps repeating itself and repeating itself," said audience member Fabiola Zepeda, 22, after a recent performance.


The Mexican theater press has given the play a similar reading.


"This production maintains its permanence in light of recent events in Arizona," said the online magazine Interescena. " 'Zoot Suit' displays a permanent process in the United States, where the abuse of 'the other' never disappears."


But the play's staging in Mexico City also sends a triumphant signal, many here said. A "Zoot Suit" production in Mexico is a sign that Mexican American culture is entering the heart of a society that for generations has been unsure of how to regard its descendants from the "north." The National Autonomous University of Mexico (UNAM) hosted a symposium last week on these very issues, with participants discussing topics such as immigration, Valdez's legacy in the U.S. theater, and "The Chicano in the Mexican Consciousness," as one panel was called.


In Mexico, growing awareness of Los Angeles as a cultural center with strong ties to the country is a recent development. Los Angeles was among those invited to the Mexico City book fair in 2006 and to the international book festival in Guadalajara, the largest in the Spanish-speaking world, last year. In 2008, the Tamayo Museum in Mexico City hosted "Phantom Sightings," the art survey of recent conceptual work by Mexican American artists, an exhibit that originated at the Los Angeles County Museum of Art.


One panelist at the "Zoot Suit" symposium here, independent U.S. scholar Tomas Ybarra-Frausto, said before a recent performance that perceptions of Mexican Americans within Mexico have shifted radically due to more fluid cultural movement between the two countries.


"When I came here 20 years ago, I got on the front pages for saying 'Every Mexican has the potential to be a Chicano,'" Ybarra-Frausto said. "But look now. We're here, they're there. They're here, we're there."


The genesis of this "Zoot Suit" production lies with Alma Martinez, a professor at Pomona College and member of the original "Zoot Suit" cast. One of Valdez's longtime collaborators, Martinez made contact last year with the new artistic director of Mexico's National Theater Company, Luis de Tavira, to float the idea of a "Zoot Suit" staging in Mexico. Martinez, a Mexican native, had studied theater with De Tavira and is in the current production as Reyna's mother.


De Tavira expressed immediate interest, and the wheels began turning for a full staging in Spanish. It's no easy task in any language. "Zoot Suit" requires a large, physically agile cast, with many roles requiring singing or dancing in genres such as mambo and swing.


The play also serves as a milestone on a long journey for Luis Valdez, now 70. The playwright, director and filmmaker is a native of California's Central Valley and founder of the Teatro Campesino, the agitprop performance arm of the United Farm Workers movement led by Cesar Chavez.


Valdez still expresses indignation over what he calls a "lockout" of a "Zoot Suit" revival in Los Angeles. (He directed the film version of "Zoot Suit" in 1981 and the biopic of musician Ritchie Valens, "La Bamba," in 1986, but he has not made a major studio-produced film since.)


"They really ignore what's going on in the Latino theater," Valdez said.


Yet in Mexico he is referred to as "maestro," a term of deep respect that is not used lightly. Staging his play in Mexico City, Valdez said, and watching it unfold in Spanish, is particularly moving for him.


"I feel it's more real than the English version. As a Chicano, I feel the characters are more real, the pachucos are more real, in their interactions."


Bringing "Zoot Suit" here is a sort of homecoming, the playwright said. Valdez first visited Mexico City in 1963, while studying for a theater degree at San Jose State.


"I had this weird sensation that here I was in Mexico, and I saw faces all around me that looked familiar, looked like relatives, but I knew no one, and no one knew me," Valdez said. "They were all busy, going about their lives, rushing about, talking in Spanish. And so it was very odd."


Yet, "I knew that I would come back in some way, shape, or form."

Hernandez is a staff writer in The Times' Mexico City Bureau.
Tell a Friend
•
Site Map
•
Print this Page
•
Email Us
•
Top