Health & Beauty
The Many Health Benefits of Canela/Cinnamon/Cinnaomomum Verum

Leslie Korn, PhD, MPH - PVNN
July 14, 2010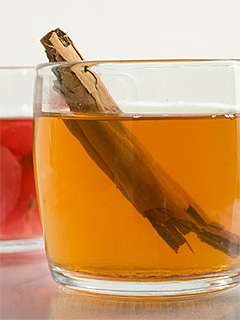 Traditionally Te de Canela is served in Mexico as a morning tea. The increasing loss of this ritual coincides with the rise in diabetes. (photo by Amber Cole)
Traditionally Te de Canela is served in Mexico as a morning tea. The increasing loss of this ritual coincides with the rise in diabetes for cinnamon has powerful antidiabetic effects.


Mexico is one of the largest importers of cinnamon in the world. Cinnaomomum verum, is originally from Sri Lanka, and belongs to the Lauraceae family. Commonly confused with similar species Cassia, it has a powerful and aromatic inner bark historically used in ancient Egypt as an embalming agent.


Cinnamon is prepared by cutting the young shoots of a tree and peeling off the outer bark. While drying, the inner bark curls into quills. These can be folded to form the cinnamon sticks or ground into powders, which are found in markets and grocery stores throughout the world.


Nutritionally, cinnamon is rich in manganese as well as the antioxidants phenol, salicylic acid and tannins. The aromatic scent and strong taste are formed by the compound cinnamaldehyde.


Chinese herbalists prescribe cinnamon for ailment such as diarrhea, chills, influenza, and parasitic worms. Research has demonstrated that cinnamon extracts increase glucose uptake and synthesis of glycogen. In human clinical trials, cinnamon lowers lipid levels in patients with type 2 diabetes.


Scientific results conclude that consuming 6 grams a day of cinnamon or less will lower cholesterol, triglyceride, and serum glucose in diabetes patients. Thus supplementation of cinnamon is a beneficial preventative measure for diabetes and heart. Pregnant women are advised to avoid a large intake of cinnamon because it is a uterine stimulant. The polyphenols in cinnamon have been shown to stunt the growth of tumor cells.


Recent animal studies suggest an antibacterial and anti-fungal effect from cinnamon. In particular cinnamon is effective against Candida albicans, the fungus that causes thrust and yeast infections. Gargling with cinnamon is both antibacterial but also antifungal as is taking a foot-bath in cinnamon for fungal infections.


Similarly, cinnamon kills Helicobacter pylori, the bacteria known to cause stomach ulcers. Cinnamon oil is an effective pesticide and the compounds cinnamaldehyde and anethole found in the oil, are effective natural mosquito repellents. Cinnamon tea is delicious hot or cold.
---

Dr. Leslie Korn is an educator and clinician-healer specializing in complementary/alternative medicine and indigenous healing methods, who has been conducting research in the Banderas Bay and Cabo Corrientes regions since 1973. To learn more about her work, visit HealthAlt.org.


Click HERE to read more articles by Leslie Korn.
Tell a Friend
•
Site Map
•
Print this Page
•
Email Us
•
Top