Health & Beauty
In Case You Missed CNN's Shocker, 'Toxic America' - Part 3

Suzy Chaffee - PVNN
July 13, 2010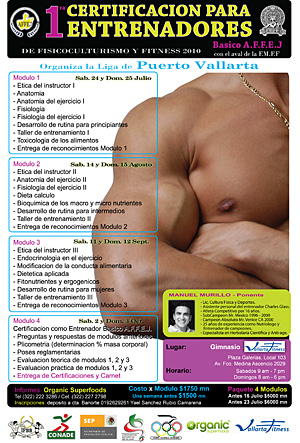 Click image to enlarge
The Mexican Olympic Committee, body builders, gyms, and health food stores are spearheading a program designed to educate Mexicans and ExPats about toxin dangers in food and products. Vallarta's training begins on July 24th.
Mexico Has Banned 0 Toxins, But Leads World in Organic Farms


While Mexico has not banned any toxins, hopefully CNN's expose is reaching the minds and hearts of leaders who want to turn around their obesity challenge, which, like America's, is toxin, hormone, sugar and fitness related. Yet what we the people buy and say to stores and companies, can ultimately decide.


Mexico can, however, take a bow for being one of the world's organic leaders: "5th largest producer of organic foods, No. 1 in organic coffee, and the greatest number of organic farms thanks to the government subsidizing their certification process," which all countries would be wise to quickly follow!


Most of the smaller farms are owned by Indigenous Peoples who make 20-40% higher income than bigger farms growing conventional pesticided foods, according to Via Organica, sister of Canada's Organic Consumers Association.


Besides being in more harmony with the land, and protecting the health of the farmers, "most little farms could not afford the pricey chemical fertilizers and pesticides." For similar reasons local families do not use hormones in chickens and eggs sold in the little grocery stores, nor produce by street vendors and farmers markets.


And despite Mexico exporting most of its organics produce and importing most the green products, Mexico has an affordable health care system for its citizens. And in appreciation for stimulating their economy, Mexico graciously shares its national health care insurance with U.S. and Canadian ExPats, (10,000 in PV), and some cutting edge doctors, for as little as $200 USD a year!


Mexico & Puerto Vallarta Toxin Awareness Pioneers


The Mexican Olympic Committee, along with local body builders, gyms, and health food stores like Organic Superfoods, are together spearheading educating Mexicans and ExPats about toxin dangers in food and products. This vital health information is now required for trainers to get certified across Mexico.


"There was a big turnout at the first training in Guadalajara last week, where they were surprised about the toxins," said organizer, Yael Sanchez. "Vallarta's training begins July 24th, and there will soon be a conference for moms to protect children from toxins."


Miraculous Timing!


Given its world influence, this critical shift in Washington toward adopting E.U.'s toxic standards is miraculous timing, given that CNN also revealed that "U.S. babies are born pre-polluted with more than 200 industrial chemicals."


And AP's story from the International Whaling Conference in Morocco last week, projects the extinction of whales from poisonous chemicals from Industrial and household products ending up in our oceans that are absorbed by fish and eaten by whales. The bottom line of the story is that each of us shifting to all natural products, whether or not our governments drag their feet, is a must for our survival and thrival!


Farmers Market Solution


Attending local-grown Farmers Markets is a priceless way to get on the organic bandwagon. Puerto Vallartans can further help preserve Paradise, especially its ocean and marine life, by enjoying the Saturday morning Old Town Farmers' Market on Calle Pulpito, two blocks from Los Muertos Beach in PV's "Romantic Zone."


Not only is it an ideal place to learn about and buy hormone-free, all natural products, organic produce and coffees, but thanks also to local musicians, it is a fun social center for PV's diverse communities. Now is the time to check it out since it closes July 31 and reopens November 6th. Or catch the morning markets in Bucerías on Wednesdays, Sayulita on Fridays, San Pancho on Saturdays, and in many other locations around Banderas Bay...


We applaud Costco for being sensitive to the compelling evidence of the cumulative effect of pesticides on hormones, brain, ADHT, sexuality, and blood sugar functioning related to 'diabesity,' by providing many affordable organics, like (super) spinach, and hormone-free roasted chicken.


While there, enlighten them to immediately stop selling fifteen of the twenty-two red list seafood items, like Orange Roughy, Chilean Sea Bass, Dorado, to restore these fish populations to sustainable numbers, according to Green Peace.


Hooked on Organics with "Life Force" Energy


I got hooked on organics in the late 90's, when renowned Naturopathic doctor, Dr Gabriel Cousins, showed us slides at Telluride's (Colorado) Awareness Festival. Through Kirlean (aura) photography, we could see that the organic/pesticide-free fruits and veggies had shafts of bright energy, the vital 'life force' of plants, whereas pesticided foods looked like black blobs.


Creator-made organic produce and products with vibrant life force energy is the key to ultimate health. All fruits and vegetables and products on Earth were organic for millions of years, until this "failed Chemical Experiment started 70 years ago."


Buying tastier organic foods helps clean the soil, water/oceans and air. It also brings the price down, and sometimes organic is cheaper, especially at farmers markets. On CNN's AC360° blog, Dr. Gupte shares which fruits and veggies are the most pesticided, and why it is wise to go organic... if you do the math. Before the Chemical Experiment, Americans spent more on produce and less on health care. In the last half century they have spend less on produce and tons on health care.


More Amends


Three years ago, after I returned many products to a health food store in Sedona, Arizona for having toxic ingredients, and bought all natural ones and more house plants, within three months my elevated cancer cell levels - we all have some - returned to normal, thank God!


In appreciation, and to also make amends for unknowingly promoting some products with toxic ingredients, like the petroleum in Chapstick is now banned in E.U. as carcinogenic, I am helping ensure that you don't miss these trade secrets.


Today Chapstick offers an all natural lip balm. What timing that the Vermont Country Store saw my toxin stories and asked me to develop a soothing 70% organic lip balm, called "Suzy Chaffee Naturals." Who knew that the FDA would reveal in June that lead was found in every lipstick and many lip glosses on the market, without being listed!


While the FDA says they are "safe levels," Dr. Gupte warned that "even traces of lead were found to affect the brain development of children and fetuses of pregnant women, why it was the first toxin banned in the U.S.!"


Thanks to the Doctors Show in July, we know that what we put on our skin goes into our blood streams, brains and hearts. So while moderation, being a little wicked, and expecting to be healthy, are important, please protect the God-given brilliance of your children so they can protect future generations, also through smart role modelling.


What We Buy Either Poisons or Heals Us


Jillian Michaels, guru of The Biggest Losers TV Show in the U.S., says "that organic whole food is our best medicine, and what we buy - from food to products - is either poisoning us or healing us." Native Elders, ethical doctors and scientists agree. Jillian is my hero for transforming Arizona's Yavapai-Apache Nation through my Elder friend Don Decker, on her new show, Losing It.


In future articles, I'll share how O Carb natural sweeteners, like Stevia, the flowering herb discovered by the South American tribes, are also preventing cancer, along with how the Aztec super food Chia, using white resin dental fillings, and MIT are helping us stay lean and clean, and our babies developing into brilliant healthy love machines and Earth Caretakers.


You'll also learn how the comedians are saving the manhood of our magnificent Men of the Americas, and how walking my dog led to a form of eco-exercising, I dubbed "Trashersizing." I will also share my blond "Top 10 Toxins List to Upgreen," which like EWG.org's list, you can bring shopping so that everything you bring home is "Child, Earth and Love Friendly."


Please join the billions who are good and mad and joyfully making a difference, and spreading the word. To also counterbalance the massive Gulf Oil Nature poisoning, celebrate with your children a little victory dance each time you upgreen a product or fruit and vegetable, since each detoxing step multiplied by 6.5 billion Earth Family members, is a decisive victory for our Human Race to Restore our Planet! Remember the real World Cup is in our hands!

go to 1

Suzy Chaffee is a former Olympic skier who helped invent dancing down mountains, turned activist, journalist, filmmaker, and has worked with seven U.S. Presidents. She is now co-chairman of a non-profit partnership of the Elders of the Americas and Olympians, called the Native American Olympic Team Foundation, helping heal Mother Earth for all our children through joyful sports and education. For more information, visit Snow-Riders.org or NAOTF.org.
Tell a Friend
•
Site Map
•
Print this Page
•
Email Us
•
Top