Health & Beauty
Mexico Declares End to 14-Month Swine Flu Scare

Associated Press
go to original
July 01, 2010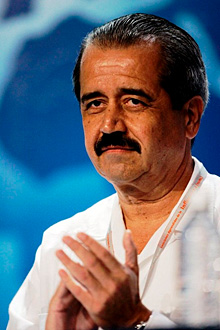 Secretary of Health Jose Angel Cordova
Mexico City — The government of Mexico lifted the alert for swine flu this week, officially ending the health emergency in the country where the illness first appeared 14 months ago.


Secretary of Health Jose Angel Cordova said that as recently as October, 90 percent of influenza cases in Mexico were swine flu. But by May, it was down to 10 percent, the rest being cases of seasonal influenza virus that is less contagious.


Swine flu has declined in recent months around the world, after 17,800 deaths in more than 200 countries. In Mexico, 72,546 infections and 1,289 fatalities have been registered since the outbreak was detected in April 2009.


Cordova said Mexico's government will keep monitoring flu cases even with the lifting of the alert.


The alert allowed officials to accelerate purchases of medicine to confront the virus. With the alert lifted, the process for obtaining medicine returns to normal. Some 27 million people in Mexico have been vaccinated against the virus.


Mexico's last death from swine flu occurred in May, just over a year after the government announced to the world the presence of a new influenza virus on April 23, 2009.


Within days, the capital and many states across Mexico were practically paralyzed after officials suspended schools and other activities and the rest of the world began to prepare for a potential global outbreak.


In the following weeks, the epidemic was declared a pandemic by the World Health Organization.


The Mexican economy was hit hard by the effects of the epidemic on tourism, retailing and other industries. Cordova said direct costs associated with the outbreak totaled 4.5 billion pesos (about $355 million).
Tell a Friend
•
Site Map
•
Print this Page
•
Email Us
•
Top