Health & Beauty
Are Designer Sunglasses Worth the Price?

Brett Arends - WSJ.com
go to original
July 17, 2010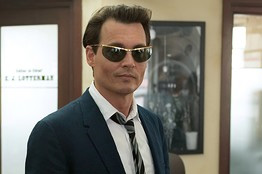 Johnny Depp looking cool in shades in the "Rum Diary." (Everett Collection)
Maybe not. For starters, most shades are made by the same company. Here's what you need to know before buying.

Are you in the market for a new pair of designer sunglasses this summer?


It's the season for it, and you can spend hundreds of dollars on your next pair of shades. Some Prada and Bulgari pairs will run you nearly $500, and that's if you don't need prescription lenses. Even more moderate design labels like Ray-Ban or REVO can cost a couple of hundred bucks.


Designer shades are big business, even in this economy. I keep hearing about the new age of frugality, but I'm not seeing much of it at the mall. Sunglass Hut's same-store sales in the U.S. rose 10.8% in the first quarter, pretty much erasing the slump in early 2009.


But are these expensive brands worth it? How much better are they, really, than the $25 pairs you can get in your local pharmacy?


Before you spend big money on your next pair of designer shades, here are six things you should know.


1. Most sunglasses are made by the same company. Do you prefer the "quality" of Ray-Ban to Oakley? Do you think Bulgari is better than Dolce & Gabbana, or Salvatore Ferragamo is better than Prada? Wake up. They're all made by one company, Italian manufacturer Luxottica - one of the biggest consumer companies that consumers have never heard of. Luxottica also makes sunglasses branded Burberry, Chanel, Polo Ralph Lauren, Paul Smith, Stella McCartney, Tiffany, Versace, Vogue, Persol, Miu Miu, Tory Burch and Donna Karan.


"We manufacture about 70% of those brands in our factories in Italy, and the balance in America and China," says Luxottica spokesman Luca Biondolillo. "We do the design, the manufacturing, and the marketing," he adds. The company makes most of those brands under license, working closely with designers at the relevant fashion houses. But it owns several brands itself, including Ray-Ban, Oakley, Oliver Peoples and REVO.


2. In many cases, the same company is also selling you the glasses. Luxottica also owns LensCrafters, Pearle Vision and Sunglass Hut. This is extreme vertical integration. The eye doctor telling you that you need a new pair of glasses, the sales people helping you choose them and the people who design and make the glasses all work for the same company. Make of it what you will. But if your financial advisor was actually employed by the mutual fund company that he recommended for your portfolio, you'd at least want to know.


3.The markups are as big as they seem. Whenever I have bought a new pair of regular eyeglasses, I have always reflected on how little I seem to get for my money. I can sort of understand why lenses are so expensive, as the material has to be made and ground precisely. But $100 or $200 for frames? These are bits of metal or molded plastic. Once I bought tiny slivers of hollow titanium that weighed considerably less than the bills I was handing over.


The cost of a new pair of glasses will of course reflect materials and labor. But the price will also reflect brand values and marketing - and how much consumers will pay. Luxottica says it makes a gross profit of 64 cents on each dollar of sales. Even after deducting sales and advertising costs, overhead and brand licensing royalties it's still making 52 cents. That's some margin.


While the company's return on equity has fallen since the global economy turned down, last year it still managed a respectable 11%, according to data from FactSet Research Systems. A few years ago that number was as high as 20%. And investors are confident on the company's future. The stock has jumped from $13 to $25 from last year's market lows. It's about 20 times likely earnings, an optimistic rating.


4. Those expensive sunglasses may not be any better for your eyes, either. "Three hundred dollar sunglasses don't do anything better than $100 sunglasses, except maybe look better and have a brand name associated with them" says Dr. Jay Duker, chair of ophthalmology at Tufts Medical Center.


"A significant chunk of what you pay for isn't the quality of the lenses, it's the brand," adds Dr. Reza Dana, director of the cornea and refractive surgery service at Massachusetts Eye and Ear Infirmary. He notes that making lenses that offer protection against harmful ultra-violet rays "isn't very expensive technology." And while spending more may get you better quality frames, here, too, there are laws of diminishing returns.


For about $40, says Dr. Duker, you can get a pair that offers 100% protection against ultra-violet rays. If you spend maybe $70 you should be able to get a pair with decent quality polarizing lenses that cut out glare. Beyond that, the medical benefits tail off pretty fast.


5. An inexpensive pair of sunglasses from the pharmacy isn't the worst thing in the world. They may be fine for most people in most circumstances, Dr. Dana says. "The main reason people wear sunglasses is to block out (regular) white light," he says, "and from that point of view, cheaper glasses work pretty well." And they will probably block most UV rays, even if not all of them, he adds.


6. Those fancy glasses are really costing you a lot more than you realize. If you make your shades last for many years, that would be one thing. But who does that? The people who want designer items want the latest fashion each year. And then there are the pairs that get lost. Scratched at the beach. And sat on. Personally, I have come to consider sunglasses a disposable item, and I suspect I am not alone.


Over a lifetime these things add up. Indeed they compound. Even at, say, 4% interest, $200 a year over 50 years adds up to $30,000.

Write to Brett Arends at brett.arends(at)wsj.com
Tell a Friend
•
Site Map
•
Print this Page
•
Email Us
•
Top