News from Around Banderas Bay
PEACE River and Beach Clean-Ups Continue

Becci Burchett - peacemexico.org
July 05, 2010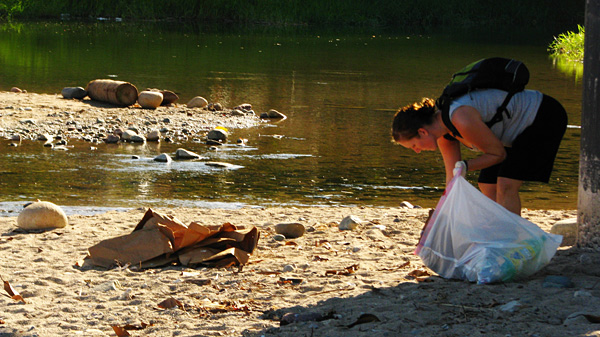 This summer, PEACE is continuing their clean-up projects along the Rio Cuale and on the beaches of Puerto Vallarta. If you'd like to help, please contact Nicole at nicole(at)peacemexico.org.
This summer, PEACE, a local non-profit association, is continuing their river and beach clean-up projects along the Rio Cuale and on the beaches of Puerto Vallarta. This year's program, which aims to develop a conscience around human actions and their impact on the natural world in order to raise awareness of the problems and solutions of current environmental situations in the Banderas Bay area, began on May 30th.


Now that the long awaited seasonal rains have started, the river is emptying out everything that has been upstream for the past 8 months. We want to try to get as much as we can during our cleanups before it dumps into our beautiful Bay.


To date, we have had too few volunteers for the cleanups but we are hoping that with this next set of dates, that we can get more people involved and have more hands out there cleaning up.


"By spreading the word, we hope to be able to ignite community participation on a large-scale. It is a beautiful experience to be working together, alongside visitors and locals, students and teachers, to make a change in the community. We want to share this with as many people as we can, to let everyone know that it only takes ONE person to make a difference!" says the group's community relations director, Nicole Majewski.


Clean up sessions last one to two hours. If you would like to participate, please join us in front of Oscar's Restaurant, right near the bridge on the Malecón where the Rio Cuale meets the ocean, at 9 am on the following dates:


Monday, July 12th
Saturday, July 17th
Saturday, July 24th
Sunday, August 1st
Saturday, August 7th
Monday, August 16th
Saturday, August 21st
Sunday, August 29th


If we have more people, we can spread out and get more areas clean. We need your help! If you are interested in being on our cleanup committee, please contact Nicole at Nicole(at)peacemexico.org.
---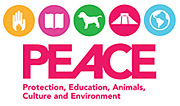 PEACE: Protection, Education, Animals, Culture and Environment, is a nonprofit organization established in 2005, made of four main programs which focus on education, entrepreneurship, animal well-being, and community engagement in the coastal regions of Nayarit, Jalisco and Quintana Roo, Mexico. Through innovative and community based programs, PEACE is working to improve the quality of life in local communities throughout the Bahía de Banderas. For more information, please visit PeaceMexico.org or click HERE to read more about PEACE
Tell a Friend
•
Site Map
•
Print this Page
•
Email Us
•
Top