News from Around Banderas Bay
The Rivera Cuale Newsletter - July 2010

The Rivera Cuale Team
July 12, 2010

It's still warming up here in Vallarta, with temperatures in the low to mid 30's (around 90 Fahrenheit.)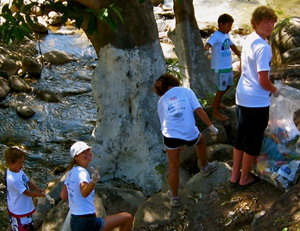 Beach & River Clean-ups

PEACE continues with their weekly clean-ups around Puerto Vallarta. Their current focus is on the area around the mouth of the Cuale River, where it meets the Bay of Banderas. Rivera Cuale does its part in helping to keep the river clean in our area, and we are so pleased to see other organizations putting in the effort just downstream from us!


Upcoming clean-ups are:


Monday, July 12th
Saturday, July 17th
Saturday, July 24th
Sunday, August 1st


Why not help make a difference?To be a part of the effort, please contact Nicole by email at nicole(at)peacemexico.org.
Sadly, Mexico was ousted from the 2010 World Cup with their loss to Argentina on June 27th, just missing the opportunity to advance to the quarter-final round. Team Mexico put up a great fight though!


• • •

Rivera Cuale: Unique Investment Opportunity

Since 1998, Puerto Vallarta has experienced steady expansion of resort hotels and residential developments. Today, the core of Puerto Vallarta is virtually built out. Not much buildable land remains, which limits expansion of residential construction. One of the reasons that the Mexican government is spending billions of dollars on infrastructure north of Puerto Vallarta is to generate growth along the coast.


New growth is concentrated in the northern part of the Bay of Banderas. However, the northern zone is considered, by some, to be too far from the excitement and old town charm of downtown Puerto Vallarta. With the reduction of inventory close to the action, sales prices for housing are increasing at a consistent rate.


Given these dynamics, Rivera Cuale offers a unique investment opportunity because it is one of the newest projects south of the Bay, with room to expand. Rivera Cuale is walking distance to the beach, and only blocks from markets and fine dining. While Rivera Cuale offers the excitement of downtown, it equally serves as a tranquil, riverfront oasis. Above all, Rivera Cuale is affordable in relation to its superior quality and desirable location.

Click here to read more.

• • •

Fly, Stay & Buy!

Our Fly, Stay & Buy promotion continues! Fly in to Puerto Vallarta and stay in one of our fantastic guest suites for a couple of glorious nights. If you decide to become the owner of your own home at Rivera Cuale, we will pay for your stay AND your flight!


You've already seen it... now live it.


This promotion is subject to availability, so hurry to contact us now for details!


Email: info(at)riveracuale.com


• • •

How to Get a Mortgage for Mexico

A number of our owners have successfully secured a mortgage ("hipoteca" in Spanish) for the purchase of their Rivera Cuale condo, by arranging US-based financing using their new Mexico property as collateral. In future newsletters, we will be bringing you some firsthand accounts of our owners' experiences with the mortgage process, to help you better understand your options.


The availability of mortgages for property in Mexico has come about only in the last several years, as the global housing market took a downturn. Cross-border mortgage financing was born out of need, when the economic crisis made it challenging for US and Canadian homeowners to leverage or sell their primary property to free up the cash needed to purchase property in Mexico.


• • •

Malecon Sculpture Walk

On the evening of Tuesday, June 29th, I left the condos at Rivera Cuale and walked down to the Malecon. I was on my way to finally take a dedicated look at the many beautiful sculptures there. I had read that a new organization in town, Learn Vallarta, was taking over the Malecon sculpture tour because the local art gallery that was doing them previously had stopped for the summer season.


Having lived here for almost two years now, I was actually a little ashamed of myself for not having gone on one of these free tours sooner, so I decided it was time to take advantage of the opportunity!

Click here to read more.

• • •


We appreciate your continued interest in our development! As always, we are here to help with any questions you may have, and we welcome your comments on our newsletter.
Sincerely,


The Rivera Cuale Team
Toll free from USA & Canada: 1(888) 226-0563
On-site office: 223-3770; In-town office: 222-6086

Click here for more information on Rivera Cuale Puerto Vallarta, of visit the website at riveracuale.wordpress.com.
Tell a Friend
•
Site Map
•
Print this Page
•
Email Us
•
Top