News from Around Banderas Bay
Riviera Nayarit Turtle Release Programs

RivieraNayarit.com
go to original
July 28, 2010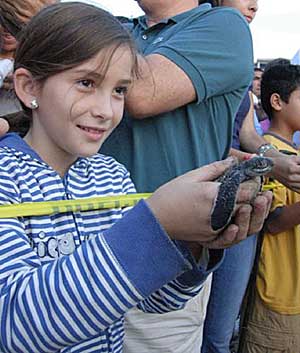 Being part of a turtle release in Riviera Nayarit is one of the most exciting activities one can enjoy in our destination.
Every year between June and December, hundreds of sea turtles arrive at Riviera Nayarit's beaches - from Boca de Teacapan to Nuevo Vallarta, spanning from the most remote beaches to the beaches in front of the most luxurious hotels.


Being part of a turtle release in Riviera Nayarit is one of the most endearing activities one can do in our destination. What a moving experience it is to hold a sea turtle hatchling in our hands! At Nuevo Vallarta and Guayabitos you can live the experience and feel a turtle's tiny flippers striving to make their way forward before you place it next to the surf.


It's also possible to witness a turtle coming out of the water to lay its eggs in the sand, and experience the miracle of life. The best part is that you don't have to get away from the comfort and fun to marvel at one of nature's great events, as even some of the most developed beaches in the region are registering a large number of sea turtle arrivals.


Eight sea turtle species inhabit the world's oceans, and the Olive Ridely is the most common species to arrive at our beaches. However, with a little luck it is possible to find a leatherback turtle. Regardless of which one you find, volunteering to patrol the region's beaches in one of the camps supervised by professionals will change your life forever.


The experience simply cannot be missed, and in many cases all you have to do is stay up one whole night, sometimes just a few feet away from your room, to be able to experience how these turtles lay their eggs. Actually, Nuevo Vallarta, and more specifically the camp at its hotel zone have been documented as the locations with the largest number of turtle arrivals within the 190 miles of coast that constitute Riviera Nayarit.


The beaches at the hotel zones constitute excellent arrival areas for sea turtles, and the only thing you have to do is stay up the whole night a few feet away from your hotel room to see turtles laying their eggs.


Biologist Adrian Maldonado, who coordinates the Research Subcommittee of the Technological Institute of Banderas Bay (Instituto Tecnológico de Bahía de Banderas or ITBB), stated that the results of a study show that Nuevo Vallarta holds a higher number of arrivals than less developed areas like El Naranjo Beach, which is close to la Peñita de Jaltemba.


The historical data analysis for the past 10 years indicates that sea turtles set an average of 403 nests per mile in Nuevo Vallarta's 8.7 miles of beaches. In 2007 only, about 6,000 Olive Ridely turtles arrived at this location.


The numbers presented by Maldonado are not exaggerated. In 2009, official evaluations at the turtle camp in Nuevo Vallarta estimated by October, close to 4,000 nests had been recovered and 200,000 turtle hatchlings released.


"At this camp, the numbers grow every year. What I can say for sure is that the number of recovered nests has grown 600% in the eight years that we've been working here," said biologist Antonio Razo, who is in charge of safeguarding these beaches.


Once the incubation period is over and the eggs hatch, the Nuevo Vallarta camp offers the general public the opportunity to release a hatchling. The release program includes afternoon sessions that start around 6:00 pm with a cost of $20 pesos ($2 USD), which are used to keep the camp running.


Nuevo Vallarta isn't the only developed beach that offers the general public this privilege; other beaches include El Anclote, Punta Mita, Bucerias, la Cruz de Huanacaxtle and other developed areas. At Las Tortugas beach, where a nature-conscious development is taking place, 2,400 nests were saved in 2009.


Even though hotels located in Rincon de Guayabitos don't have the largest arrival numbers, the experience is especially exciting at El Naranjo Beach, where one of the most committed protection and education programs has been established. Visiting El Naranjo is not only a delight for tourists, but it's also a truly enlightening experience.


Nothing compares to witnessing the start of a new life and the struggle for survival, framed by a unique sunset. This is the beginning of the journey for these tiny creatures that will have to overcome all sorts of obstacles to reach adulthood. The tickling their flippers produce on the palm of our hands is transferred directly to our heart when experts explain that the one we're holding in our hands will probably never make it back to this beach.


IN THE LIGHT OF SCIENCE


The studies made by the ITBB shed light on a fact that even scientists can't fully comprehend yet: sea turtles don't seem to be afraid of touristic developments. Amongst all the beaches in this region, the largest numbers are arriving at Nuevo Vallarta, where the beach has artificial lighting, a fact that was completely unexpected.


"An unfinished university thesis study focused on measuring the intensity of light on nest sites, and oddly enough it found that turtles prefer to lay their eggs in beaches that have artificial lighting. However, there is something we have to take in consideration: turtles have a natural aversion to light, so these results are even more surprising," commented Adrian Maldonado.


About Riviera Nayarit: Mexico's newest destination, Riviera Nayarit, stretches along 192 miles of pristine Pacific coast framed by the majestic Sierra Madre Mountains just ten minutes north of accessible Puerto Vallarta International Airport. The region extends along the entire coast of the Pacific state of Nayarit including the resorts of Nuevo Vallarta, the historic colonial town of San Blas, exclusive Punta Mita, picturesque fishing villages, miles of serene beaches and spectacular Banderas Bay. Riviera Nayarit offers countless activities, all pleasantly affordable, such as: PGA golf courses, luxury spas, whale watching, turtle release, zip lining, surfing, record deep sea fishing, bird watching, international cuisine, and shopping for local artwork and traditional Huichol handicrafts. The region attracts and satisfies vacationers of all tastes and budgets with its wide range of accommodations including chic luxury resorts, eco-tourism boutique hotels and quaint B&B inns. Visit the website at RivieraNayarit.com
Tell a Friend
•
Site Map
•
Print this Page
•
Email Us
•
Top