News from Around Banderas Bay
Paradise Village is Contributing to Improve Riviera Nayarit's Image

RivieraNayarit.com
go to original
July 05, 2010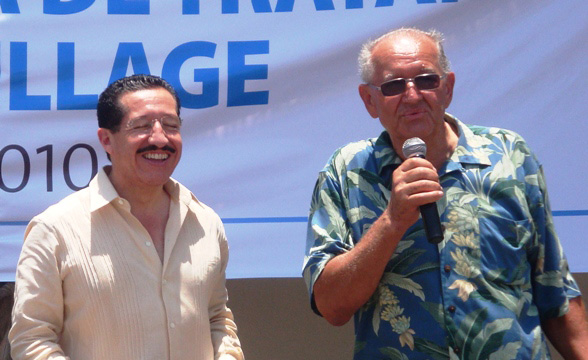 At the opening ceremony, Graziano Sovernigo (R), who heads the Nayarit-based Paradise Village Group company, stressed the importance of having a well-planned and environmentally-friendly development. (RivieraNayarit.com)
Last Monday, with the attendance of the State Governor Ney Gonzalez Sanchez, Paradise Village Group introduced a new state-of-the-art water treatment plant that helps manage residual waters in the resort area of Nuevo Vallarta in Riviera Nayarit without generating any negative effects to the plant's neighbors due to its advanced processing.


At the opening ceremony, businessman Graziano Sovernigo, who heads the Nayarit-based Paradise Village Group company, stressed the importance of having a well-planned and environmentally-friendly development as one of the key differentiating factors that has made his company successful.


The new plant has a processing capacity of 31 gallons per second, which is enough to treat the residual waters of 10,000 inhabitants. Paradise Village is therefore considering offering their facilities to treat the waters of nearby neighbors in Nuevo Vallarta along the Mexico Avenue. This very avenue was previously paved with hydraulic concrete donated by Paradise Village as a gesture of commitment to the community. The Group's investment exceeds $10 million dollars and contributes to the preservation of clean beaches, which are so representative of this touristic destination.


Riviera Nayarit's Convention and Visitors Bureau acknowledges the efforts being made by Paradise Village Group, as they are a perfect example of how the joint work between different public and private sectors has allowed our destination to be positioned as one of Mexico's favorite vacation destinations for both national and international visitor's preferences.


Residual water treatment is key for Riviera Nayarit to continue as a leader in Clean Beach Certifications. At present Riviera Nayarit holds the title for highest number of certified clean recreational beaches in Mexico.


About Riviera Nayarit: Mexico's newest destination, Riviera Nayarit, stretches along 192 miles of pristine Pacific coast framed by the majestic Sierra Madre Mountains just ten minutes north of accessible Puerto Vallarta International Airport. The region extends along the entire coast of the Pacific state of Nayarit including the resorts of Nuevo Vallarta, the historic colonial town of San Blas, exclusive Punta Mita, picturesque fishing villages, miles of serene beaches and spectacular Banderas Bay. Riviera Nayarit offers countless activities, all pleasantly affordable, such as: PGA golf courses, luxury spas, whale watching, turtle release, zip lining, surfing, record deep sea fishing, bird watching, international cuisine, and shopping for local artwork and traditional Huichol handicrafts. The region attracts and satisfies vacationers of all tastes and budgets with its wide range of accommodations including chic luxury resorts, eco-tourism boutique hotels and quaint B&B inns. Visit the website at RivieraNayarit.com
Tell a Friend
•
Site Map
•
Print this Page
•
Email Us
•
Top