News Around the Republic of Mexico
Hurricane Alex Pounds Mexico but Spares U.S. Oil Rigs

Tomas Bravo - Reuters
go to original
July 01, 2010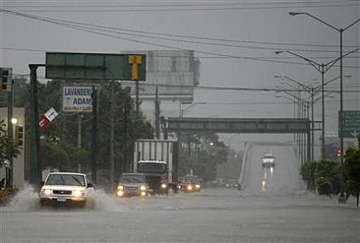 Vehicles are driven along a flooded street caused by heavy rains from hurricane Alex in Matamoros, in the Mexican state of Tamaulipas June 30, 2010. (Reuters/Tomas Bravo)
Matamoros, Mexico - Hurricane Alex drenched the Texas-Mexico border on Thursday as the powerful storm slammed into Mexico's Gulf coast, spawning tornadoes and flooding towns, but it spared U.S. oil wells.


Unleashing winds of 105 mph that uprooted trees and knocked over flimsy houses, the Category 2 hurricane was a blow to efforts to control the BP Plc oil spill off the Louisiana coast, where some operations were suspended.


Rain from the first named storm of the 2010 Atlantic season swelled the streets of the port city of Matamoros. Across the border in Brownsville, Texas, at least three tornadoes swept through the area, although no major damage was reported.


"We are all exhausted and the water is up to our waists in the street," said a bedraggled man who gave his name as Juan as he struggled to reach a crowded shelter in Matamoros.


Alex has forced oil and gas companies to cut back production, even though the hurricane path was well southwest of major U.S. offshore facilities.


Oil companies still shut down production of more than 421,000 barrels per day, about a quarter of the Gulf's output, as a precaution.


They have also shut 919 million cubic feet per day of gas output, some 14 percent of the Gulf's total.


Efforts to burn off and skim spilled oil and spray dispersants were suspended at the BP leak. Officials said oil capturing and drilling would have to stop if the winds reach 46 mph.


Mexican marines evacuated thousands of people from fishing communities along the Gulf coast and into shelters, but some refused to leave their homes even as water ran in under doors.


"The primary threat from Alex will be torrential rains totaling as high as 20 inches, which would likely produce life-threatening flash floods and mudslides over the mountainous regions of Mexico," the U.S. National Hurricane Center said, adding that Alex was the first and strongest Category 2 hurricane to occur in June since 1966.


Alex made landfall on the Tamaulipas coast around 9 p.m. on Wednesday (0200 GMT on Thursday), the Miami-based center said. Its rains had already flooded highways as far inland as the industrial city of Monterrey.


One man died in Monterrey on Wednesday when his house collapsed in the heavy rains, rescue authorities said. Alex killed a dozen people in Central America over the weekend.


(Writing and additional reporting by Robin Emmott, Editing by Sandra Maler)

Tell a Friend
•
Site Map
•
Print this Page
•
Email Us
•
Top