News Around the Republic of Mexico
President Assesses Damage from Hurricane Alex in Coahuila

Suzanne Stephens Waller - Presidencia de la República
go to original
July 13, 2010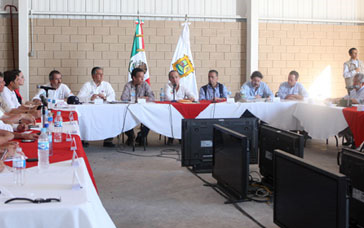 (Presidencia de la República)
San Juan Sabinas, Coahuila - President Felipe Calderón traveled to Coahuila Monday to survey the damage caused by Hurricane Alex in certain parts of the state.


During the evaluation meeting, held in the Municipality of San Juan Sabinas, the Mexican President confirmed Federal Government's commitment to working in conjunction with state and municipal authorities to help people resume their normal lives.


Accompanied by State Governor Humberto Moreira Valdés, the President urged all levels of government to channel resources into replacing the lost assets of the population affected and undertaking the necessary infrastructure works.


"It involves very important work in three states, which we will focus on in order to meet people's needs and expectations. Federal government is determined to achieve this. And we will accompany the residents of Coahuila, Nuevo León and Tamaulipas to help them overcome the tragedy," he said.


Throughout this evaluation, President Calderón was accompanied by Secretaries of the Interior, Fernando Gómez Mont; Social Development, Heriberto Félix Guerra; Communications and Transport, Juan Francisco Molinar Horcasitas, Health, José Ángel Córdova Villalobos; General Coordinator of Civil Protection, Laura Gurza and Director of the National Water Commission, José Luis Luege Tamargo.


During this tour, President Calderón visited the Venustiano Carranza Reservoir, in the Municipality of Juárez, to survey the work on reducing the water levels. There he was informed that when the torrential rains caused by Hurricane Alex burst this dam, known as the Don Martín reservoir, it flooded the Anáhuac zone in Nuevo León, although opening the floodgates prevented flooding in two municipalities in Coahuila: Juárez and Progres.


Afterwards, the President visited the Municipality of Piedras Negras, where he offered his condolences to the family of José Manuel Maldonado, the mayor of that community, who died during an air accident when he was flying over the areas affected by the floods.


In that same municipality, he toured the Villa de Fuente district. There he spoke to the population affected, who lost mainly furniture and domestic appliances.


Later on, he flew over the Nueva Rosita and Amistad reservoirs to check the water levels.


Lastly, he toured the Rovirosa district, in the Municipality of San Juan Sabinas, where he heard about the population's needs.

Tell a Friend
•
Site Map
•
Print this Page
•
Email Us
•
Top