News Around the Republic of Mexico
Baja Balks at New Rules for U.S. Cash

Sandra Dibble - San Diego Union-Tribune
go to original
July 26, 2010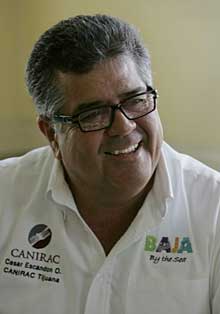 With its new rules on dollars, the Mexican government is "treating us like we're criminals," said Tijuana restaurant owner César Escandón. (Peggy Peattie/San Diego Union-Tribune)
Tijuana — The U.S. dollar has long been a common currency in Baja California, used in cash payments for everything from secondhand cars to monthly rents to restaurant meals. Now new efforts against money laundering by Mexico's federal government threaten to curb the practice, and business organizations statewide are crying foul.


The rules, scheduled to go into effect in September, would limit how much U.S. cash can be deposited each month into a Mexican bank account: $7,000 for businesses along the border and other tourist areas, and $4,000 for individuals.


When finance minister Ernesto Cordero announced the regulations in Mexico City, he said the country's banking institutions have in recent years received "important amounts of dollars in cash whose origins are difficult to identify." The Mexican government has estimated the surplus at close to $10 billion annually, and authorities said limiting dollar deposits will be key to gaining control of money laundering.


They want to weaken the financial resources available to drug-trafficking groups, which routinely are able to buy more powerful weapons than those used by the law-enforcement agencies in Mexico that are trying to keep them in check. Nearly 23,000 people have been killed in drug-related violence across Mexico during the past three years, and curbing traffickers' money supply is seen as pivotal to winning the fight against organized crime.


"When someone or something dips into their profit margin, it cuts them to the bone and can be crippling," said David Shirk, director of the Trans-Border Institute at the University of San Diego. "Going after drug profits is therefore an important strategy."


In Baja California, though, opponents of the new restrictions said Mexico's federal government fails to understand the dynamics of the border economy. Tens of thousands of Tijuana residents earn dollars at their jobs in San Diego County, and many Southern Californians cross to visit family, shop and vacation in Baja California. Services such as medical treatments, car repairs and beauty procedures often are priced in dollars. And many Tijuana residents with Mexican bank accounts prefer to hold their savings in dollars to protect themselves against devaluations of the Mexican peso.


"We're in favor of the federal government fighting organized crime, and financial cells and money laundering," said Mario Escobedo, president of Tijuana's Chamber of Commerce. "But we are certainly not in favor of the approach that it has taken."


Critics of the forthcoming rules warn that they could lead to a black market in dollars or cause businesses to move their bank accounts to San Diego.


Some said the movement of cash across the border has already started, but statistics from U.S. Customs and Border Protection haven't shown a significant spike in the two weeks following the announcement. Data from the agency, which requires declarations from anyone entering the United States with more than $10,000, show a small increase in such reports between May and June — from 554 to 572.


Among those most fiercely opposed to the Mexican government's dollar measure is Tijuana's restaurant sector.


"They're treating us like we're criminals," said César Escandón, head of the city's restaurant chamber and owner of a small restaurant in the city's Rio Zone. "Our businesses are established, they're registered and we use dollar deposits because in this city we are dolarizados."


Escandón was seated last week inside La Cafeteria, where the weekend clientele typically includes dollar-bearing Mexican-Americans who travel to Tijuana for medical care.


He has an account at a U.S. bank. But Escandón said he also needs a dollar account in Mexico to quickly deposit any cash he receives and pay suppliers in Mexico that demand dollars. "It's dangerous to be driving around these days with large amounts of cash," he added.


In Mexico, most commercial transactions are made in cash; credit-card and check payments are the exception.


Tijuana's used-car dealers said say they would be harmed, as all their stock is paid for in dollars in San Diego.


The state affiliate of a national group of gas station owners, Onexpo, contends that dollar sales represent 20 percent of the business for many of its member stations. That could add up to $62,000 monthly. "It is evident that treasury authorities are unaware of many socio-economic situations that prevail in border zones," according to a statement the group issued this month.


A coalition of business groups representing Baja California's five municipalities is holding discussions with Mexico's finance ministry, hoping to win an exemption for the border region or at least find ways to decrease the impact on businesses there. Last week in Tijuana, they presented their case to vice minister Alejandro Werner and Guillermo Babatz, president of Mexico's National Banking Commission.


"There has to be a solution," said Fernando Otañez, head of Tijuana's Business Coordinating Council. "The (border) economy could not function under those conditions."


Nothing is affected at the moment, Otañez said, stressing that merchants can keep receiving and depositing dollars with no limits.


"Dollars are very welcome. We want to shout that as loud as we possibly can," he said. "We want that message to reach as far as possible into northern California."


The new dollar rules also impose restrictions on exchanging dollars into pesos in Mexico and limit to $1,500 monthly the amount that tourists can exchange in a Mexican bank. But Leobardo Tenorio-Malof, an attorney in Tijuana with the international law firm Baker & McKenzie, said "the reality is that tourists will not be affected provided they're not doing business with a Mexican bank."


U.S. retirees living in Mexico won't be greatly affected, either, because many receive their pensions through wire transfers, said Laura Torres, head of the Business Coordinating Council in Rosarito Beach, which has a large expatriate community.

Sandra Dibble: sandra.dibble(at)uniontrib.com
Tell a Friend
•
Site Map
•
Print this Page
•
Email Us
•
Top