News Around the Republic of Mexico
President Calderón Meets with Mexican Bishops' Conference

Suzanne Stephens Waller - Presidencia de la República
go to original
July 10, 2010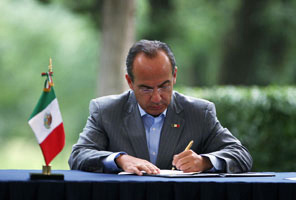 President Calderón urged the bishops to continue working to promote the principles that will strengthen social life in communities throughout the country
The Presidency reports that President Felipe Calderón attended a working lunch this Friday with the Council of the Presidency of the Mexican Bishops' Conference, led by Bishop of Tlalnepantla, Monsignor Carlos Aguiar Retes, as part of the President's invitation to the country's economic, political and social actors to dialogue on public security.


During the meeting, they exchanged points of view on the need to continue fighting organized crime and the active role to be played by all the authorities and citizens in this issue.


President Calderón said that the fight for public security in Mexico must be a state policy, which includes the will and determination of the three orders of government, the country's legislative branches, the Judicial branch and society as a whole.


For their part, the bishops expressed their willingness to engage in dialogue and discussed the document, "Let Mexico have a Decent Life in Christ our Peace," which reflects on the role of the Church in constructing peace and security in our country and cites three crises as being the causes of the lack of law and order: the crisis of legality, morality and the social fabric.


President Calderón hailed this contribution and urged the bishops to continue working to promote the principles that will strengthen social life in communities throughout the country.

Tell a Friend
•
Site Map
•
Print this Page
•
Email Us
•
Top