News Around the Republic of Mexico
Mayor: Car Bomb Used in Attack on Mexican Police

Alicia A. Caldwell & E. Eduardo Castillo - Associated Press
go to original
July 16, 2010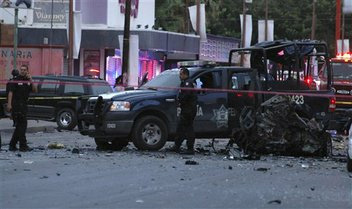 Federal police agents secure the area after members of a drug gang rammed a car into two police patrol vehicles in retaliation for the arrest of a top gang leader in the northern border city of Ciudad Juarez, Mexico, Thursday, July 15, 2010. Two officers and an emergency medical technician were killed and a cameraman at the scene was injured. (AP)
Ciudad Juarez, Mexico — A drug cartel has used a car bomb for the first time in Mexico's decades-long fight against traffickers, setting a deadly trap against federal police in a city across the border from Texas, the mayor of Ciudad Juarez said Friday.


Mayor Jose Reyes said federal police have confirmed to him that a car bomb was used in the attack that killed three people Thursday.


It was the first time drug cartel have used explosives to attack Mexican security forces, marking an escalation in the country's already raging drug war.


Federal police and paramedics were lured to the scene by a phone call reporting that a municipal police officer lay wounded at a major intersection, Reyes said in an interview with The Associated Press.


As the paramedics were working on the wounded man, a parked car exploded, he said.


Reyes said authorities later determined that the wounded man was not a policeman, although he was wearing a fake uniform. He man was among the three people who died in the attack. The others were a federal police officer and a medical technician.


Brig. Gen. Eduardo Zarate, the commander of the regional military zone, told reporters that up to 10 kilograms of explosives might have been used, and that the bomb might have been detonated remotely with a cell phone. He said investigators were still trying to determine the type of explosive used.


The car bomb demonstrates the growing boldness and military sophistication of Mexico's drug traffickers, who have dramatically stepped up attacks against security forces and government officials since President Felipe Calderon deployed thousands of troops and federal police to crush the cartels in their strongholds.


In the northeastern border city of Nuevo Laredo, a series of shootouts Friday prompted the U.S. Consulate to warn American citizens in the city to remain indoors. The consulate said drug traffickers were throwing up road blocks in at least one major avenue and were carjacking vehicles.


"We have received credible reports of widespread violence occurring now between narcotics trafficking organizations and the Mexican Army in Nuevo Laredo. We have credible reports of grenades being used," the consulate said in a statement. "We advise all U.S. citizens in Nuevo Laredo to remain indoors until the security situation improves."


Army officials reached by phone in Nuevo Laredo declined to comment.


Drug gangs have previously attacked Mexican soldiers and police with grenades and powerful rifles, but Thursday was the first time they used a bomb.


There had long been fears that Mexican cartels might turn to bombings. Soldiers have seized homemade explosives from gang vehicles after gunbattles, and assailants have stolen explosive material from transport vehicles.


Federal police initially said the car rammed into the two trucks carrying the federal police.


Earlier Friday, federal Attorney General Arturo Chavez said he could not confirmed if the attack was a car bomb. He said investigators were running forensic tests to determine if the assailants packed the car with explosive material or launched grenades.


Chavez said the killings did not qualify as terrorism.


"We have no evidence anywhere in the country of narco-terrorism," he said.


Federal police said the attack was in retaliation for the arrest of a top leader of the La Linea drug gang, Jesus Acosta Guerrero, earlier in the day.

Associated Press Writer E. Eduardo Castillo reported from Mexico City.
Tell a Friend
•
Site Map
•
Print this Page
•
Email Us
•
Top