News Around the Republic of Mexico
President Sends off Delegation to Central American Competition

Suzanne Stephens Waller - Presidencia de la República
go to original
July 14, 2010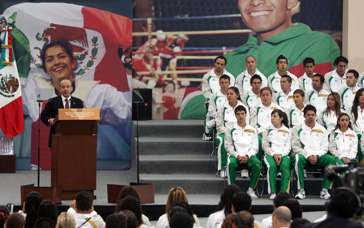 President Calderón encouraged them to share Mexicans' values of unity, indomitable will and combative spirit with the rest of the world.
Mexico City - As he sent off the Mexican delegation that will participate in the Central American and Caribbean games in Puerto Rico, President Felipe Calderón said that the victory will go to those that are not afraid of achieving it and are determined to do all they can to achieve it.


"There are world champions among you. Be champions in your category and your specialty. Don't be afraid of anyone. Don't be scared or intimidated by anyone. Give it your best effort and give the best of yourselves.


Mexicans, you and all of us, are the worthy heirs to a legacy of struggle and overcoming obstacles. We are a nation that is not intimidated, a people that is proud of being great and of thriving in the face of adversity. And I know that you will prove that in Mayagüez, in Puerto Rico.


So we have every confidence in you, because of your character, tenacity, training and unbreakable spirit and I know you will not let us down," he said.


Accompanied by his wife Margarita Zavala, and Public Education Secretary, Alonso Lujambio Irazábal, Head of the National Commission of Physical Culture and Sport, Bernardo de la Garza, the President said that the Mexican delegation now has a full team, since Mexico is taking part in all the Central American disciplines for the first time.


"By sending you off during this ceremony, I am confident that you will defend the national colors and symbols with pride, honor and joy. What an honor it is to defend Mexico," he said.


President Calderón recalled that on 15 July, 143 years ago, Benito Juárez came triumphantly into Mexico City to win the battle over Maximilian's empire, a triumph that represented an example of sacrifice and victory for Mexicans of all eras.


"During this year of the nation (…), I invite you to share all the values that make us proudly Mexico with the whole world: unity, history, an indomitable will, a combative spirit and above all, the future, the future we want for our beloved Mexico.


Mexicans are a fighting people, a warrior nation that thrives on adversity and I know you will be able to show what can be achieved when there is a will, a unity of purpose, work and discipline, as you have had throughout your training," he said.

Tell a Friend
•
Site Map
•
Print this Page
•
Email Us
•
Top