News Around the Republic of Mexico
President Calls for Common Front against Organized Crime

Suzanne Stephens Waller - Presidencia de la República
go to original
July 01, 2010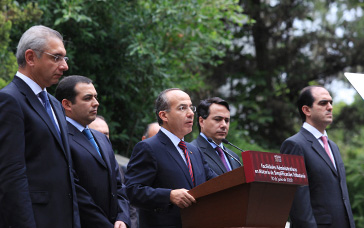 In a press statement, President Felipe Calderón declared that it is time for unity and determination to defend Mexicans and their institutions. (Presidencia de la República)
Mexico City - President Felipe Calderón urged all the political and social actors, media and society in general to create a common front against those who are trying to impose their will above the law, those that threaten the peace and tranquility of our communities and are trying to restrict the freedoms and guarantees of Mexicans.


"Faced with the challenge of organized crime, let us close ranks. Let us all respond and provided a unified, effective response from society as a whole and all political forces. Government is not only willing to act, which it has demonstrated, but it is also willing to listen and engage in dialogue," he said.


In a press statement at Los Pinos, the President said that through dialogue, everyone will define the proper response to this problem experienced by the country, since it is time to express everyone's concerns, particularly political actors, in order to reinforce the Mexican state's strategy to ensure public safety.


"The aim of the dialogue I am asking you to engage in is to make a common front, to agree specific actions that will provide a determined response from all the political forces to this shared challenge. In other words, we must provide not only a government response but a response from the Mexican state. I am sure that together, through this frank, respectful and constructive dialogue, we will find better alternatives to address what is undoubtedly the greatest challenge facing the country today," he said.


He added that this dialogue is important because it is in the division between Mexicans that criminals find niches and weak points for harming Mexico.


"Because it is a moment of unity and determination to defend our representative institutions. We are facing a challenge that demands that all parties and political forces act together and above our legitimate differences," he said.

Tell a Friend
•
Site Map
•
Print this Page
•
Email Us
•
Top