News Around the Republic of Mexico
Mexico Arrests Dozens of Current, Former Cops

Sandra Dibble - San Diego Union-Tribune
go to original
July 31, 2010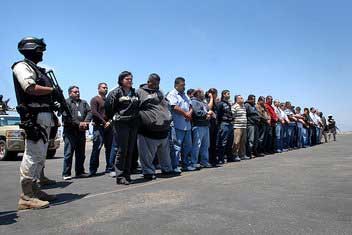 State and city police officers, detained on charges of working with organized crime, are lined up during a presentation for journalists at Mexico's military airbase in Tijuana on Thursday, July 29. (David Maung/San Diego Union-Tribune)
Tijuana — Baja California's largest law-enforcement shake-up in recent years was carried out Thursday, when Mexican soldiers detained 62 current and former state and municipal police officers suspected of collaborating with drug traffickers.


The arrests, ordered by a federal judge, came on the heels of investigations that lasted two years, said the state's attorney general, Rommel Moreno Manjarrez. The detained officers will face charges of drug trafficking and organized crime; Moreno didn't detail their activities or name any drug-smuggling group.


He announced the arrests at a military air base in Tijuana where many of the suspects had been taken after being summoned to a training course at the Baja California police academy in nearby Tecate.


The suspects were 52 active-duty officers — 36 Tijuana municipal police and 16 state ministerial agents — as well as 10 former municipal officers. Some in the group wore their uniforms, but most were in plainclothes.


Soldiers made the detainees line up on the airfield. As Moreno read his announcement, some officers proclaimed their innocence. Others cursed and called out in anger, and one uniformed Tijuana officer shook his head and cried.


"I was faithful to you, faithful until the end, Rommel," a state agent shouted.


A brief scuffle erupted when one suspect pulled a T-shirt over his head and grabbed the barrel of a soldier's weapon, challenging him to shoot.


Standing outside the base was Brenda Chavez, the sister of suspect Luis Armando Chavez, a former Tijuana police officer who was detained last year and eventually released without charges. He has been working odd jobs and living at his mother's house with his wife and 2-month-old son, Brenda Chavez said.


"He has nothing. He has no money," she added.


The suspects were flown late Thursday to a federal penitentiary in the southern state of Veracruz. It was unclear where and when their trials would take place.


The investigations were spearheaded by SIEDO, the federal agency battling organized crime, and the arrest orders were issued by a judge in the state of Tamaulipas. The operation involved close cooperation between the Mexican military and state and local law enforcement in Baja California.


"We are obeying a constitutional mandate," Moreno said.


He stressed that the arrests were cleared by the judicial system. Human-rights groups have decried detentions carried out by the Mexican military without proper procedures and little proof against the suspects.


"It's positive that they're making an effort to go after corruption in Baja California," said Andrew Selee, director of the Mexico Institute of the Washington, D.C.-based Woodrow Wilson Center. "We have to hope that the evidence is sufficient to justify the arrests and put together a good prosecution."


At Moreno's side as he spoke were Gen. Alfonso Duarte Mugica, the top military commander in Baja California; Daniel de la Rosa, the state's secretary of public safety; and Javier Cossio, representative of the federal attorney general's office in Baja California.


Moreno said the latest arrests have no connection to last week's federal indictment in San Diego of 43 people accused of collaborating with a drug trafficking group. The suspects in that case include Baja California law enforcement officials.


Thursday's detentions come as Mexico has taken unprecedented measures in recent years to purge its police agencies of corrupt officers. Under Mayor Jorge Ramos, Tijuana's police department has dropped more than 400 officers from its force, and several high-ranking commanders have been arrested.


But the newest roundup was unusual because of the sheer number of suspects involved. The last time dozens of police officers were arrested in Tijuana was in 2002, when 42 were taken into custody. Among those arrested was Carlos Otal Namur, who was Tijuana's police chief at the time.


Other Mexican states have been staging even larger mass arrests. In 2008, 300 members of the police department in Reynosa, a northern border city across from Texas, were detained.


Local police officers are far more susceptible to the pressures of organized crime because they and their families live in the same region they patrol, said Raul Benitez Manaut, a scholar at the National Autonomous University of Mexico in Mexico City who specializes in security issues.


"Federal officers come from outside. They live in hotels, they're not with their families," Benitez said. The Mexican army, which has been at the front-line of efforts to combat drug traffickers, houses its soldiers in barracks.

Tell a Friend
•
Site Map
•
Print this Page
•
Email Us
•
Top