Mexico City Sends 89 Tons of Aid to Hurricane-Ravaged North

Xinhua
go to original
July 13, 2010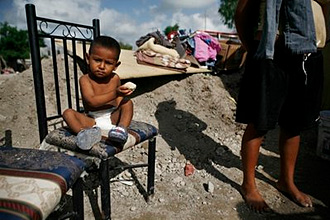 A child sits outside his flooded home in Reynosa, Mexico, Saturday July 10, 2010. (AP/Miguel Tovar)
Mexico City sent 89 tons of aid to hurricane-ravage northern states of Nuevo Leon, Coahuila and Tamaulipas on Monday, local broadcasters reported.


The aid supply, packed in two containers and three small trucks, includes personal hygiene equipment, bottled water, tinned food, rice, beans, medicine, nappies, sanitary pads, milk powders, tin openers, disposable plates and cutlery, according to the mayor's office.


The shipment was given a formal send-off at the city center by Mayor Marcelo Ebrard and head of the city's Civil Protection Department, Elias Miguel Moreno Brizuela.


Ebrard told reporters at the scene that later this week the capital city will send a second shipment of 80-tons of food, clothing and medicine to the above states.


He added that the city is collecting emergency aid contributed by residents at one fire station at the main city square and 14 other fire stations elsewhere.


Hurricane Alex struck Tamaulipas on June 30 as a category two storm, and dumped most of its rain on Nuevo Leon, killing 17 people.


In total, the storm killed 27 people in Mexico and 10 others in Nicaragua, Guatemala and El Salvador which were on the storm's path to Mexico.