News Around the Republic of Mexico
Brother of Slain Mexican Candidate to Run in Vote

Miguel Angel Gutierrez - Reuters
go to original
July 01, 2010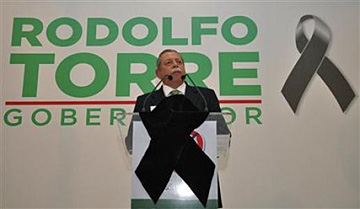 Egidio Torre Cantu, brother of Rodolfo Torre Cantu, a Mexican gubernatorial candidate who was killed by suspected drug hitmen, speaks at the headquarters of the Institutional Revolutionary Party (PRI) in Ciudad Victoria, state of Tamaulipas June 30, 2010. (Reuters/Luis Lopez)
Mexico City - The brother of a Mexican gubernatorial candidate killed by suspected drug hitmen will run in his place in this weekend's election in the northeastern Mexican state of Tamaulipas, his party said on Wednesday.


Rodolfo Torre, of Mexico's main opposition Institutional Revolutionary Party, or PRI, which holds power in Tamaulipas, was ambushed by gunmen while traveling to a campaign event on Monday. It was the highest-profile political murder in Mexico in nearly two decades.


The PRI's leader in Tamaulipas named Torre's elder brother Egidio, a former major of the state capital Ciudad Victoria, as his replacement in Sunday's election and urged voters to turn out despite the killing.


"Despite the deep pain and the hurting, I am inspired by the memory of my brother," Torre said. "I ask you to go out and vote."


Rodolfo Torre had 67 percent support in Tamaulipas versus 25 percent for his rival from President Felipe Calderon's National Action Party, or PAN, according to a May poll by Consulta Mitofsky. His brother was expected to get that support and win the vote.


Mexicans will elect governors in 12 states on Sunday, but the election campaigns have been blighted by drug gang intimidation including death threats and the murder of a mayoral candidate also due to run in Tamaulipas.


Federal Deputy Interior Minister Roberto Gil has offered all candidates, including those running for local congressional seats, personal protection if they ask for it.


"We have addressed some requests, but due to security reasons we are not disclosing" the names, Gil told a news conference in Mexico City.


Mexico is in the grip of a drug war that has killed more than 25,500 people, mostly traffickers and police in the 3-1/2 years since Calderon came to power and deployed the army to curb the power of trafficking cartels.


As well as drug gang-plagued Tamaulipas, states going to the polls include Sinaloa, home of Joaquin "Shorty" Guzman, Mexico's most wanted drug fugitive and leader of the Sinaloa smuggling alliance.


Political parties are due to suspend campaigning on Thursday, but in Tamaulipas candidates have already halted their rallies and political events following Monday's attack, in which gunmen also killed four aides traveling with Torre.


Rampant drug violence has spooked some investors and small businesses along the U.S.-Mexico border where rival cartels battle for control of smuggling routes into the United States.


The PRI is expected to make big gains on Sunday as the battered economy and the drug war hit the PAN.


(Additional reporting by Caroline Stauffer; Editing by Xavier Briand)

Tell a Friend
•
Site Map
•
Print this Page
•
Email Us
•
Top