News Around the Republic of Mexico
Calderón: Independence and Revolution are a Mexican Issue

Suzanne Stephens Waller - Presidencia de la República
go to original
July 18, 2010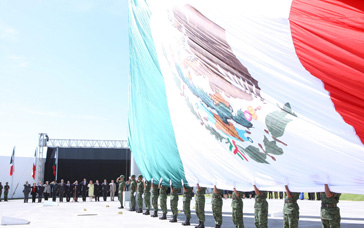 President Felipe Calderón inaugurates Bicentennial Expo Guanajuato in Silao (Presidencia de la República)
Silao, Guanajuato - President Felipe Calderón inaugurated the Bicentennial Expo Guanajuato in Silao and urged Mexicans to celebrate the Year of the Fatherland together, because Independence and the Revolution are everyone's to share.


"We should be united by our history. We should be united by our Bicentennial and our Centennial, which do not belong to groups or specific sectors but are part of the legacy of all Mexicans. The Independence and the Revolution belong to everyone. The Independence and the Revolution belong to all of us, to all Mexicans, without distinction, which is how it should be," he said.


Accompanied by Governor of Guanajuato, Juan Manuel Oliva Ramírez, Tourism Secretary Gloria Guevara Manzo, Public Education Secretary, Alonso Lujambio Irazábal and National Coordinator of the Celebrations of the Bicentennial of the Start of Independence and the Centennial of the Mexican Revolution, José Manuel Villalpando, President Calderón added, "That is why I invite you to join this celebration. We can certainly discuss it but we must be united as Mexicans and proudly celebrate what our ancestors did and dream and discuss the future we wish to hand down to those that come after us. We need to discuss the way to make the free, safe, fair, democratic, clean Mexico we want."


He said that because we are a free country, since Hidalgo or Morelos conquered that freedom and paid for our freedom with their lives, which was the duty of the Independence generation, then it is the duty and right of the Bicentennial generation to defend, preserve, expand, enrich and exercise that freedom.


He said that, "In Mexico, all opinions and ideas, however diverse, are expressed, creating a powerful mosaic of Mexican pluralism, a pluralism that enriches and strengthens us; a pluralism that enables us to express points of view and which, of course, makes us argue, because the point of freedom is to be able to express different and even contradictory points of view and find the truth in them."


He said that pluralism and freedom enable us to express the things that separate us but also allow us to acknowledge and experience the things that unite us, which are far greater than those that separate us. "Issues that are above any difference involving gender, religion or political party; issues that unite us and are and should be above our natural personal or party differences," he said.


Immediately afterwards, the President explained that. "One of these, for example, is how to overcome the great challenges of the present. Perhaps the most important one at the moment is the challenge of public security."


That is why, he said, "The solution to this and other challenges must be above ideologies and interests of the moment, however legitimate. They must be above parties and credos and must be transformed, not into a government or presidential policy, but into public policy and a state policy that will only be able to be constructed, not only through the free exercise of ideas but in the exercise of shared responsibilities."


Moreover, he continued, "There is the challenge of eradicating poverty, which can be done and which we can and must focus on and the challenge of eradicating ignorance and the challenge of creating opportunities for all and for having a different, better Mexico."


A propos of this, President Felipe Calderón said that, "During the Bicentennial of our Independence, we are a democratic nation in which there is freedom to think and to dissent, freedom to organize to fight for ideas and to choose our rulers."


Lastly, he recalled that, "We have a system of checks and balances that controls the exercise of public power and is the antidote to authoritarianism. Conflicts must be solved by institutional means such as those we have and in keeping with democratic rules."

Tell a Friend
•
Site Map
•
Print this Page
•
Email Us
•
Top