News Around the Republic of Mexico
Drug Gang Blamed for Mexico Party Massacre

Agence France-Presse
go to original
July 20, 2010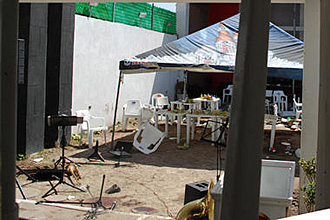 Chairs and others items are seen scattered at a house where a birthday party was interrupted by gunmen early Sunday in the town of Torreon. (Associated Press)
Torreon, Mexico — A top prosecutor blamed a drug gang for a weekend birthday party massacre in northern Mexico and revised the toll back down to 17, after one victim had been counted twice.


Gunmen on Sunday fired more than 200 bullets indiscriminately at a party outside Torreon, an industrial city in Coahuila state, in the latest in a string of increasingly violent attacks in northern Mexico.


Jesus Torres, Coahuila attorney general, said that a drug gang had most likely carried out the killings but that he would not identify the group.


"At this moment we can't publicly point to the cartel they belonged to, but yes, they've been identified," Torres said of the attackers.


"We're gathering witness statements to find out what happened and to determine the possible motive for this attack," he added.


Seventeen bodies were found at the blood-stained party hall where the attack took place, including 12 males and five females, and around a dozen injured.


This year alone has already seen at least two deadly attacks on bars in Torreon.


Northern border areas have been the worst hit in a wave of drug violence that has seen almost 25,000 killed since President Felipe Calderon launched a military crackdown on organized crime three and a half years ago.


The latest slaughter was reminiscent of an attack in late January when hitmen working for a drug gang opened fire and killed 15 young partygoers in Ciudad Juarez, the country's murder capital.


The Torreon killings also came three days after a first car bomb in Ciudad Juarez killed four people and raised fears that Mexico may be facing new threats in its drug wars.

Tell a Friend
•
Site Map
•
Print this Page
•
Email Us
•
Top