News Around the Republic of Mexico
Mexicans Wary of Choice for New Interior Minister

Tim Gaynor - Reuters
go to original
July 18, 2010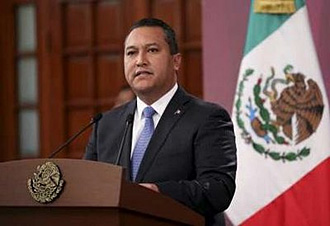 Mexico's new Interior Minister Jose Francisco Blake speaks during his swearing-in at presidential residence Los Pinos in Mexico City July 14, 2010. (Reuters/Alfredo Guerrero)
Mexico City - Mexican opposition politicians key to passing economic reforms reacted warily to President Felipe Calderon's little-known pick for interior minister, saying his lack of experience could be an obstacle.


Calderon appointed Jose Francisco Blake, an official from northern Mexico, on Wednesday to replace the unpopular Fernando Gomez Mont, who angered political allies and upset Mexicans for playing down the death toll in the country's raging drug war.


Blake, 44, Calderon's fourth interior minister in under four years, was plucked from regional government in northern Baja California state and is barely known at the national level.


"For the good of the country, let's hope he's up to it," said Francisco Rojas, the leader of the opposition Institutional Revolutionary Party, or PRI, in the lower house of Congress. Without a majority in Congress, Calderon will need Blake to woo the PRI, push through Calderon's economic reforms, and shore up support for the president's drug war.


In a statement following Blake's appointment, the PRI's official line was diplomatic, saying his experience in state government "could be useful in building a fruitful relationship."


Calderon, a conservative who took office in December 2006, has staked his presidency on beating back drug cartels fighting over U.S. smuggling routes. He is also trying to push key economic reforms through Congress, but has had little success so far.


Commentators have frequently criticized Calderon for appointing close friends and allies from his ruling National Action Party, or PAN, to the cabinet even if they were not the most qualified, and Wednesday's pick appeared to follow that trend. Members of Calderon's own party also expressed doubts.


Asked if Blake was up to the job, Alejandro Gonzalez, a PAN senator and former Baja California governor, told Reforma newspaper: "That is something I wouldn't dare to say."


Columnists questioned Blake's experience and readiness to take up the No. 2 post in government at a time when Calderon's party faces waning support and no clear candidate for the 2012 presidential elections. "The president remains faithful to his formula of naming close allies (and) low-profile PAN activists," wrote Diodoro Carrasco, a former PRI governor of the southern state of Oaxaca in a column in the daily Milenio newspaper.


SURPRISE PICK


Even in Baja California state, across the border from San Diego, many were surprised by the choice for such a senior position.


"I don't think Blake is going to get results; he doesn't have any of the qualities you look for in an interior minister. You may as well offer the job to your neighbor's son," said Victor Clark-Alfaro, a political analyst at San Diego State University.


Mexicans are desperate to see an end to the drug violence that has killed more than 26,000 people since Calderon took office and dispatched troops across Mexico to try to crush drug cartels. Most were happy to see Gomez Mont go, but few celebrated Blake's arrival.


"He has appointed another close friend," said rights worker Emilia Gonzalez in Ciudad Juarez, across from El Paso, Texas.


Drug killings in that border city are nearing the grim milestone of 6,000 since Calderon took office. "Calderon is more interested in feeling secure in his circle than in resolving the situation in Ciudad Juarez," she added.


Calderon also wants to regain momentum on reforms to boost Mexico's low tax revenue, relax labor laws and allow more foreign investment in the state-controlled oil sector.


Calderon looked nimble on the legislation front early in his term, passing moderate pension, fiscal and energy bills. But since his party lost mid-term elections last year, the president has struggled to push anything substantial through the opposition-led Congress.


Blake told local radio on Thursday he would make a priority of seeking dialogue with rival parties.


"We are going to seek the frank dialogue that is needed ... to look for common ground," he said.


(Additional reporting by Julian Cardona in Ciudad Juarez and Miguel Angel Gutierrez in Mexico City; Editing by Eric Walsh)

Tell a Friend
•
Site Map
•
Print this Page
•
Email Us
•
Top