News Around the Republic of Mexico
Mexico Arrests Senior Member Of Juarez Drug Cartel

RTTNews
go to original
July 29, 2010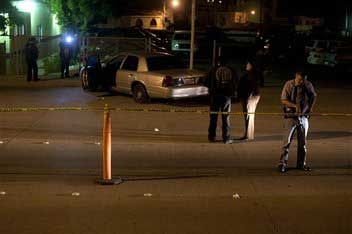 Investigators work at a crime scene where Rosarito's State Police Commander Antonio Sanchez was shot outside his headquarters in Rosarito, Mexico, early Wednesday July 28, 2010. According to police at the scene, Sanchez was shot by unidentified gunmen late Tuesday and died later while receiving medical attention. Another agent was injured during the shooting. (AP/Guillermo Arias)
A senior member of the infamous Juarez drug cartel has been arrested in northern Mexico, the country's federal police announced in a statement released Wednesday.


Rogelio Segovia Hernandez was arrested in the capital of the border state of Chihuahua on Tuesday, the statement said. It added that a pistol, grenade and at least six bags of an undisclosed amount of cocaine was recovered from the detained gangster.


According to the federal police, Hernandez was a senior leader of the La Linea gang that works as enforcers for the Juarez cartel. He was said to be in charge of the gang's drug trafficking distribution, kidnappings and killings in and round the state of Chihuahua.


Chihuahua, like many other Mexican states that border the U.S., has in recent months witnessed a high level of drug-related violence. The region is said to be a major transit point for smuggling drugs into the United States.


Hernandez carried a quarter-million-dollar reward on his head and is alleged to have participated in five killings at a ranch in Chihuahua state in 2008. He is also accused of involvement a bloody turf war with the rival Sonora cartel for securing control of the lucrative Ciudad Juarez drug-smuggling route.


The Mexican government says more than 22,500 of its citizens were killed in the country in drug-related violence in the last three years. The killings continue despite the deployment of thousands of troops by President Felipe Calderon.


In addition to the war against drug cartels, President Calderon has launched a massive anti-corruption drive named 'Operation Clean-up' to identify and punish public servants with alleged links to the drug cartels.

For comments and feedback: contact editorial(at)rttnews.com
Tell a Friend
•
Site Map
•
Print this Page
•
Email Us
•
Top