News Around the Republic of Mexico
Mexican Baseball League Game Suspended Amid Gunfire

BBC News
go to original
July 13, 2010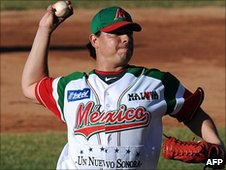 Pablo Ortega of Naranjeros de Hermosillo. Professional baseball has a strong following across Mexico.
The Mexican baseball league has been forced to suspend a game in progress because of gunfire at a stadium.


The game between the Broncos at their home stadium in Reynosa and the Monterrey Sultans was suddenly interrupted when gunshots were heard.


Witnesses said the baseball players ran for cover and dived into their dugouts.


Panic spread through the crowd of spectators after a group of unknown gunmen exchanged fire on Sunday.


Baseball officials then took the decision to stop the game.


There are no reports of casualties.


A spokesman for the league, Gabriel Medina, said: "We had to re-schedule for security reasons.


"This is an unprecedented incident," he added.


The game will resume on Friday in the city of Monterrey.


War on drugs


However, Monterrey has also seen a recent upsurge in drug-related violence with at least five people killed there at the weekend - one of them decapitated.


Authorities in Reynosa do not know whether the shots at the Adolfo Lopez Mateos stadium are linked to organised drugs gangs.


But security analysts say drug-related violence in Mexico is spiralling out of control.


More than 23,000 lives are estimated to have been lost so far in turf wars between rival drug cartels and state security forces.


US anti-narcotics officials have noted that the unrest has started to spill over the border.


The shootings in Reynosa are close to the US state of Texas.

Tell a Friend
•
Site Map
•
Print this Page
•
Email Us
•
Top