News Around the Republic of Mexico
Mexican Musicians Wary After Latest Murder

Reuters
go to original
July 03, 2010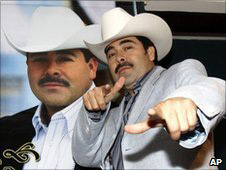 Sergio 'El Shaka' Vega's lyrics often featured the drugs trade.
Mexican quintet Los Pikadientes de Caborca was booked to play a show in Mexico's Jalisco state last year when the band's manager, Jose Juan Segura, ran into an acquaintance.


"He said, 'If I were you, I wouldn't go'" because of threats of violence at the event, Segura recalls.


But just as he was about to call the show's promoter to cancel, the promoter's wife called Segura to say her husband had been kidnapped by a drug-trafficking gang after he refused to pay them for the right to put on the show. Shortly thereafter, the promoter was killed.


"It makes me sad that there's no control," Segura says.


Mexico's unrelenting wave of violence struck the music business again June 26, when Mexican star Sergio "El Shaka" Vega was gunned down as he drove to a concert in the western state of Sinaloa. Vega's murder was followed by the June 28 assassination of Rodolfo Torre Cantu, the leading candidate for governor in the border state of Tamaulipas, which sent shockwaves through the Mexican political establishment.


Vega's death marked the highest-profile killing of a professional musician in Mexico since 2007, when K-Paz de la Sierra leader Sergio Gomez was kidnapped and strangled after a performance in Michoacan state.


Of the dozen-plus Mexican artists who have been killed since the 2006 murder of banda icon Valentin Elizalde, most haven't enjoyed the international success of Vega, who had scored five top 10 singles on Billboard's regional Mexican airplay chart. His next album, "Millonario de Amor," is due July 20 on Disa Records, an imprint of Universal Music Latin Entertainment.


QUESTIONABLE SPONSORSHIPS


Industry sources say artists have learned to steer clear of regions in Mexico that have been particularly plagued by violence. Still, sources say, some artists have become ensnared in one way or another with organized crime. There are persistent rumors, for example, of artists being "sponsored" by drug lords who may commission a song in their honor, ask an artist to play at a private party or go as far as bankrolling entire marketing campaigns. Segura says he isn't letting his clients play private parties for the time being because "you don't know who can show up and start shooting."


Such entanglements don't seem to afflict international artists. Windish Agency president Tom Windish, who represents acts including Animal Collective and Crystal Castles, says he has booked 55 shows in Mexico this year, including in Mexico City, Guadalajara, Tijuana and Playa del Carmen. Windish also had 12 artists at Monterrey's MtyMx festival in March, despite reports of transportation problems and cancellations. The show was organized by Brooklyn-based promoter Todd Patrick.


"I think that would show that artists are not that afraid to go there," Windish says.


Many of the casualties of Mexico's war against the country's drug cartels have been innocent victims without ties to criminal elements. Vega's manager, Ana Luisa Gomez, says her client wasn't supported by any cartels. Were that the case, Gomez says, "we wouldn't (have to) work as hard as we did."


Similarly, the members of duranguense group Conjunto Atardecer say the March 2009 murders of its drummer Roberto Villa and four high school students in Durango weren't because of drug ties but the tragic result of Villa and his friends having witnessed an earlier murder.


"We're not even corrido singers," Atardecer vocalist Mario Madrigal says, referring to story-songs about the drug trade. "We sing pasito duranguense and love songs."


Still, the murder left the surviving members of the Durango-based group so rattled that they haven't played in Mexico since, even though roughly half their tour dates used to be booked there.


Despite the violence, some label executives, booking agents and promoters claim it's business as usual for their artists. Javier Rivera, the president of Los Angeles management and booking agency Mexico Musical, survived the same 2007 kidnapping that resulted in the death of his client Sergio Gomez but insists that "if the date's open, we do it gladly."


But Atardecer is not the only act cautious about performing in Mexico. A label executive notes that a major artist he declines to identify canceled a performance in Monterrey last month. "The official version was it was due to health reasons, but the truth is, he received threats," the executive says.


An artists' manager, who asked to remain anonymous, says a leading Mexican artist he represents is playing many more dates in the United States than in Mexico, despite increasing demand south of the border.


"Down there," he says, "you don't know who is hiring you."

Tell a Friend
•
Site Map
•
Print this Page
•
Email Us
•
Top