News Around the Republic of Mexico
Mexico Praises Decision on Arizona Law

CNN.com
go to original
July 30, 2010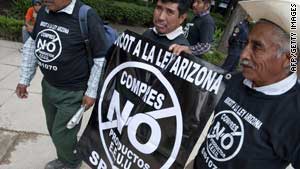 Members of a Mexican farmers' cooperative protest Arizona's immigration law in Mexico City on Wednesday.
Mexico City - Mexican Foreign Affairs Secretary Patricia Espinosa called Wednesday's decision on Arizona's immigration law "a step in the right direction."


A U.S. judge temporarily blocked the most controversial parts of the law from going into effect. The sections put on hold would allow police to investigate "the immigration status of a person stopped, detained or arrested" and to arrest anyone they think might be subject to deportation, and would make it a crime "for an unauthorized alien to solicit, apply for, or perform work."


Mexican authorities will do all they can to ensure that the rights of Mexican nationals are not violated, Espinosa said, and will work to identify and register possible violations.


In addition, she said, Mexico's five consulates in Arizona will open on Saturdays and will staff a 24-hour hotline.


She thanked the governments of Argentina, Bolivia, Chile, Colombia, Costa Rica, El Salvador, Guatemala, Nicaragua, Paraguay and Peru for joining Mexico's friend-of-the-court brief in the case.


Outside the U.S. Embassy, a group of protesters erupted in applause as the judge's decision was announced.


Some chanted, "Si, se pudo!" (Yes, we could) and vowed to continue their fight; some wore T-shirts that said, "Stop SB 1070. Boycott Arizona."


"I think it is a big victory, and it is the start of many more," said Sergio de Alba, president of the National Confederation of Workers and Farmers Organizations.


Minutes earlier, he had called on Mexicans to boycott products from the United States in protest of the law.


Protesters attached signs to a gate in front of the embassy, one of which read, "Boycott Against Arizona-Nazizona, home of hunting migrants and the Ku Klux Klan."

CNN's Catherine Shoichet and Journalist Sol Rivera contributed to this story.
Tell a Friend
•
Site Map
•
Print this Page
•
Email Us
•
Top