News Around the Republic of Mexico
President Calderón Eliminates Tax Requirements

Suzanne Stephens Waller - Presidencia de la República
go to original
July 02, 2010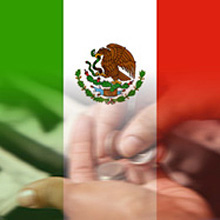 Calderón declares that these measures will save taxpayers 15 billion pesos.
Mexico City - In order to reinforce the economy by making it more competitive, President Felipe Calderón announced the elimination of certain tax requirements.


"Our aim is to have a form of regulation that will place citizens at the center of decisions, reduce costs, eliminate the distortions produced by regulation and enable government to make a definite contribution to productivity in this respect.


We are also attempting to simplify regulations and paperwork and increase the certainty, quality and transparency of the services offered by Federal Government," he said.


During the event entitled, "Administrative Facilities for Tax Simplification," accompanied by Secretaries of Finance, Ernesto Cordero Arroyo, and Economy, Gerardo Ruiz Mateos, as well as the Director of the Mexican Social Security Institute, Daniel Karam Toumeh, the President said that today, the decree regarding administrative facilities to ensure tax simplification was published in the Diario Oficial de la Federación.


This decree includes the following measures:


• The elimination of the monthly declaration of the Flat-Rate Business Tax. From now onwards, this tax will be declared annually rather than monthly.


• Duplication will also avoided for VAT, which will no longer have to be declared annually, only monthly.


• The decree also abolishes the obligation to review financial statements both for tax purposes for the Secretariat of Finance and for meeting the requirements of the Mexican Social Security Institute.


• Taxpayers with a balance in their favor from the Cash Deposit Tax, CDT, will be able to obtain re-imbursement without the need for a review by a public accountant.


• And lastly, the validity of the Electronic Signature, required for filling out tax forms, will be extended from two to four years.


"Through these five measures, we are meeting the main demands of the productive sector regarding Tax Administration. We are thereby helping to increase the productivity of the economy, since large and small businessmen and businessmen in general will spend less time and resources complying with the regulation and be able to concentrate more on their productive activities," said the President.


President Calderón remarked that as a result of this effort, the productive sector and large and small entrepreneurs will save up to 15 billion pesos annually as a result of the elimination of unnecessary paperwork.


"Through this tax simplification, we are bringing Mexico into line with international best practices. We are thereby constructing a more modern, agile, effective government that will really meet citizens' needs, cost less and do more for citizens," he said.

Tell a Friend
•
Site Map
•
Print this Page
•
Email Us
•
Top